Hosting a dinner party can be a great way to show off your cooking skills. But, sometimes, those healthy, low-carb meals you make for yourself aren't very exciting. I mean, who wants to get out the fancy plates for plain chicken breast and broccoli?
If you have a healthy dinner party planned, or would like to give it a try, I have your entire evening covered—from appetizer to dessert! So, break out the fine china and share these delicious Italian recipes with your friends and family.
All four of these recipes are all-natural and gluten-free. Most of them are also paleo-friendly and low- or nondairy. They'll fit right into anybody's meal plan!
Appetizer
Turkey Meatballs with Marinara Sauce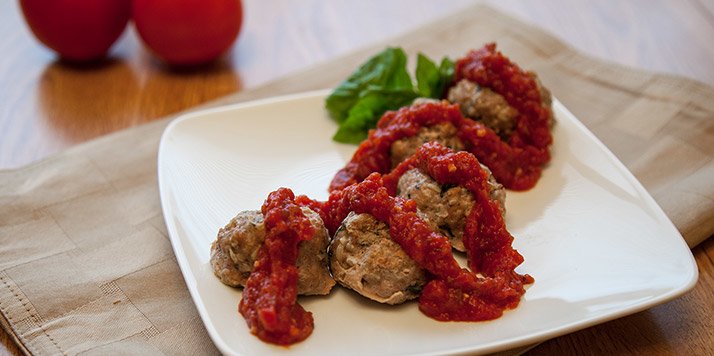 These meatballs are a fantastic appetizer for a party, but they can also act as a pasta topper or serve as a recipe for your weekly meal prep. They taste as good as traditional meatballs, without the high-fat nonsense.
Low on calories, full of Italian flavor and the tiniest bit of heat, these little guys are certainly a tasty treat!
Ingredients for meatballs

Nutritional yeast:
3 tbsp
---
Red pepper flakes:
1/2 tbsp
---

Fresh basil:
1/3 cup chopped
---
Italian seasoning:
1/2 tbsp
---

---
99% fat-free ground turkey:
1 lb.
---
---
---
Dried chopped onion:
1/3 cup
---
---
Directions for meatballs
Gather all ingredients for meatballs and place them in a large bowl. Mix well.
Using your hands, form approximately 30 meatballs about 1 inch in diameter.
Place the meatballs on a baking sheet lined with parchment paper, or use a silicon baking sheet.
Bake at 400 degrees for 15 minutes. Turn the meatballs and cook another 3-5 minutes, until both sides have started to turn golden brown.
Remove meatballs from oven and allow to rest 5-10 minutes.
Ingredients for marinara dipping sauce

---

Ground black pepper:
1/2 tsp
---

---
---
---
Stewed tomatoes:
1 14.5-oz. can
---

Tomato paste:
1 14.5-oz. can
---
Red or yellow bell pepper:
1/2 pepper
---
Dried or fresh onion, chopped:
1/4 cup
---
---
Directions for dipping sauce
Gather and prepare all ingredients. Remove the stem and seeds from the bell peppers.
Place all ingredients in a blender or food processor and blend until the mixture has a consistent, smooth texture.
Place the mixture in a saucepan that has been lightly sprayed with oil. Simmer for 20 minutes, stirring frequently.
Nutrition Facts
Serving size: 3 meatballs with dipping sauce
Recipe yields: 10 servings
Amount per serving
Calories 117
Salad
Spinach Caprese Salad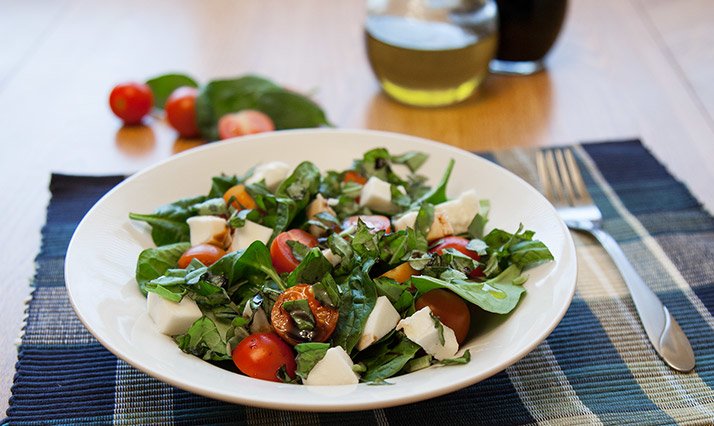 Quick and easy to make, this salad has all the delicious flavor of a traditional caprese side dish with added antioxidant-loaded herbs. It's the perfect complement to any Italian entrée! Make a single serving for yourself, or multiply the recipe to feed an army of guests!
Ingredients

Fresh basil:
2 tbsp chopped
---
---
---
---
Cherry tomatoes, chopped:
1/2 cup
---
Fresh mozzarella, cubed:
1 oz.
---
Directions
Place spinach in a bowl.
Sprinkle spinach with cherry tomatoes, mozzarella, and basil.
Drizzle with olive oil and balsamic vinegar.
Nutrition Facts
Serving size: 1 salad
Recipe yields: 4 servings
Amount per serving
Calories 181
Entrée
Noodle-less Zucchini Lasagna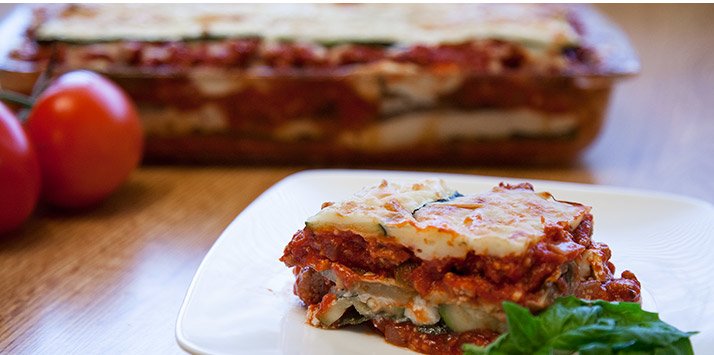 If you're counting calories or managing macros the way you do your bank account, traditional lasagna is probably off the usual menu. This recipe, however, is a healthy way to satisfy your lasagna craving at only a fraction of the calories and carbs. Slices of zucchini stand in for the pasta noodles, while turkey and low-fat cheeses offer all the protein you need without the excessive fat.
The layers of fibrous veggies will leave you full and satisfied without that usual sluggish feeling that follows traditional lasagna. Oh, and this recipe is also packed with delicious Italian herbs and spices. It makes an amazing entrée for the whole family!
Ingredients
99% lean ground turkey:
1 lb
---
Zucchini, sliced lengthwise:
2 large or 5 small
---
---
---
Green bell pepper, diced:
1
---
---
---
Tomato sauce:
1 15-oz. can
---

---
---

Fat-free ricotta cheese:
15 oz.
---
Fat-free mozzarella cheese, shredded:
8 oz.
---
---

---

---
---

Nutritional yeast:
1/4 cup
---
---
Directions
Lightly salt zucchini slices and place in a large, microwaveable bowl. Cover with plastic wrap, and make one small slit in the cover. Microwave for 6-8 minutes.
Place steamed zucchini in strainer to drain.
Prepare eggplant using the same process as zucchini.
In a large pot, place ground turkey, salt, and pepper. Cook over medium heat to brown turkey for about 5 minutes.
Add minced garlic, green bell pepper, and onion. Allow to sauté for 5 more minutes.
When meat is completely cooked, add tomato sauce, tomato paste, basil, and oregano, and mix well.
Once sauce comes to a boil, reduce heat and simmer 20 minutes.
In a separate bowl, mix ricotta, egg whites, and parsley until well blended.
Lightly grease a 9x13 baking pan. Preheat oven to 350 degrees F.
Layer lasagna in the following order: 1/3 meat sauce, 1/3 zucchini slices, 1/2 ricotta mixture, 1/2 eggplant slices, 1/3 meat sauce, all spinach, 1/3 layer zucchini slices, 1/2 ricotta mixture, 1/2 eggplant slices, all mushrooms, remaining meat sauce, 1/2 mozzarella, 1/3 zucchini slices. Top with remaining mozzarella, and sprinkle with nutritional yeast.
Cover with aluminum foil, place pan on baking sheet, and bake at 350 degrees F for 45 minutes.
Remove foil and cook additional 15 minutes. Remove from oven and allow to cool for at least 10 minutes.
Once the lasagna has cooled, slice into 9 squares.
Nutrition Facts
Serving size: 1 square
Recipe yields: 9 servings
Amount per serving
Calories 202
Dessert
Mixed Berry Sorbet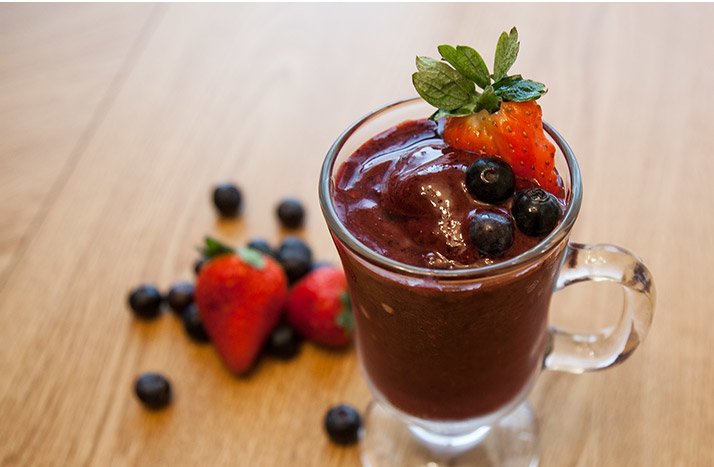 This delicious treat can be whipped up in minutes, and it makes for a perfect dessert or sweet little snack. It's low in calories and packed with flavor. You and everyone else around your dining room table will be sure to love this refreshing sorbet!
Ingredients
Frozen mixed berries:
1 cup
---
Sugar-free vanilla almond milk:
1/2 cup
---
---
Directions
Place all ingredients in a food processor, blender, or Magic Bullet.
Pulse and blend until a thick, smooth texture is formed. You will have to shake or stir the ingredients a few times. Avoid the urge to add extra almond milk;it will make the final sorbet runny.
Spoon into a serving bowl and enjoy!
Note: This recipe can be prepared in advance and stored in the freezer for several hours. If the sorbet becomes solid, place it in the refrigerator before serving.
Nutrition Facts
Serving size: 1 salad
Recipe yields: 4 servings
Amount per serving
Calories 85