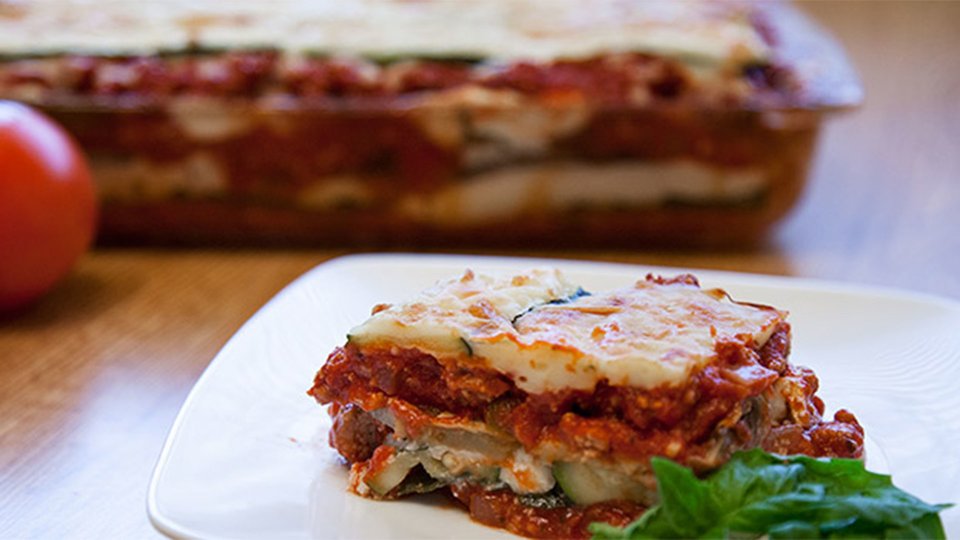 If you're counting calories or managing macros the way you do your bank account, traditional lasagna is probably off the usual menu. This recipe, however, is a healthy way to satisfy your lasagna craving at only a fraction of the calories and carbs. Slices of zucchini stand in for the pasta noodles, while turkey and low-fat cheeses offer all the protein you need without the excessive fat.
Ingredients
1 lb ground 99% fat-free turkey breast
2 whole zucchini, sliced
1 whole onion, finely diced
1 eggplant
1 whole green pepper, chopped
2 cup baby spinach
1 cup mushrooms, sliced
15 oz tomato sauce, canned
12 oz tomato paste
2 egg whites
2 cup ricotta cheese (skim-milk)
8 oz fat-free mozzarella cheese
1½ tsp salt
1½ tsp, ground black pepper
1 tbsp, ground basil, dried
1 tbsp, ground oregano
4 tbsp nutritional yeast
1 tbsp garlic, minced
Directions
Lightly salt zucchini slices and place in a large, microwaveable bowl. Cover with plastic wrap, and make one small slit in the cover. Microwave for 6-8 minutes.
Place steamed zucchini in strainer to drain.
Prepare eggplant using the same process as zucchini.
In a large pot, place ground turkey, salt, and pepper. Cook over medium heat to brown turkey for about 5 minutes.
Add minced garlic, green bell pepper, and onion. Allow to sauté for 5 more minutes.
When meat is completely cooked, add tomato sauce, tomato paste, basil, and oregano, and mix well.
Once sauce comes to a boil, reduce heat and simmer 20 minutes.
In a separate bowl, mix ricotta, egg whites, and parsley until well blended.
Lightly grease a 9x13 baking pan. Preheat oven to 350 degrees F.
Layer lasagna in the following order: 1/3 meat sauce, 1/3 zucchini slices, 1/2 ricotta mixture, 1/2 eggplant slices, 1/3 meat sauce, all spinach, 1/3 layer zucchini slices, 1/2 ricotta mixture, 1/2 eggplant slices, all mushrooms, remaining meat sauce, 1/2 mozzarella, 1/3 zucchini slices. Top with remaining mozzarella, and sprinkle with nutritional yeast.
Cover with aluminum foil, place pan on baking sheet, and bake at 350 degrees F for 45 minutes.
Remove foil and cook additional 15 minutes. Remove from oven and allow to cool for at least 10 minutes.
Once the lasagna has cooled, slice into 9 squares.