Despite our best intentions, it's inevitable that we compare athletes from different strength disciplines and wonder who's "best." So, why resist it? Instead, have fun with it!
That's what the team at the online training site Brute Strength Training did when they created the four-episode web series "The Brute Strength Showdown." Four top athletes from the worlds of CrossFit, powerlifting, Olympic lifting, and bodybuilding went head-to-head in events from their own sports, as well as other classic athletic tests and even a competitive eating showdown. 
These are the athletes
Jacob Heppner: CrossFit Games athlete, 2016 7th Fittest Man in the World
Steve Gentili: Elite powerlifter
Lawrence Ballenger: Fitness model, NPC bodybuilder, Bodybuilding.com and MuscleTech athlete
Luis Javier Mosquera: Weightlifter, bronze medalist at the 2016 Rio De Janeiro Olympics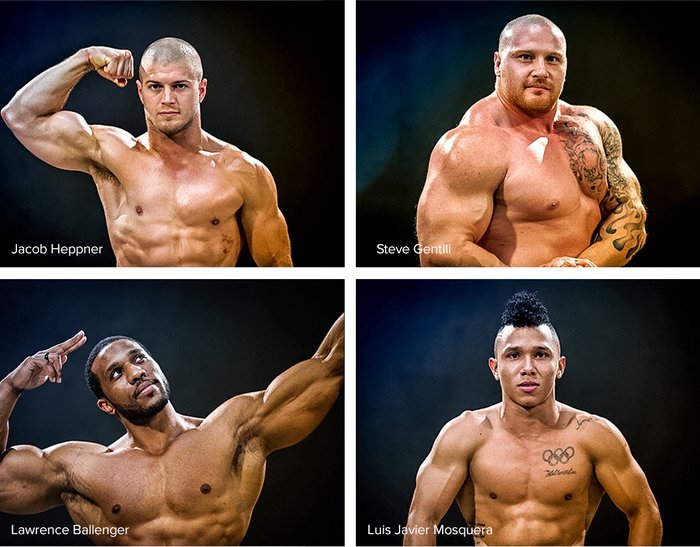 Here are the events
Max barbell clean
CrossFit event: "Grace"
Deadlift
Physique show
Hamburger eating challenge
Football combine
Soccer ball dribble
Football throw
Batting cage/baseball throw
Knockout (Basketball)
Episode 1: Meet the Competitors
A weightlifter, a powerlifter, a bodybuilder, and a CrossFit athlete walk into an arena together. Who wins? Meet your challengers and hear their stories before they go to battle.
Episode 2: Max Clean and Grace
The competitors take on their first two challenges: A one-rep max in the barbell clean from the floor, and the brutal CrossFit event Grace. Lawrence Ballenger in particular stands out in this event, both for his 300-pound upright row/clean that we call The Official Lift of 2018, and for his fantastic guide to convenience store shopping for gains.
Episode 3: Deadlift, Physique Show, and Burger Challenge
Now things are getting serious. The competitors test their one-rep max in the deadlift, then strip down to the bare essentials for a bodybuilding-style pose-off. Then, it's off to the pub for an epic burger-eating challenge!
Episode 4: All the Balls
In the final episode, the athletes complete the last five events, and the winner gets crowned after making a serious comeback.