Apple Tarts
When you're craving the warm, buttery flavors of a freshly baked apple pie, look no further than this healthy and high-protein apple tart recipe. Apples are a great source of vitamins and fiber, while a double dose of Signature Oatmeal Cookie whey keeps these tarts high in protein, ideal for building muscle or losing weight. Cinnamon and oats round out the warm flavors in this delicious and healthy apple pie alternative.
Spooky Protein Pudding Dirt cup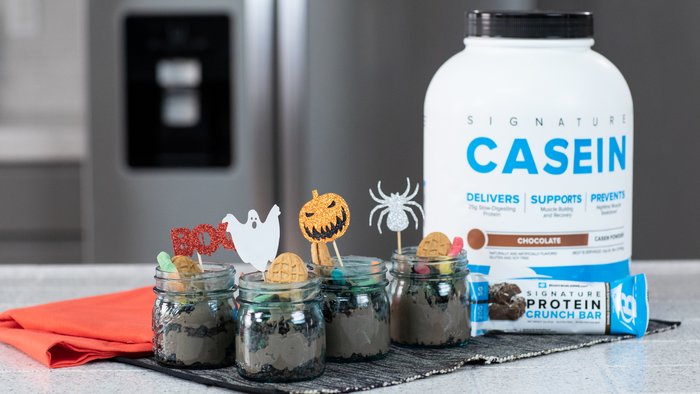 What better way to celebrate tricks and treats than with this tasty protein pudding? Signature Casein protein provides the thick pudding texture and chocolatey flavor of this surprisingly simple Halloween dessert.
Protein Pumpkin Bread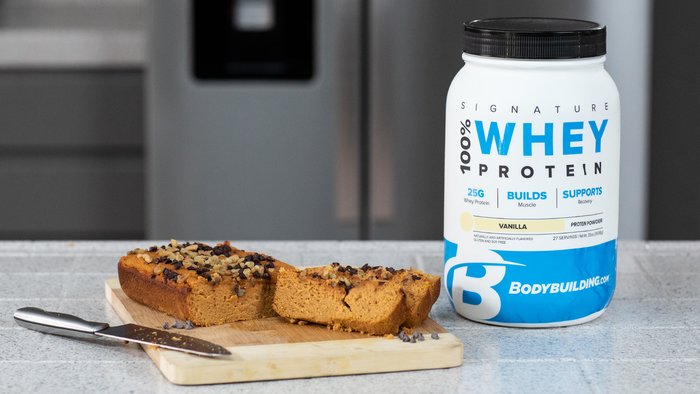 A pumpkin spice latte isn't the only way to celebrate the season. If you crave pumpkin spice everything this time of year, this healthy pumpkin bread is just the thing to spice up your baking routine. Made with Signature Vanilla Whey and coconut flour, this low-carb and gluten-free recipe is the perfect on-the-go breakfast to add a boost of protein to your morning or a satisfying way to indulge your sweet tooth after you hit the gym.
Spinach Frozen Yogurt

Yes, you read that right. Your favorite leafy green—you had your turn, kale—has infiltrated the world of dessert. While it may seem odd to add greens to your ice cream, we promise you'll never notice. A few drops of peppermint extract give this bright green yogurt a festive flavor, while high-protein Greek yogurt forms the base of this low-calorie treat. Frozen banana adds smooth creaminess and extra vitamins to an already nutritious dessert, while the truly magical ingredient is the Signature Casein protein powder. This slow-digesting protein with a pudding-like consistency is the perfect before-bedtime snack to help optimize your body's recovery while you sleep. Whip up a batch of this fresh and delicious frozen yogurt as is, or substitute Signature Chocolate Casein for a wintery mint chocolate treat!
Protein Banana Cream Pie Bars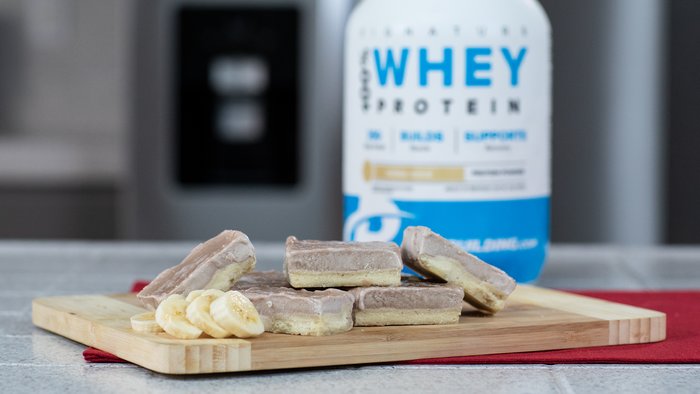 Not a fan of pumpkin pie? No problem! These quick and easy banana cream pie bars are the perfect high-protein alternative. Ripe bananas and dates provide natural sweetness to this delicious dessert, while dairy-free coconut milk, gluten-free almond flour, and Signature Oatmeal Cookie whey protein powder make these bars a decadent low-carb treat you'll go bananas for. Enjoy as a post-workout snack or top with coconut whipped cream for a guilt-free dessert.
Signature Black Friday Energy Drink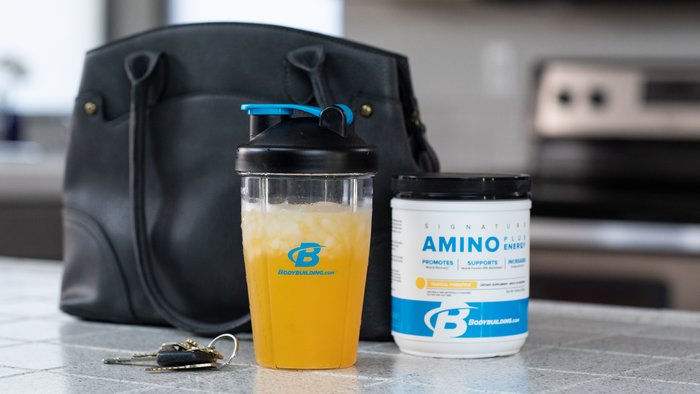 Does your post-turkey tradition consist of standing in line outside your local superstore waiting to score the biggest and best Black Friday deals? If so, this ultra-hydrating on-the-go energy drink is just what you need to stay awake and focused for those doorbuster savings. Made with hydrating coconut water and flavored with a scoop of Signature Amino Plus Energy Tropical Pineapple and a pinch of pink Himalayan salt, this DIY low-sugar energy drink has all the aminos and electrolytes you need to stay bright-eyed and focused as you hunt down the best bargains this holiday season.