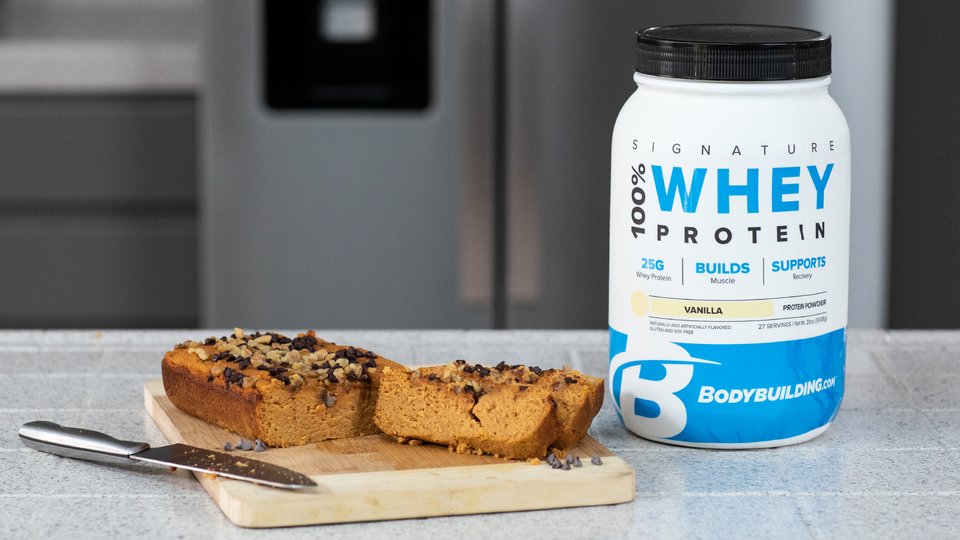 A pumpkin spice latte isn't the only way to celebrate the season. If you crave pumpkin spice everything this time of year, this healthy pumpkin bread is just the thing to spice up your baking routine. Made with Signature Vanilla Whey and coconut flour, this low-carb and gluten-free recipe is the perfect on-the-go breakfast to add a boost of protein to your morning or a satisfying way to indulge your sweet tooth after you hit the gym.
Ingredients
8 oz pumpkin puree
2 large egg whites
1 cup water
¼ cup coconut oil
¼ cup brown sugar
1 cup coconut flour
1½ tsp baking soda
1 pinch table salt
½ tsp cinnamon
¼ tsp nutmeg
¼ tsp ground ginger
Directions
Preheat oven to 350 degrees F (180 degrees C). Lightly grease a loaf pan.
In a medium bowl, combine pumpkin puree, egg whites, water, coconut oil, and sugar. Whisk until well combined.
In another bowl, combine coconut flour, cinnamon, nutmeg, ginger, whey protein, baking soda, and salt. Carefully stir the dry ingredients into the wet mixture until just combined. Do not overmix.
Pour the mixture into the loaf pan. Bake for 45-50 minutes until a toothpick or skewer inserted into the center comes out clean.