The best gifts are ones we use and appreciate every day, and fitness accessories play a crucial role in achieving daily goals. The right shaker cup or gym bag can make it easier to stick to a meal plan or give you that extra ounce of motivation to swing by the gym after work instead of heading home.
Give the gift of health and happiness this holiday season with a fitness-themed present for your favorite gym rat. Reward their iron efforts with something they can use all year—and maybe give yourself a chance to break plateaus and PRs with an extra purchase just for you.
We'll guide you through our wide selection so you can choose the best gifts for you and your friends. With everything from shakers and gloves to barbells and bands, you're guaranteed to find the perfect gift for everyone on your list!
Shakers and Water Bottles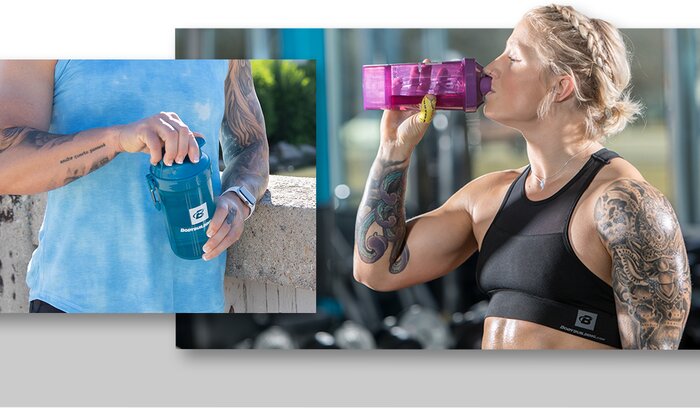 You can always tell a fitness fanatic by their cupboard full of shaker cups and water bottles. While it may seem like lifters always have plenty of these vessels on hand, the truth is we can always use more. Whether our favorite water bottle has disappeared into our gym bag or every single shaker cup is trapped in the dishwasher the moment we need a post-workout shake, the perfect gift for the gym rat in your life is a new shaker cup—extra bonus points if you fill it with protein bars!
As with witty T-shirts, designer headphones, and clever hats, shaker bottles are another opportunity to bring your personal style into your gym routine. Often designed with extra compartments that hold powders or capsules, shakers and water bottles can do more than just hydrate—they help ensure you get the right nutrients quickly and conveniently when you need them most. Whether you're at home, at work, in your car, or at the gym, shakers and water bottles go where you go and carry what you need to get the most out of your next workout.
Browse our collection of shakers and water bottles today to find the right gift for everyone.
Resistance Bands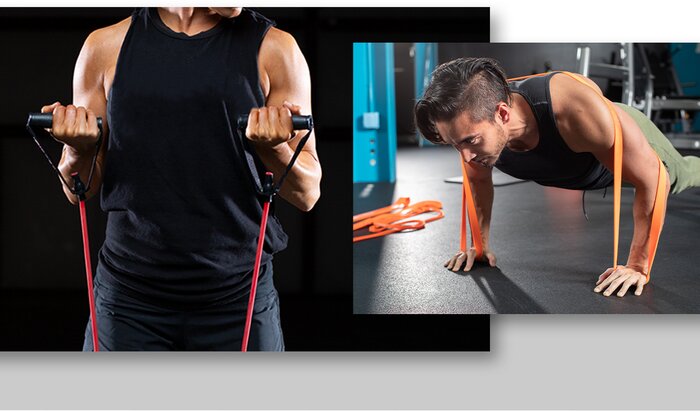 There was a time when resistance bands were relegated to the stretching and rehab area of most major gyms. No one took bands seriously, and few, if any, serious lifters knew how to use them.
Those times are gone. Today, resistance bands are not only a hot commodity in big gyms, CrossFit boxes, and athletic training camps, but they're also a must-have addition to any serious home gym. That's because resistance bands are the total package: They provide dynamic and adjustable resistance for any fitness level, complement any style of training, are lightweight and easy to use, and are an affordable investment in your health and fitness.  
Giving high-quality resistance bands to the fitness fan in your life helps them enhance their training at home and at the gym. Bands also travel well, which means no one has to skip a workout due to holiday travel—just throw a couple of bands in your suitcase, and you'll have everything you need to burn off those extra helpings of turkey and pumpkin pie in no time.
Whether you're looking to get in better shape or just rehab pesky injuries, we have a complete collection of resistance and therapeutic bands to help you find exactly what you're looking for.
Lifting Belts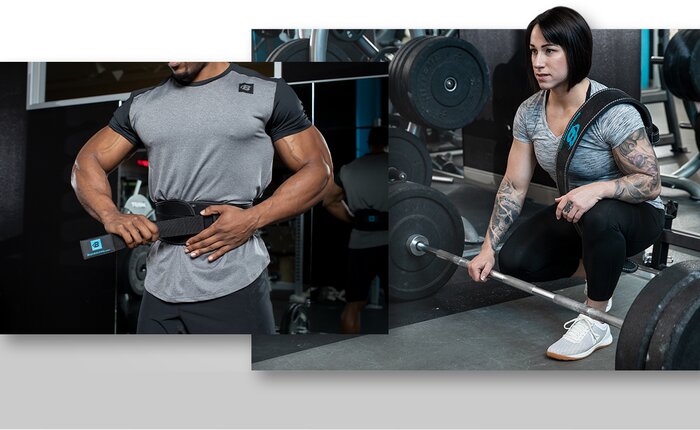 If you're comfortable around a heavy barbell, chances are you're comfortable wearing a lifting belt. Whether you belt up to avoid injury or take extra precautions while chasing those PRs, the support of a good weight belt makes even the heaviest lift feel a whole lot better.
It's easy enough to borrow a buddy's belt or scrounge around the weight room to find that lower back support now and then, but nothing beats the comfort and convenience of having your own. It doesn't matter if you're training at home or at the gym. Getting a new weight belt for the holidays means you and your lifting partner will be better equipped to make gains all year.
Browse our wide selection of big-name brands like Schiek and Harbinger, and check out honest reviews from customers who actually lift. With improved ergonomic designs and a variety of styles to choose from, you're all but guaranteed to find the right belt for you.
Give the gift of heavy lifting and higher PRs with a new weight belt, either as a not-so-subtle hint for your lifting partner to stop using yours, or a well-earned splurge for yourself.
Wrist Wraps and Gloves

Like any good friend, gloves and wraps not only protect you from blisters and callouses, but they also help make that load a little easier to bear. Whether it's help holding onto a heavy bar for deadlifts, preventing blisters and bloody palms during high-rep pull-ups, or bracing your wrists for an intense workout, gloves and wrist wraps are there when you need them.
While the purists may view these implements as unnecessary, a little extra help during workouts never hurt anyone. What better way to show your favorite lifter you care than with a new pair of lifting gloves? They'll appreciate the gesture, and let's be honest, a new pair for yourself is a great way to show your hands some love, too. Plus, straps, wraps, and gloves do make it easier to lift heavier weight for higher reps, so you'll be adding volume to you and your loved ones' workouts. Talk about a gift that keeps on giving!
Not sure which wraps to buy? Browse our selection and read reviews to find the perfect gloves and wraps to fit your favorite lifter.
Strength Equipment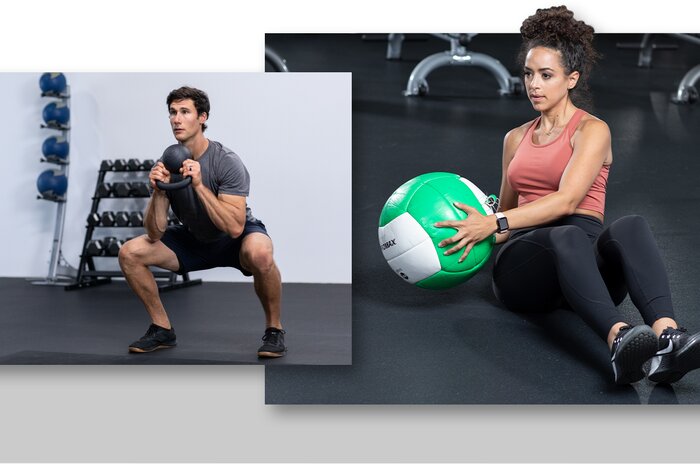 'Tis the season for holly and bells—barbells, dumbbells, and kettlebells, that is. If you're stumped finding the perfect gifts for your fitness fam, look no further than our large selection of strength equipment. A nice new kettlebell or set of dumbbells is the perfect way to jump-start your muscle building and get a leg up on all the New Year's resolutioners flooding the gyms in January.
From individual weights to complete home-gym sets, adjustable benches to racks, we've got the equipment you need to build the body you want in the comfort of your own home. Find the perfect weight set for your pal or stock up on some extra equipment for yourself. Our extensive selection of well-known brands and easy-to-navigate categories will help you find exactly what you're looking for.
Browse our selection of strength equipment today so you'll be ready to lift well before the ball drops on New Year's Eve.
Cardio Equipment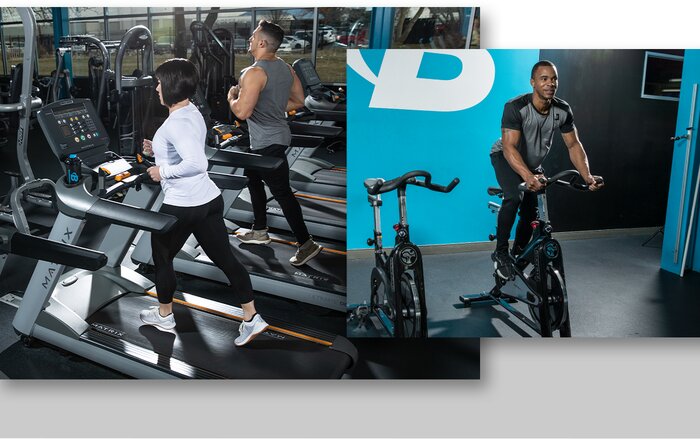 With cold winter weather driving even the most hardcore cardio junkies indoors, the timing couldn't be better to surprise your favorite runner or cyclist with a new piece of home cardio equipment. Whether you're looking for treadmills or bikes, rowers or ellipticals, there's something for everyone in our selection.
Many of these machines are smaller and more compact than their commercial-gym cousins, allowing them to fit easily into any home office or garage gym, and many models now offer built-in Bluetooth technology and preset workouts to give you that extra boost of music and motivation on those cold winter mornings. And don't forget to add a jump rope to your cart before you check out. It's the perfect fitness-themed stocking stuffer and a great way to get in your daily calorie burn when the gym is closed for the holidays.
Help your household stay fit with one of these state-of-the-art cardio machines delivered right to your door!
Gym and Duffle Bags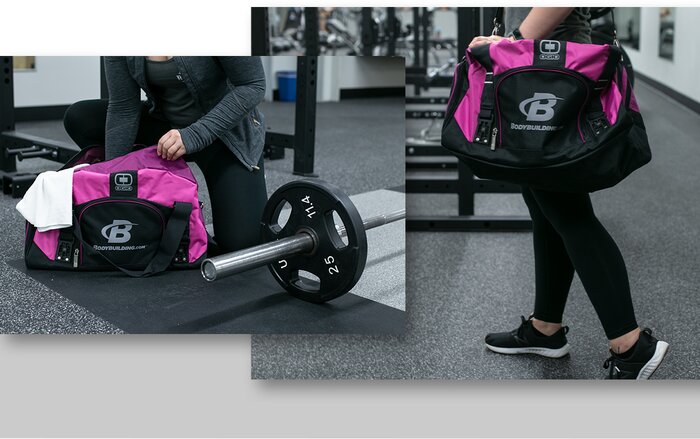 Like squat racks and leg presses, gym bags are essential components of the fitness world—the unsung workhorses we barely notice but can't live without. A true lifter's gym bag is packed and ready at all times with shoes, socks, a change of clothes, pre-workout, a shaker or two, chalk, and maybe an emergency protein bar. And if you're consistent in your lifting, that favorite bag you've had for years is wearing out fast.
Whether you're heading home for the holidays or just need a change of clothes for the gym, a new gym bag is the perfect way to bring along the essentials. With choices ranging from a lightweight drawstring to an all-in-one meal prep and transport to a fully-loaded tactical pack, you'll find the perfect bag to fit any style, goal, and budget.
Pick out a new gym bag for yourself and your loved ones from our selection of top brands.
Fitness Clothing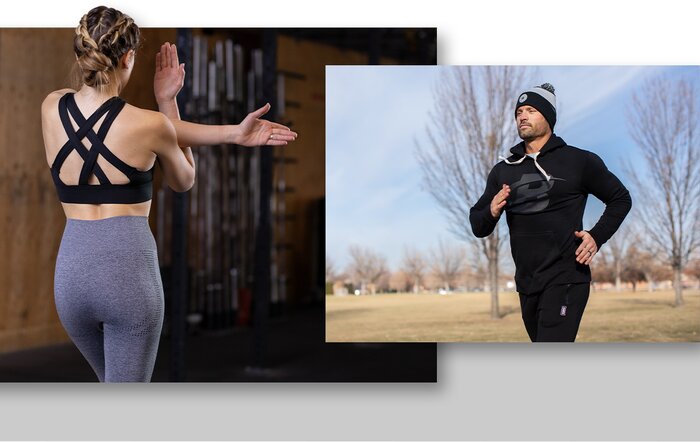 In a world where athleisure clothing is the norm and yoga pants are as ubiquitous as Starbucks, it's easy to forget that they're more than just a lifestyle. Nothing says, "I care about my health and fitness," like sporting your favorite fitness brand at the gym, the coffee shop, or anywhere your day takes you. When you wear a brand, you are the brand, and everyone takes notice.
Help your friends and family wear their fitness prowess on their sleeve—literally—with apparel from top brands in the industry. Whether it's a Venice Beach-inspired muscle tee or a cozy BBcom hoodie, you can sport your "Yes, I lift" attitude with a head-to-toe branded look. Our selection of fitness clothing guarantees you'll look and feel your best when you're grinding it out at the gym or just grabbing a post-workout shake.
Give the gift of comfort and leisure and find the best fit for you and your fitness fam with our wide selection of fitness clothing.
Mobility and Massage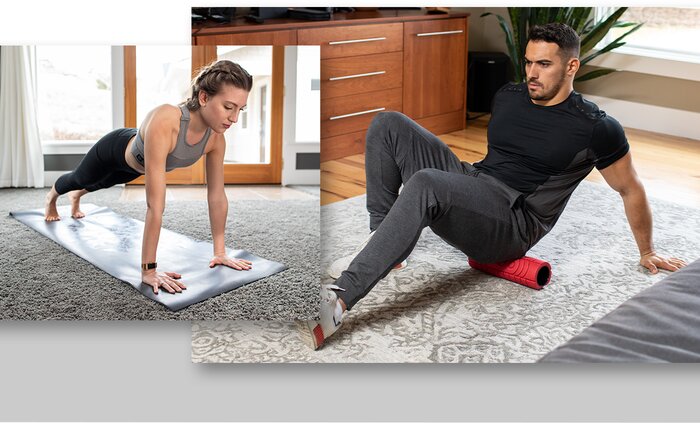 Nothing puts the nice back into those naughty sore muscles like a good old-fashioned massage, but when getting pampered isn't an option, rollers and Theraguns are the next best thing. Spread the joy of faster recovery and quicker pain relief by choosing from our selection of mobility and massage equipment for the folks on your list. Whether the goal is to loosen tight muscles or soothe post-workout aches, we have the rollers, ice packs, heat wraps, and massagers to help everyone's body recover.
Make the holidays a time of rest and healing, and reward your hard work at the gym with one of our mobility and massage accessories.