There's a lot to love about quinoa. It's a complete protein (meaning it contains all essential amino acids, like animal protein does), and it's rich in vitamins, minerals, and antioxidants. Take into account its versatility and its nutty taste as well, and you'd be foolish not to make quinoa a starring role on your plate.
If you're a quinoa virgin or have only been using it as a plain-Jane side dish, try these three tasty ways to make quinoa the main attraction at your next meal!
1. Quinoa Salmon Bowl 
This dish will "bowl" you over with great flavors, textures, and a healthy balance of macronutrients. Plus, by serving everything in a bowl, all the ingredients are deliciously mixed together instead of getting pushed around on a plate. The quinoa, salmon, and mango sauce can be prepared ahead of time and kept chilled separately for up to 3 days.
Ingredients
Quinoa: 1 cup
Salmon: 1 lb. 
Mango, peeled and chopped: 1 medium
Light coconut milk: 1/2 cup
Curry powder: 2 tsp
Rice vinegar: 2 tbsp
Fresh ginger, chopped: 1 tbsp
Garlic, chopped: 1 clove
Salt: 1/4 tsp
Baby spinach: 4 cups
English cucumber, chopped: 1
Cherry tomatoes, halved: 1 pint
Avocado, sliced: 1 
Unsalted pumpkin seeds: 4 tbsp
Directions
Bring the quinoa and 1-3/4 cups water to a boil with a couple pinches salt in a medium saucepan. 
Reduce the heat to medium-low, and simmer, covered, until the quinoa is tender and the liquid has been absorbed, about 15 minutes. Set aside covered for 5 minutes, then fluff the quinoa with a fork. 
Meanwhile, preheat the oven to 400 degrees F. Place the salmon on a greased or parchment-lined baking sheet, skin-side down. Season the fish with salt and pepper. Bake for 12 minutes, or until the fish is just cooked through in the center. Let the salmon rest 5 minutes, then gently break it apart into large chunks. 
Blend together the mango, coconut milk, curry powder, rice vinegar, ginger, garlic and salt until smooth. 
To serve, divide the quinoa, spinach, cucumber, tomatoes, avocado, and salmon among four serving bowls. Drizzle on mango sauce and garnish with pumpkin seeds. 
Nutrition Facts
Serving Size: 1 bowl
Recipe Yields 4 Servings
Calories: 615
Fat: 31 g
Carbs: 50g (10 g fiber)
Protein: 34 g
2. Quinoa Chicken Soup
A bowl of chicken soup will always comfort the soul, but this version packs extra nutrition and health benefits. Quinoa makes for a healthier alternative to processed noodles, while chicken thighs provide a juicy, flavorful source of protein to feed your muscles. Whip up a bigger batch, and stash individual portions in the freezer.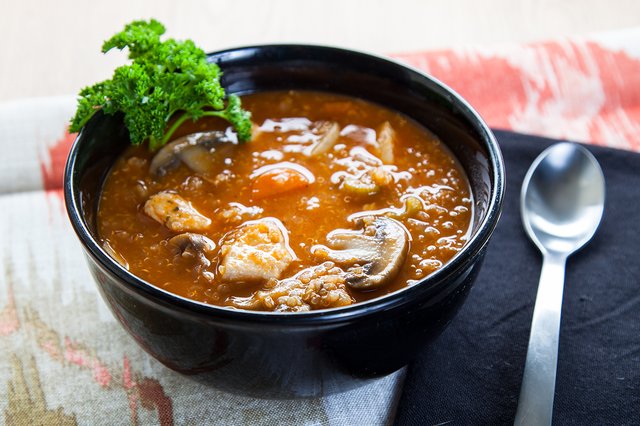 Ingredients
Canola oil: 1 tbsp
Yellow onion, diced: 1 large
Carrots, chopped: 2 medium
Salt: 1/2 tsp
Chicken thighs, sliced (boneless and skinless): 1 lb. 
Crimini mushrooms, sliced: 1/2 lb.
Celery, sliced: 2 stalks
Garlic, minced: 2 cloves
Tomato paste: 2 tbsp
Italian seasoning: 2 tsp
Red chili flakes: 1/4 tsp
Low-sodium chicken or vegetable broth: 5 cups
Quinoa: 3/4 cup
Red wine vinegar: 2 tbsp
Parsley, chopped: 1/3 cup
Directions
Heat the oil in a large saucepan or pot over medium heat. Add the onion, carrots, and salt, and cook until the onion is softened and darkened, about 6 minutes. 
Add the chicken, mushrooms, celery, and garlic to the pan; cook 5 minutes more. Stir in the tomato paste, Italian seasoning, and chili flakes; heat for 30 seconds. 
Add the broth and quinoa to the pan and bring the soup to a boil, then reduce the heat to low and simmer, covered, until the quinoa is tender, about 20 minutes. 
Stir in the red wine vinegar and serve garnished with parsley and freshly ground black pepper. 
Nutrition Facts
Serving Size: 1 bowl
Recipe Yields 5 Servings
Calories: 281
Fat: 9 g
Carbs: 26 g (4 g fiber)
Protein: 24 g
3. Two-Grain Apple Porridge
Quinoa and hearty steel-cut oats team up to raise the ante on breakfast oatmeal. Apple and warming spices make it taste extra comforting. By soaking the grains overnight, the cooking time in the morning is significantly shortened. For extra protein, you can stir in some protein powder or serve it alongside your favorite omelet.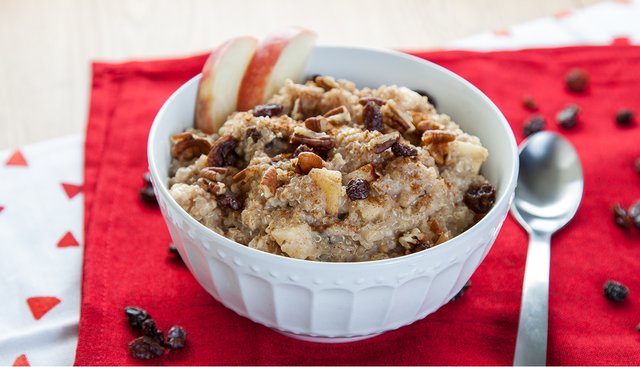 Ingredients
Quinoa: 1/2 cup
Steel-cut oats: 1/2 cup
Milk: 3/4 cup
Apple, grated or finely chopped: 1 large
Raisins: 1/3 cup
Cinnamon: 1 tsp
Ginger powder: 1/2 tsp
Nutmeg: 1/4 tsp
Pecans, sliced: 1/3 cup
Maple syrup: 4 tsp
Directions
In a medium saucepan, bring the quinoa, oats, a pinch of salt, and 3 cups water to a slight simmer. Immediately turn off the heat, cover the pan, and let it sit overnight.
In the morning, stir in the milk, apple, raisins, cinnamon, ginger powder, and nutmeg. Heat over medium-low for 10 minutes, stirring occasionally. Serve topped with pecans and maple syrup.
Nutrition Facts
Serving Size: 1 bowl
Recipe Yields 4 Servings
Calories: 329
Fat: 9 g
Carbs: 53 g (7 g fiber)
Protein: 9 g