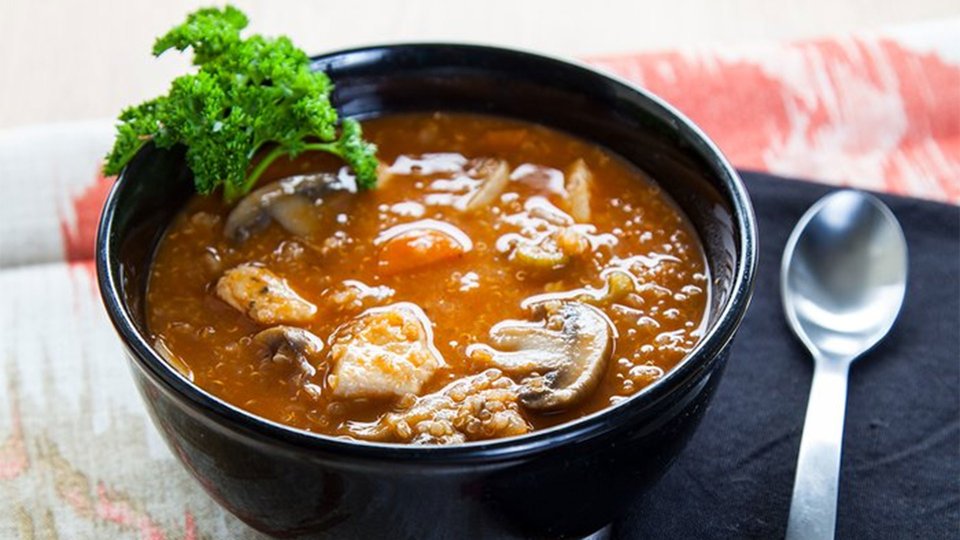 A bowl of chicken soup will always comfort the soul, but this version packs extra nutrition and health benefits. Quinoa makes for a healthier alternative to processed noodles, while chicken thighs provide a juicy, flavorful source of protein to feed your muscles. Whip up a bigger batch, and stash individual portions in the freezer.
Ingredients
1 tbsp canola oil
1 large onion, diced
2 medium carrots, chopped
½ tsp table salt
1 lb chicken thighs, slice (boneless and skinless)
½ lb crimini mushrooms, sliced
2 stalk celery, finely diced
2 clove garlic, minced
2 tbsp tomato paste
2 tsp italian seasoning
¼ tsp crushed red pepper flakes
5 cup low-sodium chicken broth
¾ cup quinoa, cooked
2 tbsp red wine vinegar
⅓ cup flat-leaf parsley
Directions
Heat the oil in a large saucepan or pot over medium heat. Add the onion, carrots, and salt, and cook until the onion is softened and darkened, about 6 minutes.
Add the chicken, mushrooms, celery, and garlic to the pan; cook 5 minutes more. Stir in the tomato paste, Italian seasoning, and chili flakes; heat for 30 seconds.
Add the broth and quinoa to the pan and bring the soup to a boil, then reduce the heat to low and simmer, covered, until the quinoa is tender, about 20 minutes.
Stir in the red wine vinegar and serve garnished with parsley and freshly ground black pepper.