There are a lot of revisions in place for the upcoming Olympia Weekend. This highly anticipated bodybuilding show and fitness expo runs from September 12-15 at the Orleans Arena in Las Vegas and the Las Vegas Convention Center. For the first time ever, all eight Olympia Pro Division Finals will be held on the arena stage, among other innovations being created by Chief Olympia Officer Dan Solomon and his staff.
Another first—the defending Mr. Olympia champion will not vie for the Sandow—and the $400,000 grand prize. The last time this occurred was in 1998, when the Big Nasty (aka Ronnie Coleman) won the first of his eight Olympia crowns, one season after reigning champion Dorian Yates retired.
Last year's champion, Shawn Rhoden, was disqualified from the event due to rape allegations. Also, likely to be MIA is seven-time Mr. Olympia Phil Heath, who was upset by Rhoden in 2018. Not a word from The Gift about competing in September, so, at least for now, Heath is not in the lineup.
For Kai Greene groupies, don't get your hopes up or give credence to the unfounded rumors tossed around on various website forums. He hasn't done the Olympia since 2016, so I would be stunned if The Predator competes.
There's a big difference in the Heath and Greene scenarios. Greene would have to apply for a special invite (not done as of August 23) and be accepted in order to get another shot at the coveted Sandow. Heath is automatically qualified for life, so he could be waiting to make a game time decision.         
Now, with those loose ends tied up, let's break down what we're working with at this year's Mr. Olympia!            
Category: Mr. Olympia
Current Champion: Shawn Rhoden
My Pick: Brandon Curry
Coming off his big win at the Arnold Classic USA six months ago, Curry is regarded by many as the slight favorite over William Bonac, Roelly Winklaar, and Dexter Jackson. The 5-foot-7, 240-pound Curry has a great balance of hardcore beef, beautiful shape, strong conditioning, and vastly improved wheels.

The 37-year-old from Murfreesboro, Tennessee, finished fifth in the Olympia last year, moving up three slots from his eighth-place landing in 2017. "Slowly but surely" has been Curry's theme since he turned pro with a win at the 2008 NPC USA Championships.
Still, his career hasn't been without hiccups. In 2016 he didn't even place at the Olympia, got spanked at several shows overseas, and could only manage eighth at the Golden State Championships in Sacramento. This gave pundits enough ammo to start the "it's all over" chants.
Hardly. Curry picked up three wins in 2017, then gave his greatest performance ever at the Arnold Classic this year. Let's see if he's on a hot streak!
Title Contenders: William Bonac, Roelly Winklaar, Dexter Jackson
Bonac, at 5-foot-5 and around 225-235 pounds, gave Curry a run for his money at the Arnold. Bonac won the contest the year before, and some people felt he deserved the nod again. Not the biggest guy in the show, for sure, but definitely a serious challenger for the Sandow.
Curry has better shape, Bonac thicker muscle. Shape won out at the Arnold Classic USA—will history repeat itself? A great rivalry has emerged.
Winklaar, 42, has the most muscle per inch of anyone competing, but a fairly slimmed down frame produced his best ever look last year when he slid into third place. So, bigger does not mean better for the man from Curacao, who has been as heavy as 265 onstage (at 5-foot-6) but sat at around 240 last season.
It's hard to believe I'm still writing about the chances of Jackson at the Olympia. I mean, the guy will only be three months shy of his 50th birthday when he slips on the posing trunks in Las Vegas this year. After falling to seventh in 2018, bodybuilding's version of Benjamin Button looked terrific in winning his record 29th IFBB contest at the Tampa Pro in early August.
He may be the oldest man in the field and definitely nowhere near the biggest at 5-foot-7 and 230 pounds, but without question, he's still one of the best. No Grim Reaper visits anytime soon for the Blade.
Top-Six Contenders: Josh Lenartowicz, Cedric McMillan, Nathan DeAsha, Steve Kuclo
Lenartowicz is one big fella, clocking in at around 6 feet tall and weighing 265 pounds. His best finish at the Olympia? Back-to-back ninth-place medals in 2016 and 2017. He took third at the Arnold Classic a few years back and scored his first IFBB win at the 2017 Tampa Pro. At his best, the "Thunder from Down Under" could battle the rest for a top-six landing.
Kuclo is another one of those powerful physiques set off by good symmetry. The former firefighter from Irving, Texas, has been in the top 10 at the Olympia before and defeated DeAsha at the California Pro a couple of years back. Carrying 265 pounds of beef on his 6-foot frame, Kuclo has plenty of quality muscle to hold his own in just about any show he enters. At 34 years old, though, there's no time like the present for Big Steve to make good on that potential. Conditioning, my man, conditioning!
The story rarely changes for Cedric McMillan. He could have the best body in the entire lineup at 6-foot-2 and 270 pounds, with a small waist and marvelous symmetry. McMillan was dubbed "The Next Lee Haney" after winning the NPC Nationals in 2009.
McMillan got a special invite to this year's contest, as he is an active member of the military based in Fort Jackson, South Carolina. I have no problem with this decision. Plus, he only missed qualifying by one point.
His victory at Nationals was in dominating fashion, but that was 10 years ago. McMillan is now 41, and we are all still waiting for him to show off that Mr. Olympia-worthy physique at the Olympia. I've used the word "if" too many times regarding McMillan's ability to win it all. And I will use it again. Maybe if he didn't have a full-time job and could concentrate solely on his prep, McMillan might have a Sandow or two in his trophy case.
Just thinking out loud.
I've always been impressed with the 5-foot-10, 240-pound physique of Nathan DeAsha, but have to admit I was a bit disappointed with his back-to-back eighth-place finishes at the past two Olympias. I had DeAsha as an X-factor two years ago, but he ended up being a nonfactor. Now is the time to prove you still belong in the upper echelon of the sport, Nathan!
Fighting for a Top-10 Spot: Juan Morel,c, Jonathan De La Rosa, Maxx Charles, Luke Sandoe, Michael Lockett
These gentlemen bodybuilders will certainly put on a battle as they each strive to make the top 10. Morel, 5-foot-11 and 250 pounds, has competed in a few Olympias, with his 10th-place landing in 2014 being his best. After scoring victories last year at the New York Pro and the Arnold South Africa, De La Rosa looks like a solid possibility for another top-10 finish.
Williams is known for his feats of strength as much as he is for his success on a bodybuilding stage. His best lifts are an 860-pound deadlift, an 840-pound squat, and a 550-pound bench press. Muscular Development magazine named him "The World's Strongest Bodybuilder," but the Olympia, unfortunately for him, is not a contest of strength.
The 5-foot-10, 260-pounder won the Tampa Pro in 2016 and last year had two narrow losses at the Muscle Mayhem and Toronto Pro shows. He finished 15th in his only crack at the Olympia a couple of years back.
De La Rosa, who won the Toronto Pro and the Puerto Rico Pro this year, has taken the Olympia stage on two previous occasions and didn't make the top 10, so this is another shot for him to prove he can hang with the best in the world.
Maxx Charles, like Williams, is a big dude—5-foot-10 and 265 pounds—and finished 13th at the Olympia a couple of years ago. He has the tools to be in the top 10 this time.
British star Luke Sandoe looked good finishing third at the Arnold Classic USA and second at the Tampa Pro, so keep an eye on this heavily muscled 5-foot-7, 240-pounder.
Michael Lockett is capable of beating all of the above. He looked solid when he successfully defended his Chicago Pro title this year, however, he must show up more conditioned than in the past. Lockett might be considered a longshot for top 10, but it's not out of the question.
Rounding out the lineup are Clarence De Vis of Belgium, Mohamed Shaaban from Egypt, Patrick Moore from the USA, and Lukas Osladil from the Czech Republic.
Hadi Choopan is on the Olympia list as well, but has had visa problems. The Persian Wolf, as they call him, has been unable to get to any contest in the United States in the past couple of years. His status was still undetermined at press time. If Choopan does somehow end up onstage, I would immediately move him into the Top-Six Contenders category.
212 Olympia
Current Champ: Flex Lewis
My Pick: Derek Lunsford
Competitors in this division were thrilled to hear that James "Flex" Lewis, after seven consecutive victories, has finally moved on to the open division, where he'll compete in 2020. Thus, a new champion will be crowned, and I feel it will be Derek Lunsford, who was a solid second to Lewis the past couple of years.
If not Lunsford, try Kamal Elgargni or Ahmad Ashkanani on for size. They looked outstanding, finishing third and fourth, respectively, last year. Both will put the pressure on Lunsford, and either of them could leave the arena with the $40,000 first-place purse in their pocket.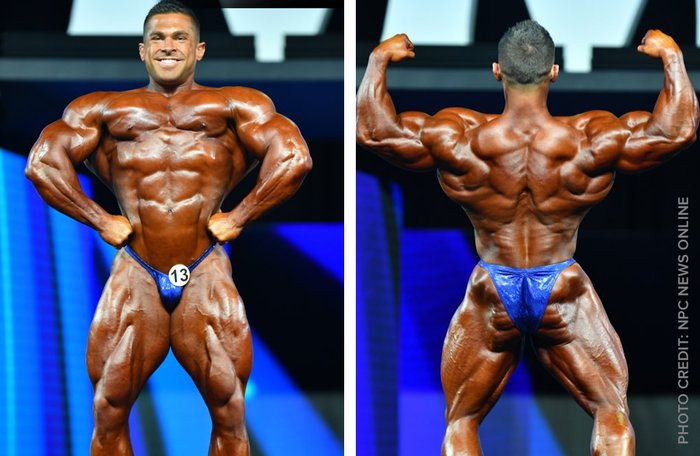 Men's Physique Olympia
Defending Champion: Brandon Hendrickson
My Pick: Ryan Terry
Another "pick 'em" category. Last season Brandon Hendrickson won the $20,000 first-place award, and he's back again looking to duplicate his feat. Also returning: runner-up Ray Edmonds and third-place finisher Ryan Terry—and I like Terry for the upset against Hendrickson.
But the guy providing the most interest in the division will be Jeremy Buendia. For those not aware of Buendia's stellar career, he won the Men's Physique Olympia four years in a row before a surprising drop to fourth in 2018.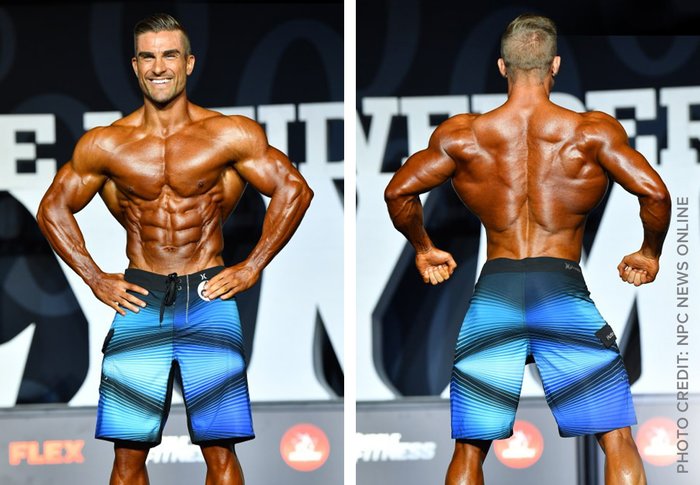 Can he come back to grab the title he owned from 2015-2017?
Classic Physique
Defending Champion: Breon Ansley
My Pick: Breon Ansley (by a hair)                          
If anybody can derail the Breon Ansley express, Canadian Chris Bumstead is the guy. Ansley has won the classic physique category (and $20,000) at the Olympia two years in a row, but not without a great push by Bumstead, who some felt could have taken the title in either of those showdowns.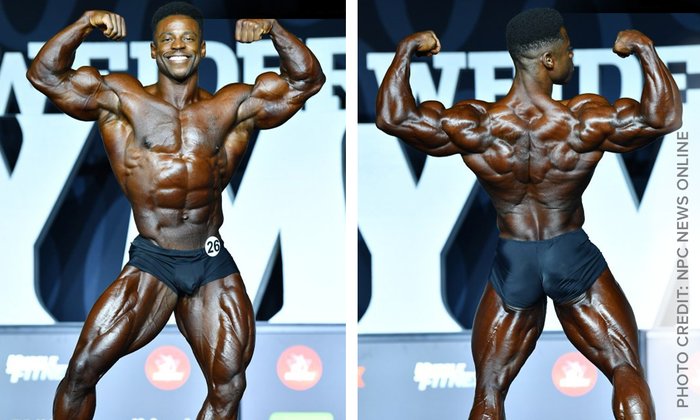 George Brown is always a factor in this division, but a competitor who has also impressed me is another fella by way of Canada, Henri-Pierre Ano. New York's Arash Rahbar and California standout Dani Younan are a couple of other gents who could be in the mix for a top-five finish.
My sentimental pick is Danny Hester, the first ever Classic Physique Olympia winner in 2016 at 47 years old. Hester still looks terrific at 50 and could fight for a top-five landing. Though he finished outside of the top 10 last year, I predict Hester bounces right back with a vastly improved placing.