5 Simple Transformation Staple Recipes!
If transformation is your goal, you need a recipe box that reflects it. Here's your guide to making better versions of 5 classic fit-friendly dishes!
What does it take to truly transform your body and your life? Look around on this site and others, and you'll see a lot of different answers to that question—physical, nutritional, and motivational. But they can all pretty much be grouped under a single word: tools! More specifically, you need tools you can use again, and again, and again. One great example of this is the staple recipe.
There's simply no substitute for a simple, good-tasting dish that you can easily prepare and always enjoy. These five recipes have formed the nutritional foundation of many successful transformations, and they can work with pretty much any macronutrient ratio. Master these dishes, and you'll have even more energy to devote to every other part of your fitness journey!
This is a true staple. We all know what it tastes like done wrong, and the feeling of dread that comes with eating it. Learn to get it right, and you'll wonder what took you so long. Here's how to make clean chicken that you'll look forward to every time you sit down to eat.
Ingredients
---
Lemon pepper seasoning (or seasoning of choice)
---
Directions
Place oven rack about 6-8 inches from broiler and set the oven to broil. While oven is heating, line a large baking tray with foil. Lightly spray the baking tray with nonstick cooking spray.
Slice each chicken breast in half from the side, creating two relatively flat pieces. Lay sliced chicken on tray evenly. You may have to cook two batches depending on the size of your tray.
Season both sides of the chicken breast with the lemon pepper seasoning.
Place on top rack of the oven for 6-8 minutes. The chicken will be ready to flip once it is golden brown. (Tip: Leave the oven door slightly ajar to eliminate smoke.)
Flip chicken once it is brown, then leave under broiler for another 6-8 minutes.
Once chicken is finished, remove from oven and wrap completely in foil.
Let chicken sit for about 10 minutes, slice, and enjoy.
Nutrition Facts
Serving size: 8 oz., cooked
Recipe yields: 10 servings
Amount per serving
Calories 448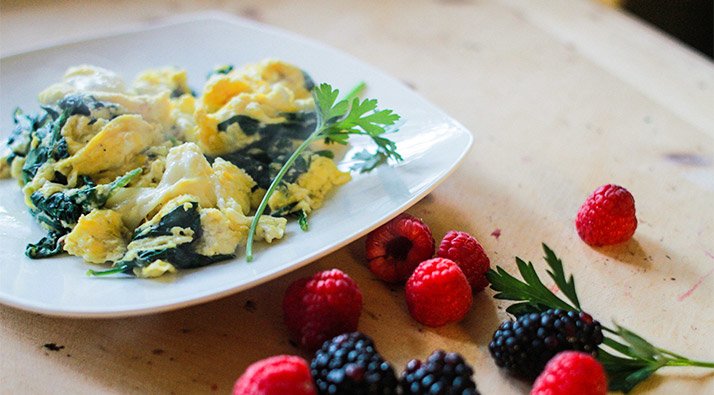 Protein isn't enough, chief. You need your veggies, and there's no better place to get them than the first meal of the day. Banish boring eggs from your life with this scrumptious spinach scramble!
Ingredients
---
---
---
Salt and pepper:
to taste
---

Red pepper flakes:
1/2 tsp
---
Olive oil (or nonstick cooking spray):
1/2 tsp
---
Minced garlic
---
Directions
Preheat a nonstick skillet over medium heat. Combine the whole eggs, egg whites, and salt, and pepper in a bowl. Lightly beat to mix.
Add oil or cooking spray to your skillet, and add spinach to sauté. Minced garlic is optional. (Give it a shot—you might be surprised by how much you like it!)
Once the spinach begins to wilt, pour in egg mixture. Let mixture sit for about 30-40 seconds.
Slowly turn the eggs, resting 10-15 seconds between each turn. Repeat this process until eggs are set. Don't burn them! Remove from heat, add a sprinkle of red pepper, and enjoy.
Nutrition Facts
Serving size: 1
Amount per serving
Calories 361
3
The Go-To Ground Turkey Skillet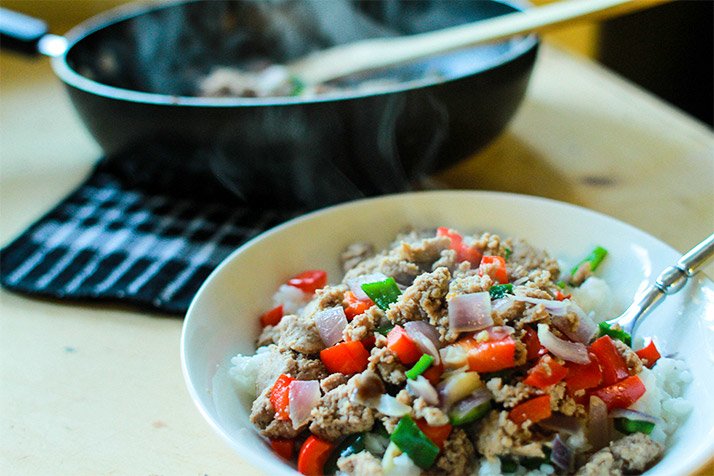 Recipes like this can be a game-changer. It's easy to spice according to your taste, and it provides a great opportunity to try different vegetables and flavors. Add mushrooms, green pepper, scallions, or whatever else looks good in the store. The options are limitless. It's also great when paired with the mashed sweet potatoes.
Ingredients
93% lean ground turkey:
1 lb.
---
Chopped red pepper:
1 cup
---
Poblano pepper, chopped:
1 cup
---
---
Salt and pepper:
to taste
---

Red pepper flakes
---
---
Directions
Wash and prep your veggies and garlic.
Heat a medium to large nonstick skillet over low to medium heat. Add olive oil.
Add onions and garlic to skillet, lightly sauté for 1-2 minutes, taking care not to burn the garlic.
Add ground turkey to skillet. Sauté turkey for about 3-4 minutes.
Add in vegetable mixture and season with salt and pepper. Continue to sauté turkey until cooked through.
Drain any excess fat, sprinkle with red pepper flakes, and enjoy!
Nutrition Facts
Serving size: 8 oz.
Recipe yields: 2 servings
Amount per serving
Calories 408
Cooking up sweet potatoes in nothing but their skin like you're a Boy Scout on a camping trip is fine. But mashing them allows you to customize the flavor and texture a bit more, which is crucial for sticking to a nutrition plan!
Ingredients
Sweet potatoes, cubed:
3 medium
---
---
---
2% milk:
1/4-1/2 cup (optional, higher calories)
---
Directions
Bring a medium pot of water to boil over high heat.
Prep sweet potatoes by peeling and cutting into small cubes, about 1/4-1/2 inch each.
Add prepped sweet potato to boiling water. Boil for about 10-15 minutes. The potatoes are done once they're easily pierced with a fork.
Remove pot from heat and drain excess water. Using a hand masher or spoon, begin to mash potatoes to desired consistency. Add salt for flavor.
At this point you can add the milk if desired, starting with 1/4 cup. Continue mashing and, if needed, add an additional 1/4 cup of milk.
Once the sweet-potato mash has reached your desired consistency, add a pinch of cinnamon.
Nutrition Facts (without milk)
Serving size: 4.5 oz.
Recipe yields: 2 servings
Amount per serving
Calories 110
Nutrition Facts (with milk)
Serving size: 4.5 oz.
Recipe yields: 2 servings
Amount per serving
Calories 140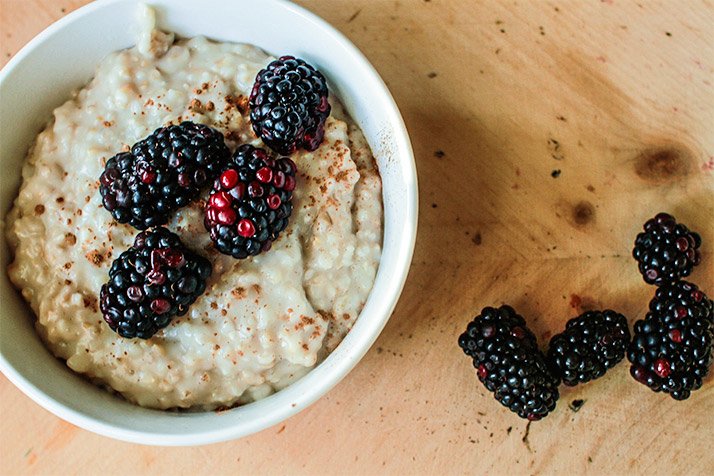 Kind of like roasted chicken, oatmeal is something a lot of people don't enjoy because they've never learned how to prepare it properly. In my experience, gently toasting the oats in olive oil prior to making the oatmeal makes a huge difference. What you put on top, well, that's up to you!
Ingredients
Steel-cut oats, dry:
1 cup
---
---
---
---
Cinnamon, bananas, and other fruits or nuts
---
Directions
In a medium saucepan, heat olive oil over medium-high heat. After oil is heated, add oats to pan and gently toast for 1-2 minutes.
Add 1-3/4 cups milk and 2 cups water to saucepan and bring to a boil. Reduce heat, cover, and simmer for 25-30 minutes without stirring.
Add in remaining milk and cinnamon.
Serve topped with bananas or other fruits and nuts of your choice!
Nutrition Facts (without milk)
Serving size: 1 cup
Recipe yields: 4 servings
Amount per serving
Calories 235