Pecking order counts in bodybuilding, and by extension, fitness, figure, bikini, and physique. Once the judges have placed you where they like you, you move up only when the athlete placed ahead of you isn't competing. Yeah, that's how it works—except when it doesn't.
Just ask the folks who said Phil Heath would win his eighth Mr. Olympia title in 2018. Or the ones who thought three-time champ Ashley Kaltwasser could not lose in bikini in 2016. For those handicapping the IFBB's ultimate pro competitions—the Fitness, Figure, Bikini, and Women's Physique Olympias—the trick is to know who's gonna hold 'em and who's gonna fold 'em at the Las Vegas Convention Center and Orleans Arena on September 13 and 14.
Here's a rundown of the players coming to the table in Vegas:
Fitness Olympia: An Even Hand
Last year's champ and runner up, Whitney Jones and Ryall Graber, respectively, are back at the table with piles of chips in front of them. With third-placer Myriam Capes skipping the show, a repeat win for Jones would not be a shocker. Still, the duo enjoys an even balance of talent—Graber came back to beat Jones at the 2019 Arnold Classic Fitness International last March—and either could take the pot.
Jones' powerful, evenly developed physique usually gets the edge, but this contest will be won in the routines, where the judges like them both. My money's on Graber to prevail. She's retiring from competition after this season, and it has given her that extra something-something that put her over the top at the International.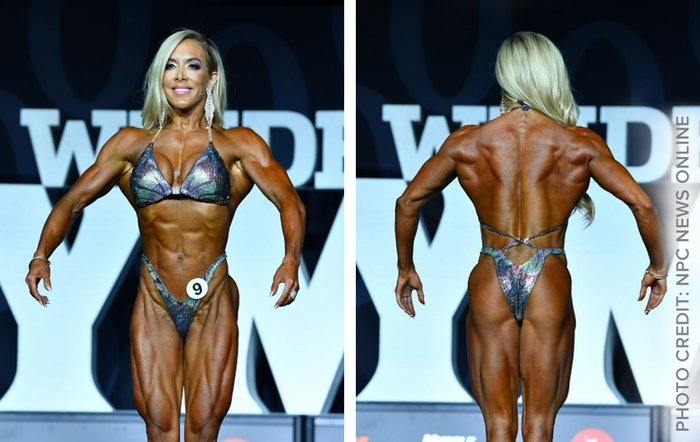 Who's Next in the Pecking Order?
Capes' absence leaves an opening in the hallowed top three. Two names come to mind: Missy Farrell and Tiffany Chandler. Farrell scored a big win at the Legion Sports Fest last fall after taking fourth at the Olympia. She's got a good shape and usually does well in the physique round, but I like Chandler's routine skills, which saw her leap into third, ahead of Farrell, at the 2019 International. I think they'll repeat in third and fourth here.
Playing for the Winner's Circle
The top five will automatically requalify for the 2020 Olympia, and a number of candidates could earn that sweet fifth spot. Darrian Borello, sixth last year, gets the pecking order advantage. She's a solid performer who has been moving up in the standings over the past few years, and she has certainly earned it.
Could Make the Cut
Seventeen women have qualified for the 2019 Fitness Olympia, and any one of the others could break through. Jeanine Taddeo won the Arizona Pro in August 2018 and has been waiting ever since to show her stuff at the O. Her wicked routine skills make Taddeo the athlete most likely to come out of nowhere and earn a spot in the winner's circle.
I liked Jaclyn Baker's routine more than the judges did last year, but I'm willing to bet she'll get the love to finish higher than 10th this time, maybe even enough to take her to fifth or sixth place.
Kate Errington, who fell out of favor with her 2018 Olympia performance, came back this year to earn a spot in the lineup the hard way: on points. Her dramatic routines are always attention-getters, so don't count her out.
Another athlete you don't want to overlook is early 2000s fitness star Jenny Worth, who came out of retirement two years ago and got eighth last year.
Figure Olympia: A Card Shark Returns to the Table
With 2019 runner-up Candice Lewis Carter retired, two-time defending champ Cydney Gillon should be holding all the cards. Gillon's win at the International only strengthened her position as the number-one figure athlete in the world. With her hourglass shape and perfect conditioning, she has no equal on the current scene and should earn her third title.
But, wait. Here comes Latorya Watts, the two-time Olympia champ who lost to Gillon in 2017. Watts is the originator of the extreme X-frame look that has dominated pro figure in recent years, but she took last year off due to illness. If anyone can stop Gillon's run, it's Watts, and the tension will be high when they stand side by side in the comparisons. That said, don't be surprised if Watts has to settle for second again.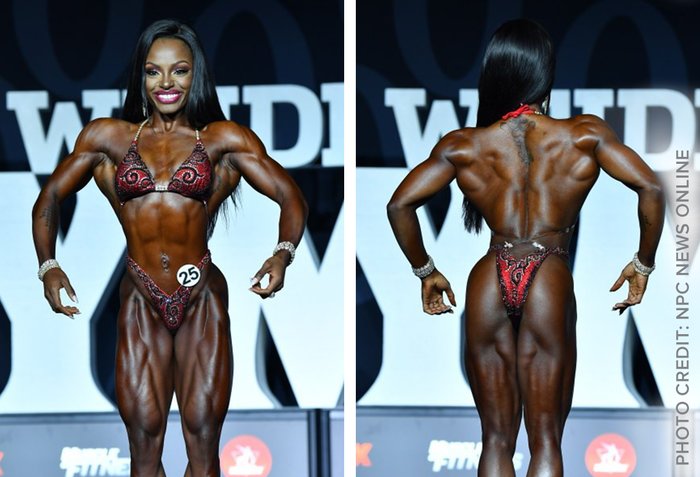 Who's Next in the Pecking Order?
If the above holds true, Nadia Wyatt will repeat in third place. Watts looked great taking second to Gillon at the Figure International, where she was leaner than the champ, but she can't match Gillon when it comes to upper-body size and flow.
Playing for the Winner's Circle
Twenty-five athletes have qualified for the 2019 Figure Olympia, but the women who will finish fourth and fifth—and earn the last two automatic qualifications for the 2020 Olympia—should come from the following group. They generally sport physiques that are not as big as those mentioned above, but have managed to rise above the pack at multiple big shows.
Jessica Reyes Padilla, last year's fourth-placer, is next in the line of succession, but Carly Starling Horrell (fifth in 2018) could finish ahead of her if she brings her solid physique to the stage just right. Natalia Soltero and Bojana Vasiljevic (fourth and fifth at the International, respectively) are both capable of bringing a package the judges will like better, as well. Could Make the Cut
Also on my radar for a possible top-five finish are Europa Dallas winner Sandra Grajales and Lola Montez, who won at the Lenda Murray Pro. Montez has just begun to peak as a figure athlete and can be the wild card in this lineup.
Bikini Olympia: Full House
Two-time defending champ Angelica Teixeira wants a three-peat, and she likely has the winning hand. The judges' preference for Teixeira's brand of physique and sass has been evident since she strode to the head of the lineup in 2017, and she has two Bikini International titles to prove it. Plus, she's grown in confidence and sparkle onstage during her reign as the champ.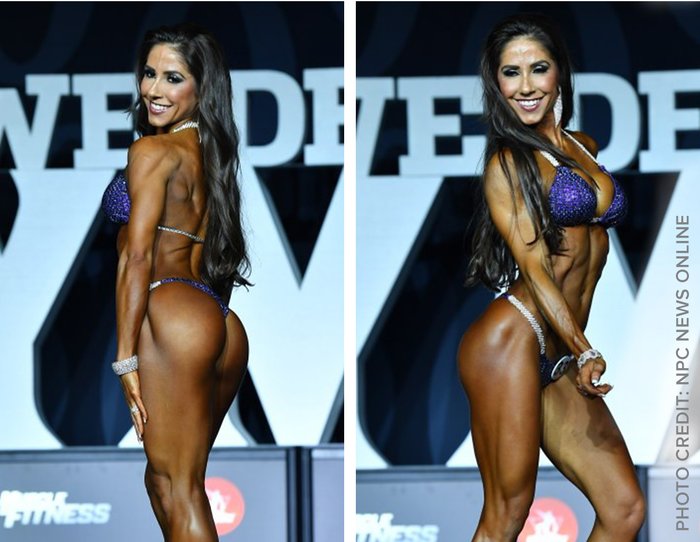 Who's Next in the Pecking Order?
No one, really. The rankings in bikini are fluid, and Teixeira's wins have been the only constant, with different runners-up almost every time. Lauralie Chapados came out of nowhere to take second in 2018, but my money's on Janet Layug to finish ahead of her. Layug's body still screams drop dead gorgeous when she's just standing in front of the judges, and she's hot again after her win at the 2019 Bikini International, where Teixeira did not compete. If she looks like that in Vegas, Layug could challenge for the title.
Playing for the Winner's Circle
My note on Chapados from the 2018 O: "A little thin but a great derriere." She dropped to sixth at the International, but she's a work in progress and is still a good pick for a top-three finish if she can get back her conditioning.
Next comes Elisa Pecini, the 2018 fourth-placer. With her extra svelte look and tiny waist, Pecini got my attention last time and I can see her repeating.
Jennifer Ronzitti finished second at the 2017 Olympia, then dropped to sixth (see what I mean by fluid?). Her win at the Chicago Pro in July suggests she's got her mojo back. Ronzitti will have to fight it out for fifth with three-time Olympia champ Ashley Kaltwasser, who was fifth last year and third at the International. Kaltwasser could finish as high as third here, but she won't be the one keeping Teixeira from becoming the second-ever, three-time champ.
Could Make the Cut
Several of the 25 top bikini competitors who qualified for the Olympia could knock the above athletes down to sixth or lower. Priscila Leimbacher, who won the Pittsburgh Pro, had the most points in the free-for-all that is the bikini qualifying process. She's not as ripped (for bikini) as Pecini and some of the others, but with enviable balanced curves topped with the perfect shoulders, Leimbacher could easily make the first callout.
Also, keep an eye out for Toronto Supershow champ Etila Santiago Santos, who has the curves and presentation to move into the top tier if she nails it in Vegas.
Women's Physique Olympia: Four Aces
Shanique Grant is a once-in-a-generation bodybuilder. I may have said that last year, but she's just at the beginning of her run at the top, and it should continue as she vies for her second Women's Physique Olympia crown. Grant has that X-frame the judges prize in figure, taken to the next level, with shape, balance, and a superior flow of body parts. Despite the steep competition from Natalia Abraham Coelho, second last year, Grant should rake in the chips again.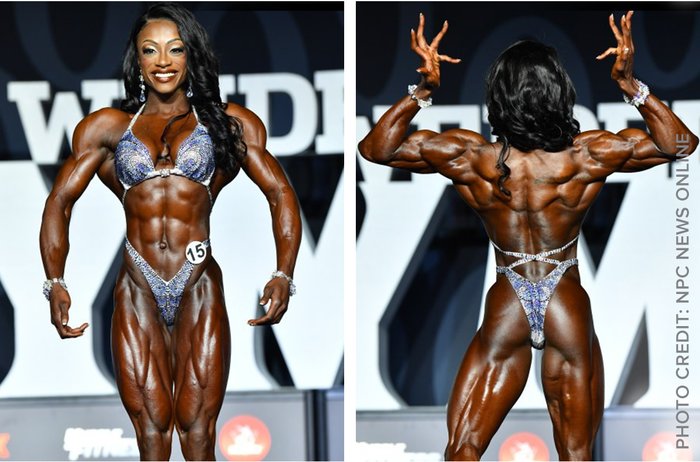 Who's Next in the Pecking Order?
Grant took the champ's prerogative of a year off between Olympias, leaving Coelho to clean up at the Women's Physique International. She's an easy choice for second at the O. Both women are in their early 20s and have a long way to go in their careers. Coelho has improved her balance and continues to go after her rival via size and conditioning, but as long as Grant brings the package the judges love to the stage, it won't be enough for Coelho to overtake her.
Playing for the Winner's Circle
Daniely Castillo came in very lean to finish third at the 2018 Olympia and took the year off to prepare for this one. She has a slimmer physique but with good shape and some choice muscle, and she could do it again. Ditto for last year's fourth-placer Jennifer Taylor, who has size, symmetry, and balance and is more than familiar with the winner's circle.
Conditioning queen Heather Grace is a veteran top-five placer. She was fifth last year and should finish at least that high this time.
Could Make the Cut
The 20 athletes qualified for the 2019 Women's Physique Olympia bring a ton of size, shape, and symmetry to the stage. Brittany Watts, who moved into fourth at the International, has the lines to make it into the top group if she comes in sharper, but my money's on Sheila Bleck to debunk the prevailing wisdom.
A champion bodybuilder noted for her excellent posing routines—she's been runner-up at the Rising Phoenix World Championship twice—Bleck surprised everyone by transitioning to physique and blasting ahead of 42 others in her debut at the Tampa Pro. That's often an unsuccessful strategy—when women bodybuilders shed mass and cuts to compete in physique or figure—but Bleck had no trouble convincing the judges of her transformation, and I can see her posing her way into the top five at the O.
Did I miss someone? Let me know your thoughts in the comments below. Note that all the athletes mentioned were scheduled to compete as of this writing.
All photos courtesy of NPC News Online.