In the beginning there was Robert "Rob" Gronkowski, son of Gordy and Diane Gronkowski, brother of Glenn, Chris, Dan, and Gordie Junior. We'll call this period "The Robert Era." It was a simpler time; a time before Super Bowls and party cruises and endorsements; a time before every New England football fan—and most of the rest of the country—knew his name. This was a largely anonymous era, with Gronkowski working his way through high school defenses 10 miles to the east of Pittsburgh, in Churchill, Pennsylvania, as the tight end and power forward for the Woodland Hills High School Wolverines.
Back then, Gronkowski wasn't concerned with branding or marketing or licensing agreements or contracts or his own line of energy drinks or hitting up the Kentucky Derby with Tom Brady. As recorded in his own player entry in the school's basketball game pamphlet, during the peak year of The Robert Era, circa 2007, Gronkowski had three so-called "hobbies:" working out, playing sports, and "chicks."
While only he can speak to his evolution on the chick front, the progress of his athletic career and training routine are well documented.
When I asked him if his exercise plan has changed a lot over the years, he said, "Yes, it has changed tremendously. I have gotten away from the heavy lifting. I like to do resistance band work, bodyweight exercises, and focus on my recovery hard. Also, my eating habits have changed. I keep it super clean."
As Gronkowski begins the eighth year of his professional career, I talked to him about how his workout routine has moved in stages, from his lean high school days to his muscle-building college days to his improvement-focused professional career. In many ways, his training has come full circle.
Basement Beginnings
As one-fifth of the tribe of Gronkowski brothers, Rob's earliest years of training took place in the homemade basement-turned-gym that Gordy built for the boys in his house. It was there, under the house, with the support of his brothers and the guidance of his dad, that he first learned to love exercise and understand that time spent with the iron would pay dividends on the gridiron.
Early scouting videos of Gronkowski on Max Preps and other recruiting sites show the 17-year-old phenom bull-rushing defensive linemen and then blowing past defensive backs on the way to the end zone. He was tall, broad, and obviously strong, but also raw—almost like a wireframe version of the beast that he would become.
On the field, he relied mostly on his natural ability. Off the field, he performed mostly low-weight and high-rep movements in the weight room. In several interviews about his son's training, Gordy mentioned that he was concerned about his boys affecting their growth plates by lifting too heavy at too young of an age, so he kept the emphasis on form, proper movements, and total-body workouts during that time.
It worked. The boys kept growing.
Gronkowski graduated from high school standing 6-foot-6 and weighing 235 pounds, with a full ride to the University of Arizona to play football for then-head coach Mike Stoops. Evidently, he'd also had enough of working out inside.
"It was definitely a culture shock," Gronkowski told ThePostGame.com about his decision to go to Arizona. "I was going from snow, and I'd fly to Arizona, it'd be 90 degrees out. That's what I loved about it. We were outside training all the time, no shirts on, with the team, with my boys, getting a tan in while working out outside. Being up at 7 a.m., it's still 80 degrees out and sunny, but the culture change, it was a good one. That's why when I visited there and saw it, I knew I wanted to be there."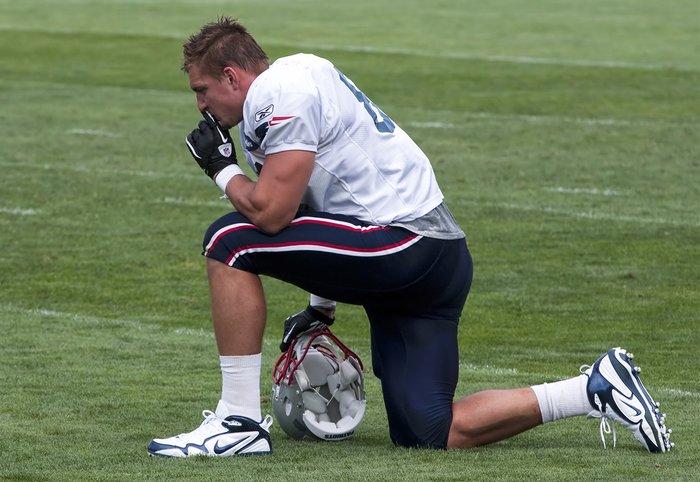 Wildcat Gets Wild Gains
Gronkowski turned heads in Tucson immediately, breaking the school record for receiving yards by a tight end as a freshman. He finished his first season with 28 catches for 528 yards and six touchdowns. He also dedicated himself to packing on the size that would be necessary for him to succeed in the NFL, where tight ends typically weighed well over 250 pounds. After an injury caused him to miss the first three games of the 2008 season, Gronkowski finished the year strong with a team-high 10 touchdowns. NFL scouts were salivating.
Capitalizing on the team meals and weight-training complex, Gronkowski slowly but surely padded his frame with lean muscle, inching himself up to and eventually over the 250-pound mark. Unfortunately, a back injury would force him to miss the 2009 season, and put his professional career in question.
But Gronkowski answered the question soon enough. He wasn't done yet, and once he was healed, it was time to make the ultimate transformation into an NFL-worthy tight end.
Draft Prep
To get ready for the 2010 NFL Combine, Gronkowski spent months under the watchful eye of Pete Bommarito, founder of the famous Bommarito Performance Systems, which has trained hundreds of top NFL and MLB prospects. His daily routine included waking up at 6:30 a.m. and training until 4 p.m., while following a strict diet and workout routine. 
The programming, of course, was world-class, but that's not what Gronk says made the biggest difference.
"The eating plan there was the best I ever ate," he said in a video he made for BPS during that time. "And it's better than university training because you get personal attention instead of the whole team at once."
His weight-room work consisted of exercises that would get him ready for the Combine, specifically bench press, speed work, and agility drills. In addition to banging out reps of 225—the Combine's measurement of choice—Gronkowski performed speed bench push-ups against other future NFL stars, ran endless routes, and worked on his 40-yard dash technique.
It all paid off.
Gronkowski performed 23 reps of 225 at the NFL Combine and ran a 4.68 40-yard dash, while weighing in at a daunting 259 pounds. Despite not playing an actual down of football in over a year, the New England Patriots selected him in the second round of the 2010 NFL draft, the 42nd pick overall.

The Gronk Era
Over the past eight years in New England, Rob Gronkowski has earned a cult-like following in New England and has entered the lexicon of one-name-only stars in Boston and throughout the NFL. He has become Gronk, an unstoppable, unguardable, game-changing tight end who has amassed five Pro Bowl selections, two Super Bowl wins, and four first-team All Pro selections.
The early part of his career with the Patriots was defined by freakish athletic ability and wowing fans with his feats in games, in practice, and in the weight room. However, his potential was always tempered by injuries. The most recent version of Gronk has zeroed in on staying healthy and getting better by being smarter.
"A major focus for me in this off-season is improving mobility, speed, and strength," he told me. "I want to bring a better package than the season before. In the past, I have focused on a certain type of training. I'm keeping it balanced this off-season."
With the Patriots routinely playing two or more extra games a year due to their playoff success and ability to get to Super Bowls, a focus on training that strengthens his flexibility and ability to recover is a smart shift from the weight-gaining days of old. He has also whittled some of his training down to focus on position-specific workouts to help with both blocking and getting off the line.
"On top of doing sled pushes to help blocking, I like to do resistance bands coming out of my three-point stance to help build stabilization and to be able to come off the line quick," he said.
When asked about tricks or tips to build explosive speed, he said he does a "ton of explosive exercises with bands." And while he's not big on deadlifts, squats are still a staple of his workouts. Strong, powerful legs always have, and always will mean more catches, more yards, and more touchdowns.
More than ever, he also keeps his diet tight to maintain optimal performance. "I eat as clean as possible," he says. "Every three hours I'm either having a meal, protein shake, or protein bar."
While Gronk appears to still be in the prime of his playing career and looks to stretch it out as long as possible with smart eating and smarter training choices, we wondered if the fitness-obsessed tight end would ever consider bodybuilding as a post-Patriots career?
"I will never hit a bodybuilding stage show, but I love athletic bodies," he said. "When I'm done playing, I will still be super active. I love exercise. I will keep up with the resistance band exercises for the rest of my life. I like to do bodyweight exercises and light lifting."
For now, the stage at the Olympia is safe from Gronk. Too bad we can't say the same for the NFL's defenses.