When it's freezing outside and you just want something warm to wrap your palms around, bypass the hot chocolate and fix yourself a cup of green tea. Full of powerful antioxidants, this ancient beverage can crank up your motor, helping you burn more fat even as you're staring into the fireplace.
Drinking green tea regularly can boost the number of calories you burn each day and help you lose weight in the process. Sound like a miracle beverage? Could be. People have been drinking it for at least a thousand years, so it must have something going for it!
Research shows that green tea may help maximize the results of your resistance training. Green tea is a great source of EGCG (epigallocatechin gallate), which improves the body's cellular machinery responsible for burning fat by increasing metabolic rate.[1,2] That's where the increased calorie burn comes from.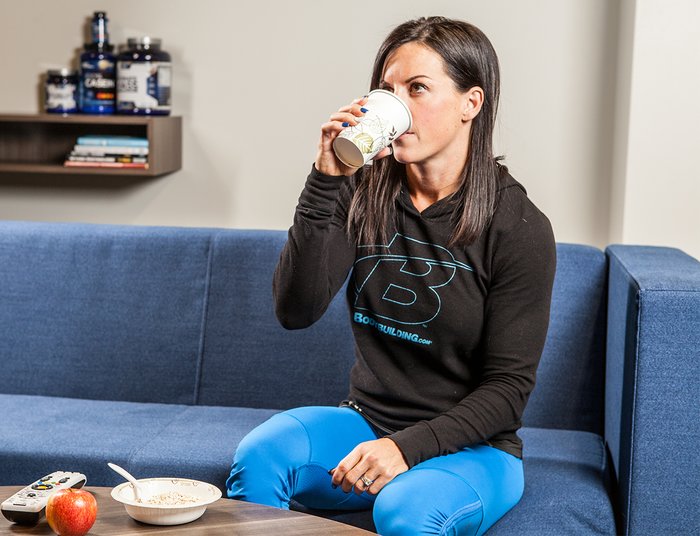 Putting Green Tea to the Test
Researchers tested subjects for a wider range of benefits from green tea when combined with a reduced-calorie diet and resistance training. They wanted to see what effect this combination would have on body composition, resting metabolic rate, performance, and blood triglyceride levels.[3]
The researchers split the study participants into four groups:
Group 1: green tea only
Group 2: placebo
Group 3: green tea and resistance training
Group 4: placebo and resistance training
For eight weeks, Group 1 consumed 20 grams of green tea per day (10 grams twice per day), while Group 2 consumed 20 grams of a placebo. Group 3 and Group 4 consumed either green tea or the placebo while also doing total-body resistance training a few times per week.
After eight weeks, Groups 1, 3, and 4 saw overall improvements over Group 2; however, Group 3 did the best of all. Those individuals saw significant decreases in body fat, waist circumference, and triglyceride levels, as well as a marked increase in daily energy expenditure, lean body mass, and strength.
How Much Is Enough?
The amount of EGCG you get in green tea varies from 45-180 milligrams per bag.[4] To get the EGCG you need, drink several cups of green tea each day. Steep the tea for 3-4 minutes before drinking. Hot water does the best job of extracting EGCG from the tea itself.
Green tea is also available as an extract, which commonly contains about 50 percent EGCG. The extract version contains a higher concentration of EGCG versus what you'd find in a tea form. If you're not a fan of tea, consider going this route.
References