Rice is often referred to as the forbidden carbohydrate, but that's a misnomer. Rice can make a great base for a protein-rich meal. Turn a boring carb into an exciting entrée with these three recipes.
1. Black-Eyed Pea and Sausage Rice
Every rice dish starts with a hot pan. If the pan is not hot, we can't toast the rice. Toasting the rice is what opens the kernel up and brings flavor. Not in the mood for sausage? Make this dish your own with chorizo, flank steak, or salmon instead. Don't love black-eyed peas? Replace with your bean of choice. Once you add the orange juice to layer flavor and cut fat, you'll smell the delight of a finished product.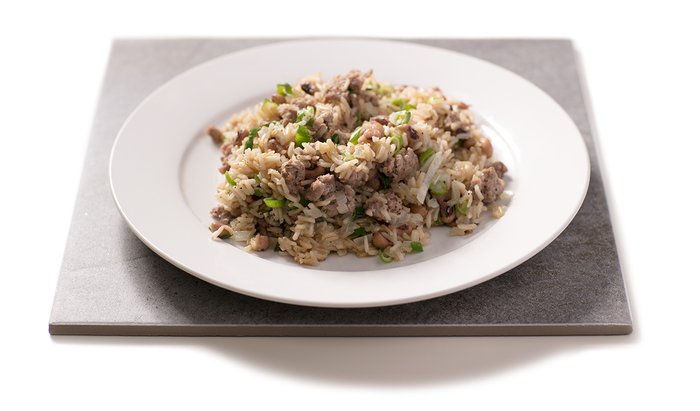 2. Chickpea and Cilantro Rice
Turn a vegetarian meal into a complete protein with this new take on rice and beans. After coating your pan in grapeseed oil (which Chef Irvine recommends instead of olive oil because of its lack of taste and low heating point), add your chickpeas to the pan. With this dish, the real flavor punch comes from the combination of cilantro, curry powder, and lemon juice.

3. Cauliflower Rice
Make the most of cauliflower with this dish that makes vegetables the star. The added crunch from protein-rich nuts and fresh aroma from the picked basil make this one well-rounded meal.