It is 115 degrees in Jabriya, a mostly residential area in the Hawalli Governorate of Kuwait, when Brandon Curry makes the short walk down the block from his high-rise apartment building to Oxygen Gym on a mid-July afternoon.
"It's a dry heat," he says. "As long as I'm not in direct sunlight, I can get used to it."
Getting used to the heat is far from the biggest adjustment the 36-year-old Curry has made in pursuit of his first Mr. Olympia title. Since joining forces with Abdullah Al Otaibi, an elite coach at Oxygen Gym nearly three years ago, Curry has done the majority of his training—a whopping 24 months of it—in Kuwait.
That's 11,000 miles and 15 continuous flight hours away from Nashville, Tennessee, where his wife, Brandy, and their four kids—daughter Zoey, 14, and sons Maximus, 9, Marvelous, 7, and Zion, 5—are holding down the fort in his absence. However, the sacrifices the family has made proved to be worth it when Curry took first in the 2019 Arnold Classic in March.
As Lonnie Teper explained in his Arnold recap, everything seemed better about Curry at the Arnold. His back was wider. His waist was narrower. He was just under 250 pounds, but carried it like never before. His legs, which had been a weakness in the past, were greatly improved.
Curry's potential is nothing new. After all, he was being dubbed the next great bodybuilding prodigy as far back as 2008. But finally living up to that potential, culminating in victory at the 2019 Mr. Olympia, would take the journey of a lifetime.
The Turnaround
Curry first met Al Otaibi at the 2016 Olympia Weekend. The Kuwaiti coach had just helped 2007 Arnold Classic champ Victor Martinez to a career renaissance on the far side of 40. For Curry, the meeting could not have come at a better time.
When Curry won the NPC USA Championships in 2008 and earned his pro card, many thought they were looking at a future Mr. Olympia. However, for the following eight years, Curry's career was, as he puts it, "kind of spotty." He won the Arnold Classic Brazil in 2013, but his best finishes at the Olympia and Arnold Classic were eighth and seventh, respectively—and those were all the way back in 2011 and 2012. After a 16th place finish at the 2015 Arnold, Curry seemed destined to go down as a middle-of-the-road competitor on the world stage.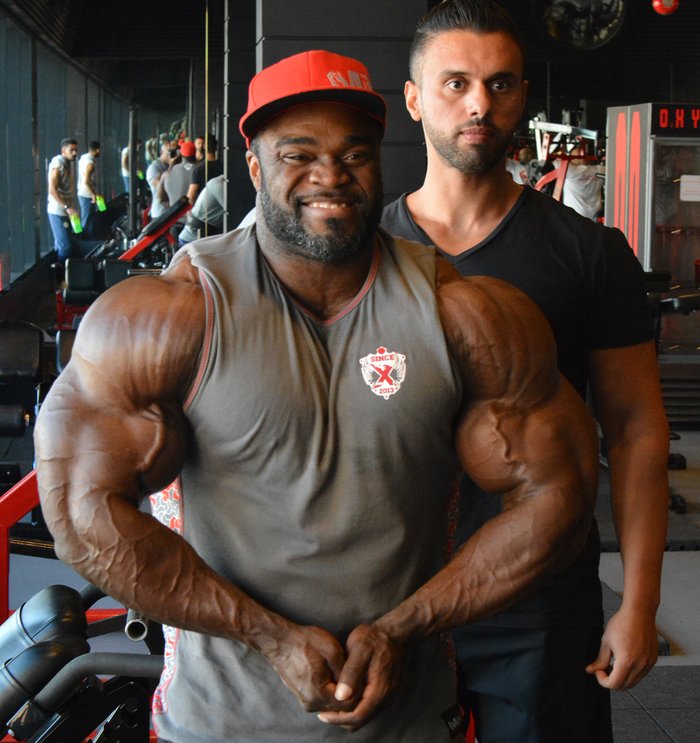 He wasn't going to let that happen without a battle.
In an effort to improve his lower body and his conditioning and to get as lean as possible, Curry amped up his training, and in 2016, he did nine shows prior to the Olympia.
"I wanted to live up to the expectations and handle the criticism people were giving me," Curry says. "I was trying to fix it. And it led to me just totally depleting myself."
Though Curry had barely made it to the Olympia on points, Al Otaibi saw something he liked in Curry's 5-foot-9, 245-pound physique. Al Otaibi told Curry if he came to Kuwait, he could be top six in the world.
"I knew he had the potential and genetics to be Mr. Olympia one day," says Al Otaibi. "That's what I felt when I saw him, even though at that time he wasn't anywhere near half his best. I have a good sense of recognizing talents, and I know what I bring to the table to maximize these talents. That's what made me want to work with him."
A Total Commitment to Success
Curry's wife Brandy, a fitness model and competitor herself, had no mixed feelings about Al Otaibi's offer. Brandon Lee Curry and Brandy Lee Leaver—their names are pure coincidence—met in high school in 2000 and married in 2008. She knew him before he was a world-class competitor, and saw the remaining potential that even Curry himself was no longer sure about.
While Curry put off the decision of going to Kuwait, Brandy insisted he should go. She believed her husband still had a high ceiling, and knew that being at home was holding him back.
"I know my husband, his strengths and where he lacks, and when he's at home, he's not capable of not being fully present," she says. "He was completely exhausting himself physically and mentally in the gym, following a strict diet, yet he wouldn't miss a single one of the kids' practices. He can't not be there."
In Kuwait, Curry faces zero distractions. Oxygen Gym is a multi-million-dollar, all-male, full-service training facility, open 24 hours a day every day but Friday, which is the Muslim holy day. It's constantly updated with the latest equipment, and members aren't even required to re-rack their weights.
"Will your local gym staff bring you some 150-pound dumbbells if you ask while chilling on a bench, and give you a spot then re-rack them for you?" Curry recently asked a commenter on Instagram questioning why he was in Kuwait.
But the real difference between Kuwait and the states, Curry pointed out in the same comment thread, is his coach. Al Otaibi trains with Curry every day, does all of his cardio with him, and closely monitors Curry's fitness and physique. All of Curry's meals are prepared for him, with the exception of an occasional cheat trip to a restaurant like the Cheesecake Factory.
"I was surprised to see so many American-style restaurants," Curry says. "People I talk to are amazed there's a Cheesecake Factory in Kuwait, but actually, there are two."
During Curry's first four-month trip to Kuwait from early December of 2016 through March of 2017, Al Otaibi was able to add significant muscle to his physique while also improving his conditioning. The exercises were all ones he knew, but the intensity and volume at which Al Otaibi pushed him was higher than Curry had ever experienced.
"I'm used to training heavy, but Abdullah pushes me to go heavy at a higher volume," Curry says. "He'd say, 'OK, get 12 or 15 reps,' and then he'd end up getting 4, 5, 6 more reps out of me when I thought I was done. He really, really pushes me from set to set, challenging me to go beyond what I thought was possible."
With Al Otaibi, Curry also eats more carbohydrates than he ever has before—upward of 900 weight grams of potatoes and rice each day—constantly making small adjustments based on how Curry's body responds.
"At first I hated it, because it was really hard to get it in," Curry says. "But the higher we push the carbs in the beginning, the easier the diet is at the end."
The Big Payoff
Curry's new approach began to pay off in just a few months. He registered three wins in 2017, at the IFBB New Zealand Pro, Arnold Classic Australia, and Ferrigno Legacy, then followed with an all-time best fifth place finish at the 2018 Olympia. He knew he was on the right track.
After the Olympia, Curry spent four months in Kuwait leading up to the Arnold in March 2018.
"I specifically wanted to improve my lower body, especially my quads," he says. "But really, everything improved, and my back became substantially better. It went from being OK to one of my strongest body parts."
While Al Otaibi has strengthened Curry's body, he has also worked hard to keep a strong bond between his pupil and his far-away family. Al Otaibi video calls Brandy and the kids early in the morning Nashville time when he goes to wake Brandon from his afternoon nap (Kuwait is eight hours ahead) so they can all be there to say hello.
"I don't know what we'd do without FaceTime," Curry says. "It allows me to see them, feel closer to them, and keep up with all their sports activities."
Brandy will often call from one of the kids' football or soccer practices so Curry can see them in action. In mid-July, he lauded his wife's efforts in an Instagram post: "Shout out to my wife for holding it down, taking all 3 of them to practice 5 days a week, not complaining once and getting home at 9 p.m. every night. She owns her own Wellness Spa and keeps everything in order. Makes me want to work even harder for all of her sacrifices so that I can be here to do what I do!"
If the family is at home, Curry makes the boys, who are growing like weeds, stand next to the kitchen counter for scale so he can see how much they've grown. He marvels at how their communication and cognitive skills improve over a short period of time as he watches their personalities develop over long-distance video.
Marvelous recently poached his mother's iPad to send his father some workout tips to "pump up his muscles" in a video Curry later posted on Instagram.
"To me, if he's not home, it doesn't matter how far away he is, but it was hard for the boys at first," Brandy says. "Over time, things have gotten a lot better, and they understand why Brandon is gone and what he's doing. They're learning a lot through his example that sacrifice and dedication pay off. They were at the Arnold to see the fruits of his labor and partake in that moment of victory, and I think their eyes were opened a lot."
Curry returns to Nashville in between training trips, and also makes brief trips home during his training when they make sense with other travel plans. But he says he's found that being home is often as big of an adjustment as living in the Middle East.
"I feel totally lost," he says. "Like a stranger in my own house."
He'll put the yogurt on the shelf designated for seltzer water, or fumble around the kitchen looking for the right utensils and pans to cook a meal.
"Brandon was gone for five months prior to the 2018 Olympia, but came home for 24 hours once on his way to Brazil," Brandy recalls. "He insisted on taking the three boys to school on his one day at home. And it was their only tardy of the year."
While at home in Nashville, Curry's training program changes slightly; he backs down on the volume, focuses on intensity, and pushes heavier weights.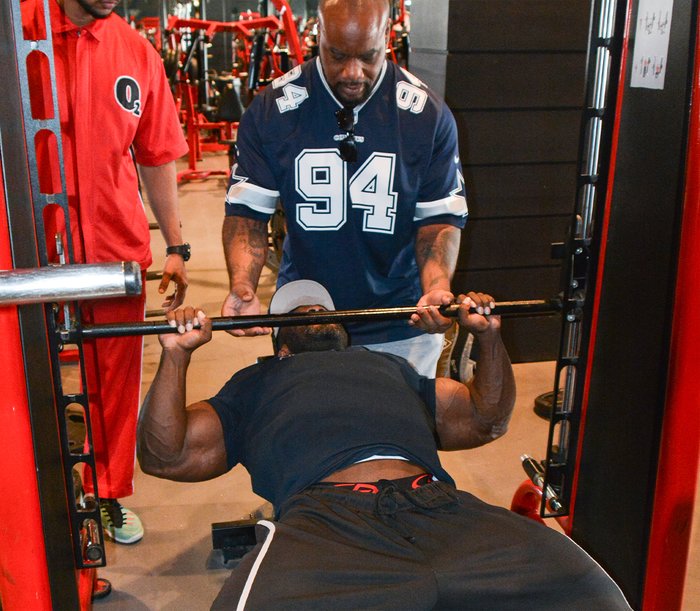 "The contrast works well," he says. "Turning it on and off between home and Kuwait definitely makes it more sustainable, and I see less and less of a change in the down times now."
The Ultimate Goal Remains
Curry returned to Kuwait in early June and has been updating his ever-growing legion of followers with workout teasers on Instagram in the weeks leading up to the Olympia. He won't see Brandy or the kids until they meet him in Las Vegas in September for the show. Until then, Curry has some very specific training goals.
"I think I can add some more thickness to my hamstrings and glutes, and I want to bring more dominance to my back and bring up my triceps a little more," Curry says. "We are really going to bring the conditioning, too. It was good at the Arnold, but it can be better."
To that end, Curry has been doing two training sessions and two cardio sessions each day; an hour of training and 40 minutes of cardio in the morning, then an hour of training and 30 minutes of cardio in the evening. The workload will decrease as the Olympia approaches.
"The goal is to win the Olympia, no doubt," Curry says. "And after that? I'm just going to keep hitting the nail on the head until I've driven it as far as it can go."