Supplement Company Of The Month: Grenade
Meet the company that's been taking the U.K. and international markets by storm throughout the last decade. It's official: Grenade has blown up!
When Grenade started in 2009, it was about as close to a mom-and-pop operation as there is in the international sports-supplement industry. Husband and wife team Alan and Juliet Barratt were supplement distributors who went out on their own because they were tired of selling a bunch of products that looked and sounded the same. They started with a single product, the fat burner Thermo Detonator, to break into a U.K. market that had relatively few options.
Then, as grenades often do, this one exploded. Thermo Detonator became a global powerhouse on its own, helped by its unique packaging—the capsules come in a grenade-shaped bottle, after all—that helped it stand out as one of the most recognizable new products on the scene. Paired with military marketing featuring tanks and plenty of camo, a supplement powerhouse was born.
Alan Barratt, still the CEO of Grenade, and Grenade sponsored athlete Jamie Alderton talked to Bodybuilding.com about the company's success and how they've gotten to this point. Now Grenade can add another milestone to their company's accolades; Bodybuilding.com Supplement Company of the Month.
Q
How was your company started? What was the first product you launched?
Our first product—the flagship thermogenic and fat-loss product Thermo Detonator—launched in the U.K. in February 2010.
Previously, Juliet and I ran a distribution business selling other brands to gyms, stores, and sports teams in the U.K. All told, I have over 25 years of experience in the fitness industry, from working in gyms, to competing, to product formulation, to importing and running our previous distribution business. Through all of this, we gained plenty of perspective on recognizing consumer trends, and we knew what sold and what didn't. We also realized that product names were confusing and all looked similar on the shelves.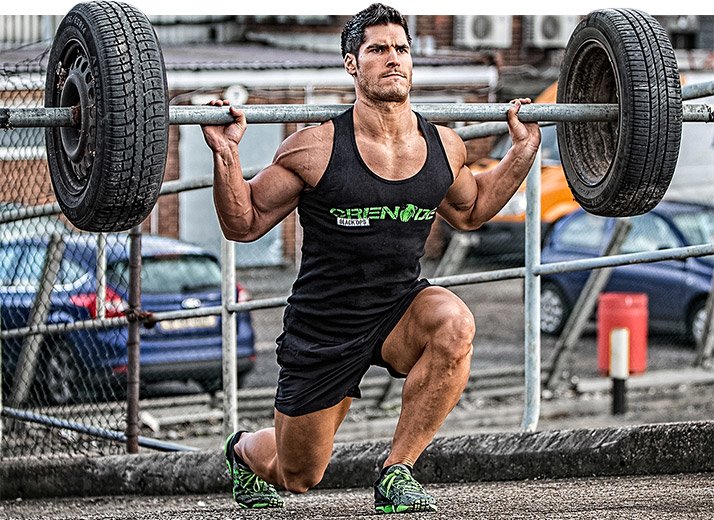 Grenade has lunged to global prominence in an incredibly short amount of time.
Today, Juliet runs the marketing side of the business and has experience in global branding and trademarking. I think we've got the best team in the industry—and we are a strong team. We employ honest, hardworking, and passionate people who love the brand as much as we do and share the same core values.
What does an average day for you or your company look like?
No two days are the same! We sell in over 80 countries, so we may be processing an order for India and arranging the logistics or generating marketing materials for U.S. websites and retailers. We are very hands-on with our new product development, always testing new flavors of bars or designs for apparel. In between trademarking and visiting partners, we see to all the other aspects of the Grenade business daily.
What are some Grenade products our readers should know about?
Our original fat burner, Thermo Detonator, remains a big seller for us. Others include Hydra 6, the first 50/50 casein/whey isolate protein, the iconic Grenade shaker bottle, and Carb Killa, the best-tasting low-carb, high-protein bar in the world, hands-down. It's really a game-changer.
As for new products, where do we start? We just launched Carb Killa in the U.S. last November, so we have a variety of flavors in the EU that will be hitting the U.S. soon. Along with that, we recently relaunched our .50 Caliber pre-workout and have a new amino product, Defend.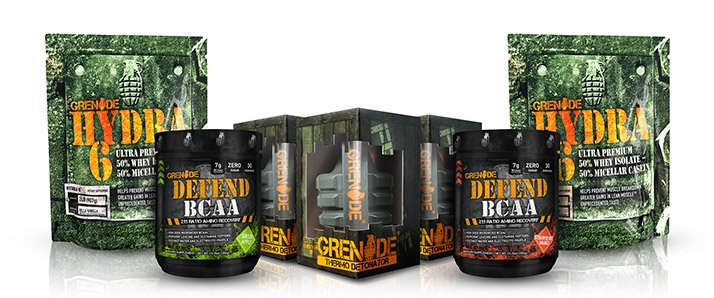 Founders Alan and Juliet Barratt were supplement distributors who grew tired of selling products that looked and felt identical.
At Grenade, we want the best product in each category. We never want to launch products just for the sake of it—we'd rather invest time and money into manufacturing industry-leading products.
What do you love about working in the supplement industry? What bothers you?
It's a fun industry, and some of our partners and customers are some of our closest friends. We enjoy our business—we don't just run it.
One negative is that there are low barriers to entry, so some brands pop up one month and are gone the next after they make a quick buck. It's also not as highly regulated as other industries, so when you work as hard as we do to ensure that your products exceed label claims, it's frustrating when others don't.
In short, there are too many brands available now that churn out low-quality products simply to generate revenue. We are very committed to providing our customers with products they trust that work.
Why should customers who haven't already used your products give them a shot?
We manufacture and market industry-leading products that exceed label claims. Grenade is an edgy but trusted brand with a loyal following. I think the fact that we've grown so quickly speaks for itself.
We pride ourselves on making each product and formulation as unique as possible, whereas many other brands just morph into one another with no real point of difference.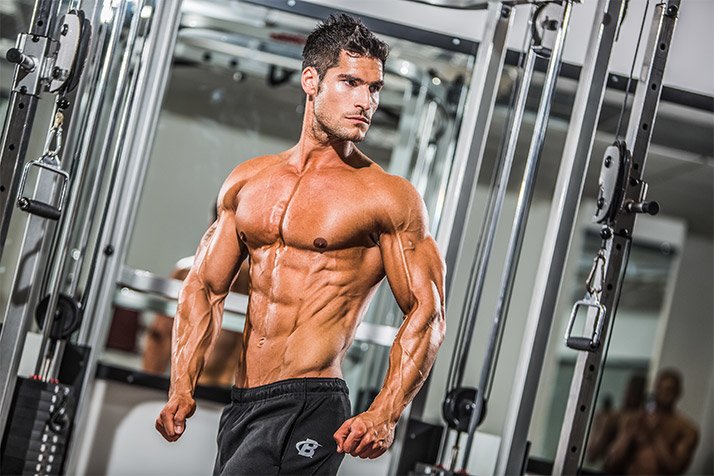 Jamie Alderton maintains his championship-winning physique by focusing on the essentials: protein, a multi, and Carb Killa bars as a treat.
If a new customer can only afford one Grenade product, which one would you recommend?
This depends on what your goals are, of course.; there is no one-size-fits-all approach. Most people would say protein, I'm sure. On the other hand, Thermo Detonator is popular for a reason—and more people are telling us how much they love our .50 Caliber pre-workout.
But if you already eat really well, train well, and get enough protein, my recommendation may just be a multivitamin such as Ration Pack. It's the essence of a great supplement: A compliment to—not a replacement for—a good diet and consistent training program.
Is there anyone you'd like to send a shoutout to?
I'd like to thank everyone who has supported Grenade by buying our products over the last five years, as well our hard-working teams in the U.S. and U.K. who continue to surprise me every day with their dedication and diligence in what they do.
Also, thanks to the great team at Bodybuilding.com who share our passion for this industry and want to help consumers make healthier lifestyle choices.
Grenade Athlete
Jamie Alderton
Q
What kind of athletic background do you have?
My background in sports dates back to when I was a British Army soldier. I was a boxer on the regimental team, I was on the British Army 4-by-100-meter relay team, and I was on the regimental rugby team.
When I left the Army, I became a physique competitor, and I've had a lot of success there. I was named British Natural Bodybuilding Champion in 2010 and European Muscle Model Champion in 2012 with the WBFF, winning my pro card in the process.
What is your role at Grenade?
I'm a sponsored athlete with Grenade and heavily involved in the social media side of the brand, creating fantastic, informative, and funny videos and information to increase the brand's awareness.
Cheeky Chest Session
with Jamie Alderton
Watch the video - 8:45
Jamie Alderton's Cheeky Chest Session
What was it about them that made you want to be a part of the company?
One thing that drove me toward the company at first was the branding! Having just left the British Army when I first got sponsored, the grenade and tanks caught my eye. Then, when I learned more about the brand and the passion that both Alan and Juliet had for the quality of their products, I was sold. I become prouder each and every year to be associated with their vision.
What supplements do you currently use, and why?
I'm currently using Grenade's brand-new Muscle Machine Lean protein [available in the EU], as I'm currently in an offseason phase and it helps get the extra calories down with a high-quality product. It tastes amazing too!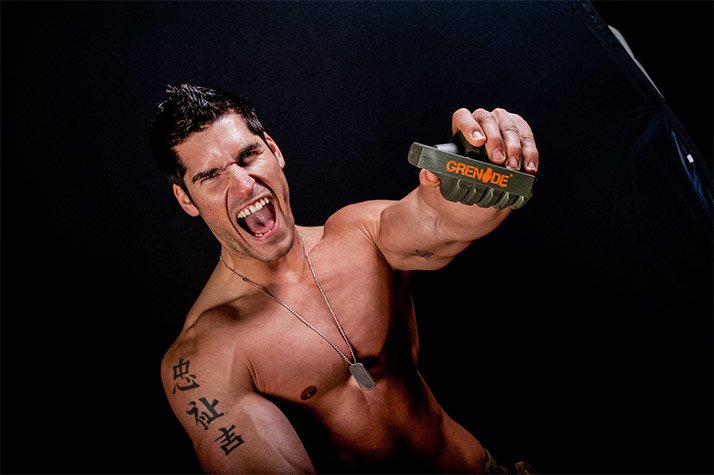 On a daily basis, I use Grenade's creatine monohydrate, and, of course, the Ration Pack. This makes sure that my recovery and strength levels are top notch and that I hit all of my micronutrient goals.
I'm also a huge Carb Killa fan. I can't have too many in the cupboard, though—they seem to disappear quickly!
Why should Bodybuilding.com customers choose Grenade?
Firstly, it's the quality of each and every product that they make! I've personally seen how long it takes to research and develop each product, and you can be assured that anything you purchase from Grenade is the very best on the market.
For me, it also goes beyond the product. What we try to do here at Grenade is look at the lifestyle that is associated with eating well and taking supplements in order to lead a healthier life! We do this though the quality of the product, but also the quality of information and training videos that we put out.