Product Overview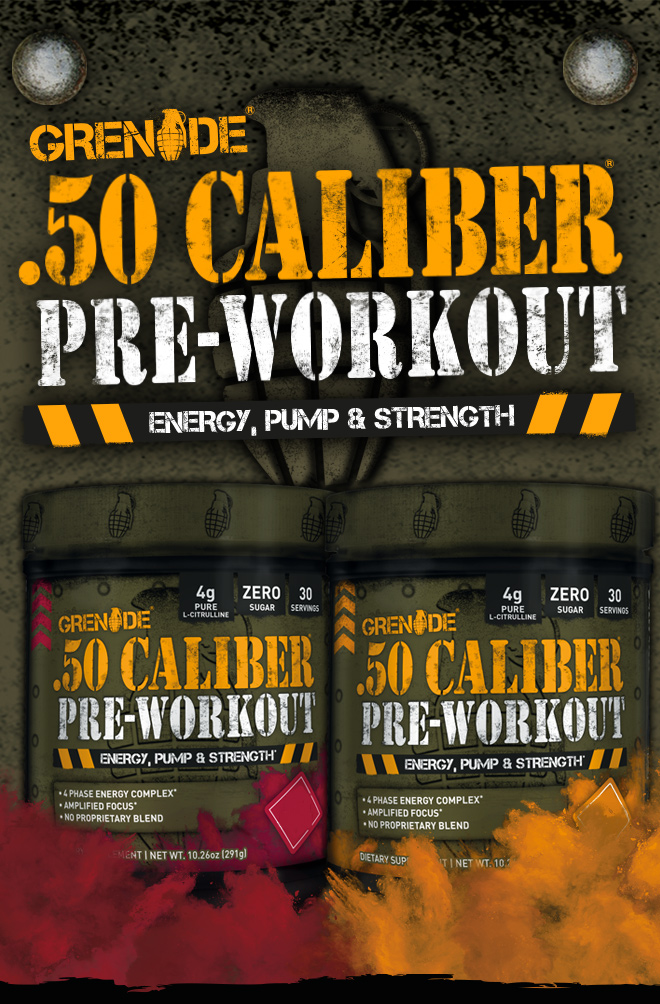 PRE-WORKOUT DEVASTATION
This is .50 Caliber®. A hard hitting, 4-phase energy complex and pre-workout devastator designed to make every workout an explosive, energy fueled assault. Loaded with scientifically backed ingredients in high doses, .50 Caliber helps to amplify Energy, Pump and Strength*, and deliver unparalleled power and enhanced focus*.
50 Caliber is a completely revolutionized formula with no proprietary blend and is designed for hard training individuals who are serious about performance and results.
KEY FACTS:
4 phase energy complex*
amplified focus*
no proprietary blend
PUMP AND STRENGTH PROFILE*
Pure L-Citrulline
Many other pre-workout products on the market today use a blended Citrulline, known as L-Citrulline Malate. Although the benefits of Citrulline are undeniable, this form only delivers a percentage of the stated benefit of Citrulline. .50 Caliber is different, formulated using only free form PURE 4000mg dose of L-Citrulline! A recent study demonstrated that pure L-Citrulline supplementation improves the ammonia recycling process, nitric oxide metabolism and vascular blood flow levels resulting in improved muscular performance.*
CarnoSyn Beta-Alanine
As the name suggests, CarnoSyn® Beta-Alanine is important for carnosine synthesis. Beta-Alanine is an amino acid that bonds with histidine to support an increase in muscle carnosine. Elevated muscle carnosine levels have been shown to:
Extend muscular Endurance*
Combat the buildup of lactic acid, which leads to improved endurance and reduced muscle fatigue*
Build muscle strength*
Enhance peak performance capabilities*
Creatine Hydrochloride (HCL)
Creatine remains one of the best and most well researched ingredients within sports and athletic performance. It has been shown to support significant gains in muscle strength, power and growth.*
Creatine Hydrochloride (Creatine HCl) is a form of Creatine where hydrochloric acid groups are then bound to Creatine molecules. Adding the HCL group actively lowers the pH of Creatine, making it more acidic. This increase in acidity improves its solubility in fluids, which in turn increases its absorption within the body.
ENERGY PROFILE
No stimulatory or energy supplement would be the same without the addition of Caffeine. Not only is .50 Caliber loaded with 300mg of high impact Caffeine Anhydrous, but also two additional forms: Infinergy™ (DiCaffeine Malate) and PurCaf™.
Infinergy™ is a precise combination of Caffeine and Malic Acid as an ionic bonded compound. By combining the well-established properties of Caffeine and Malic Acid, Infinergy™ offers sustained release energy, extending the stimulatory effects of Caffeine. PurCaf is an organic Caffeine that is 90.5% pure Caffeine extract from green coffee.
Advantra Z™ (30% P-Synephrine)Known most commonly for its ability to increase resting metabolic rate and therefore, effective in supporting weight loss and the reduction of body fat* - .50 Caliber has been formulated with the mindset to not only amplify your workout but assist in utilizing body fat during training or exercise.*
Advantra Z®, over many other different forms of P-Synephrine has been shown to stimulate beta-3 cell receptors with minimal impact on alpha 1,2 and beta 1,2 receptors, which means, Advantra Z increases the metabolic rate (thermogenesis) without affecting heart rate or blood pressure.*
This complete synergistic blend of caffeine and Advantra Z supports increases in muscle strength, improved muscular endurance and decreases muscle fatigue during workouts, taking your training intensity to the next level*.
MIND-MUSCLE PROFILE
Fundamental to the unique .50 Caliber® formulation is its tri-phased Mind-Muscle Profile. As the initial ingredients are absorbed, the following compounds break the blood brain barrier, enhancing the effect and benefits further, resulting in an amazing cognitive support:*
L-Theanine: 50mg
Reduces stress effects and supports alertness and attention.*
Higenamine Hydrochloride (HCL) : 50mg
Stimulates muscle tissue to contract, improving athletic performance.*
Huperzine A (Huperzia serrata): 50mcg
A cognitive enhancer that promotes alertness.*
COMPARSION TABLE
.50 CALIBER
BRAND A
BRAND B
BRAND C
BRAND D
4000mg Pure Citrulline
2000mg L-Citrulliine (1000mg
active Citrulline)
NO
NO
Listed as proprietary blend
Caffeine Blend: Infinergy
(DICaffeine Malate) &
PurCaf
Caffeine Anhydrous
only
Caffeine Anhydrous
only
NO
Caffeine Anhydrous
only
Creatine Source:
Creatine HCL
Creatine Monohydrate
Creatine blend
HCL not included


Creatine blend, HCL
not included
Creatine HCL
Mind-Muscle Focus Blend:
Higenamine, Theanine
& Huperzine-A
NO
Alpha GPC
Higenamine only, listed
as proprietary blend
NO
CarnoSyn Beta-Alanine
2000mg
Beta Alanine 2100mg
Beta Alanine
2000mg
NO
Beta Alanine 2500mg
HOW TO TAKE:
Mix 1 serving of .50 Caliber (2 scoops, 10 grams) into 8-10 oz of ice cold water. Consume .50 Caliber approximately 30 minutes before training.
AWESOME TASTE
.50 Caliber isn't just about using scientifically-backed ingredients and dosages to amplify your training and athletic performance, it also has an irresistible, refreshing taste. This means you'll actually look forward to drinking your pre-workout!
Ratings & Reviews
30 Servings
$1.00 Per Serving
What's in Grenade .50 Caliber
30 Servings

Orange Pineapple

Serving Size: 2 Scoops (10g)

Servings Per Container: 30

Amount Per Serving

Daily Values **

Calories

0

Total Carbohydrate

1 g

<1%

Sugars

0 g

†

Niacin

5 mg

25%

Vitamin B6

.5 mg

25%

PUMP AND STRENGTH PROFILE

7500mg

Pure L-Citrulline

4,000 mg

†

CarnoSyn® (Beta-Alanine)

2,000 mg

†

Creatine Hydrochloride (HCL)

1,500 mg

†

ENERGY PROFILE

460mg

Caffeine Anhydrous

300 mg

†

Advantra Z® (30% Synephrine)

60 mg

†

Infinergy™ (DiCaffeine Malate)

50 mg

†

PurCaf™ Organic Caffeine

50 mg

†

MIND-MUSCLE PROFILE

100mg

L-Theanine

50 mg

†

Higenamine Hydrochloride (HCL)

50 mg

†

Huperzine A (Huperzia serrata)

50 mcg

†

** Percent Daily Values are based on a 2,000 calorie diet. Your daily values may be higher or lower depending on your calorie needs.

† Daily Percent Value not established.

OTHER INGREDIENTS:

Natural and Artificial Flavors

, Citric Acid

, Silicon Dioxide

, Calcium Silicate

, Sucralose

, Acesulfame Potassium (Ace-K)

, Malic Acid

, FD&C Yellow #5

ALLERGEN WARNING: NONE. Made in a GMP facility on equipment that processes dairy, soy, eggs, peanuts, tree nuts, fish, shellfish and wheat.
Warnings: Consult an appropriate, qualified health care practitioner before use if you are on any medication, if you have any pre-existing medical condition(s), or are taking an MAO inhibitor or any other prescription drug(s). This product may cause mild skin tingling. Don't use this product if you are pregnant or nursing. Discontinue use and consult a physician immediately if any adverse reaction is experienced. To be used by healthy adults only (21 years of age and older) as part of a proper diet and exercise program. USERS ASSUME ALL RISKS, consequences, and liabilities relating to the use of this product in any way. Keep out of reach of children and store in a cool, dry place away from strong light and odors. CAUTION: This product contains caffeine and other stimulants. Do not take this product less than 5 hours before you intend to sleep.
* These statements have not been evaluated by the Food and Drug Administration. This product is not intended to diagnose, treat, cure, or prevent any disease.
---