How do you make the connection between caring for others and caring for yourself? Melissa McKinley's nursing career caused her to put her own health on the back burner. Yet it was her same instinct to look after people—this time, her family—that inspired her to take control of her life.
This is Melissa's story.
Why Did You Decide to Transform?
Working as a nurse made it hard to be healthy, but I never really thought I was overweight. At 170 pounds, I told myself I had a "large bone structure."
I first decided to start losing weight in January of 2016 when I went shopping for a dress to wear to the nursing ball. I wanted something stunning, but none of the gorgeous dresses I tried on fit me.
I was so embarrassed by each one I put on that I wouldn't come out of the changing room to show my boyfriend. I left disappointed and with a goal: to fit into a nice dress in time for the nursing ball the next month.
But I fully committed myself to competing in My Fit Squad to help my baby brother. I wanted to introduce fitness into his life to help with his depression. I knew from experience that weight lifting and cardio provided a great release from everything else that we can't control. My brother, my mother, and I all competed.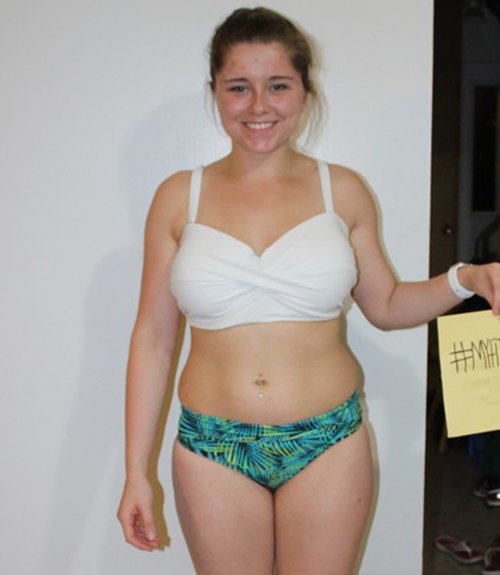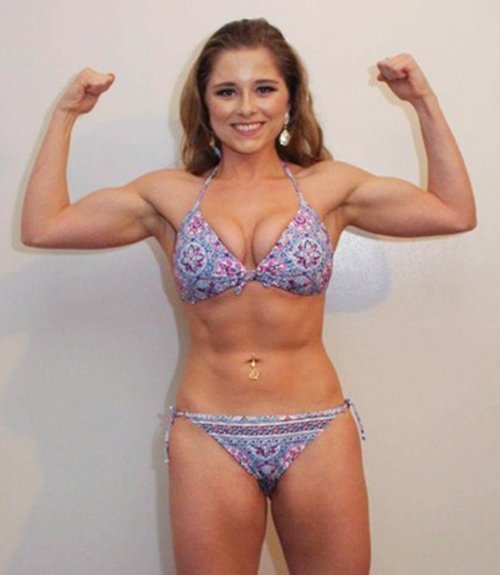 How Did You Accomplish Your Goals?
Simply put, I followed my meal plan and worked out as often as I could. When I felt like giving up or skipping the gym I would look at how far I had come. Looking back on progress pictures was what kept me on track.
I also followed Lauren Drain on Instagram. She's a nurse and a fitness model. She is one of my biggest inspirations because I can relate to her.
My mother is my other inspiration. She has more dedication and determination than anyone I know. I called her every day I didn't feel up to going to the gym. If my mother told me I was going, I was going.
How Did Bodybuilding.com Help You Reach Your Goals?
BodySpace provided the competition. I have always been a competitive person, but when I went to university I couldn't find the time to join any sports teams, and I couldn't afford to fly halfway across the country to enter bikini competitions. The competitions on Bodybuilding.com are free to enter, which is the best part. All you need is a camera and your determination.
I also love the articles. It's amazing that all that information is there for free. I convinced my nutritionist that having gummy bears post workout was better than fruit because of an article on Bodybuilding.com.
Everything you need to change your life is there for you—for free. The community on BodySpace is so helpful. I can ask any question I want and get answers. Everyone is so supportive. If you want to change, you can.
What Aspect Challenged You the Most?
The diet was the most difficult part, especially with my job. Families of patients bring in sweets for the staff all the time. There is never a shift that I do not have access to junk food. But it did get easier over time. I eventually stopped getting crazy cravings when I changed my meal plan.
Food and alcohol always seem to be everyone's "go to" when they want to hang out. That made spending time with friends difficult. I literally sat there with a friend at a fancy restaurant while they ate and I drank a glass of water. You really notice this culture we have around food when you start to eat clean.
How Did You Improve Your Diet?
I decided it was time to invest in myself, so I took an extra year on my nursing degree just so I could pay for the food that I wanted to start eating.
When I first started to make changes I had absolutely no idea what I was doing. I started buying vegetables and making salads, but didn't skimp on the dressing. I would steam carrots, but load them in butter.
I had no clue as to how much protein and carbs I should have in a day. I didn't realize that vegetables like carrots, peas, and corn could have a lot of sugar. I learned at a slow pace. My diet was certainly not perfect at this point, but I did lose approximately 20 pounds eating this way.
I finally put aside some money to hire a nutritionist, which changed my life. I followed the countless meal plans he made for me. I followed the "fish and asparagus diet" for eight straight weeks during My Fit Squad. After that I went to more carbs and more options.
How Did Things Change?
I lost 45 pounds and significantly reduced my body fat percentage. After my transformation I started getting daily messages from people I had never talked to, either asking for help in their fitness journey or stating that I was their inspiration. With all eyes on me I couldn't stop. I love that I am someone's inspiration to be a better version of themselves.
My mother and I created a massive domino effect. After we won, friends and family started believing that their goals were possible. My boyfriend lost nearly 50 pounds. I helped him with meal plans and workouts. Before all of this he was not interested in fitness in the slightest.
My boyfriend's parents are both overweight. They have been saying for years that they want to change, but never changed their lifestyle to match their goals—until they saw their own son do it. This change is happening all throughout our family. It is incredible to see.
My life now is amazing. I have control over my body, which I've never had before. I am a happy person, and I am still continuously helping others change their life.
My boyfriend and I still make comments about the food in our grocery cart. We have a lot of "remember when" moments. Now I know what to eat to lean out and bulk up, and that gives me strength. It was a long journey to get to this point, but I wouldn't change it for the world.
What Supplements Helped You Throughout Your Journey?
What Training Plan Kept You On Track?
At first, I would come home from work and do a half-hour cardio workout instead of watching TV, no matter what. Then I used random BodySpace workouts all throughout My Fit Squad. I never tracked them, but they still worked!
Where Will You Take Your Fitness Next?
I will continue to work on building muscle. I have been more focused on growing my glutes. I'm far from done building that booty! I would love to be a fitness model, but I feel like I have years of work to do before that could happen. I'm going to keep working on myself and inspiring others. I love helping other people reach their goals!
What Advice Do You Have for Aspiring Transformers?
Go at a pace that will set you up for success, and try not to do too much, too fast. If you're super new to fitness, set smaller, more achievable goals. There are plenty of meal plans and workouts on Bodybuilding.com, use them! I love the articles. Sign up for emails.
To compete you need to have a strong mindset. You need to remind yourself every day why you are doing this. If I was not passionate about my goals I would not have succeeded.