Bringing your own macro-friendly dishes to someone else's holiday meal can sometimes earn you death stares and the occasional rude comment—especially from that relative who has had a bit too much adult hot cocoa. So, why not host your family and friends at your place this year and treat them to traditional holiday fare they won't believe is actually good for them?
Make these four recipes the foundation of this year's holiday feast, and feel good knowing that everyone is eating well.
Slow Cooker Rosemary Fennel Turkey Breast
Rather than spending the morning wrestling with a large bird and making a mess in the kitchen, try the "fix it and forget it" approach. You'll free up your oven for other dishes and minimize cleanup with this slow-cooker staple.
And as a bonus, this turkey cooks on top of a bunch of delicious vegetables, so you'll end up with a built-in side dish! If you've never had veggies that have cooked under meat for hours and hours, well, let me just say these are what we end up fighting for in my house!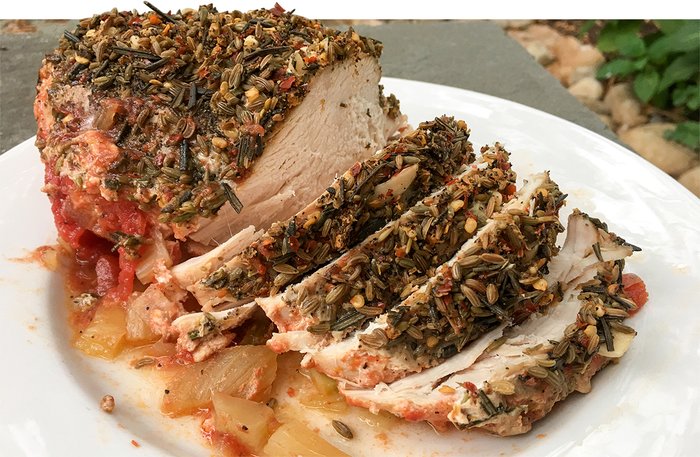 Ingredients
Red onion, chopped, 2.5 cups
Celery, chopped, 1 cup
Fennel, chopped, 1-3/4 cups
Olive oil, 2 tbsp
Low-sodium chicken broth, 1 cup
Whole tomatoes, 28-oz. can
Crushed tomatoes, 14.5-oz. can
Kosher salt, 5 tsp, divided
Black pepper, 2-1/2 tsp, divided
Rosemary, chopped, 4 tbsp
Fennel seeds, whole, 2-1/2 tsp
Orange zest, 2 tsp
Red pepper flakes, 1-1/2 tsp
Garlic, peeled and diced, 9 cloves
Turkey breast, boneless and skinless, 3 lbs.
Directions
Sauté the onion, celery, and fennel in extra-virgin olive oil in a large skillet over medium heat until soft, about 5 minutes.
Increase the heat to high, and stir in the chicken broth. Boil until the broth is reduced by half, about 2-3 minutes
Break up the whole tomatoes with a wooden spoon, then add them to the broth.
Stir in 1-1/2 teaspoons of the salt and half a teaspoon of pepper. Transfer the veggies to the slow cooker.
Use a sharp knife to cut 1-inch slits in the turkey every inch. Insert garlic slices into each slit.
Place the turkey breast on top of the veggies. Combine the rosemary, fennel, orange zest, pepper flakes, and remaining salt and pepper, and rub the seasoning all over the turkey. Press it in to make sure it sticks.
Cook on low for 7-8 hours (or 4 hours on high if pressed for time).
Nutrition Facts
Serving size: 1 slice
Recipe yields: 10 servings
Calories: 208
Fat: 4 g
Carbs: 12 g (3 g fiber)
Protein 31 g
Sweet-Potato Casserole With Brown Sugar Pecans
What holiday would be complete without sweet potatoes? Unfortunately, too many sweet potato dishes are sugar-laden and can lead to a dieting disaster. But not this version—it doesn't get much cleaner than this.
Even your relatives expecting the traditional marshmallow-topped casserole will be coming back for seconds.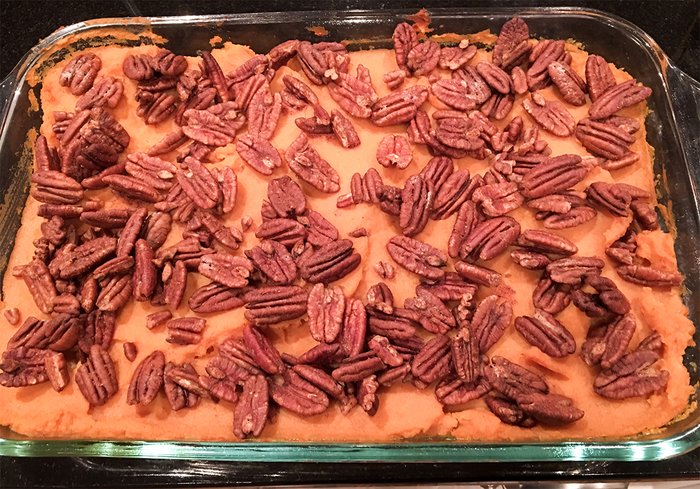 Ingredients
Sweet potato, 4 lbs.
Pecan halves, 2 cups
Sugar-free syrup, 1/4 cup
Sea salt, 2-1/4 tsp
Chinese five spice, 1 tsp
Water, 1-1/2 cups
Brown rice syrup, 2/3 cup
Directions
Preheat the oven to 350 degrees F.
Prick the potatoes all over with a fork, and wrap them individually in foil. Roast until soft throughout, about 60 minutes. Once done, unwrap the potatoes and let cool slightly.
Combine the pecan halves, syrup, one teaspoon of the sea salt, and the Chinese five spice in a bowl. Remove the pecans once tossed, but save the rest of the bowl's ingredients.
Once the potatoes are cool enough to handle, scoop out the flesh and place in a large food processor. Add the water, brown rice syrup, and remaining soaking juice, and blend until the potatoes are smooth.
Spoon the potatoes into a 13x9x2 cast-iron baking dish or well-greased glass pan, and top with the soaked pecan halves.
Bake the potatoes for 40 minutes. Let the dish cool for at least 20 minutes before serving.
Nutrition Facts
Serving size: 1 square
Recipe yields: 18 servings
Calories: 212
Fat: 8 g
Carbs: 32 g (4 g fiber)
Protein: 3 g
Warm Shaved Brussels Sprouts and Baby Kale Salad
If you're in need of an easy way to sneak greens into your meal, look no further. This recipe is so easy to make that I often hand it off to a willing guest to take care of. Get ready to hear the ooohs and aaaahs when your guests taste this mouthwatering salad.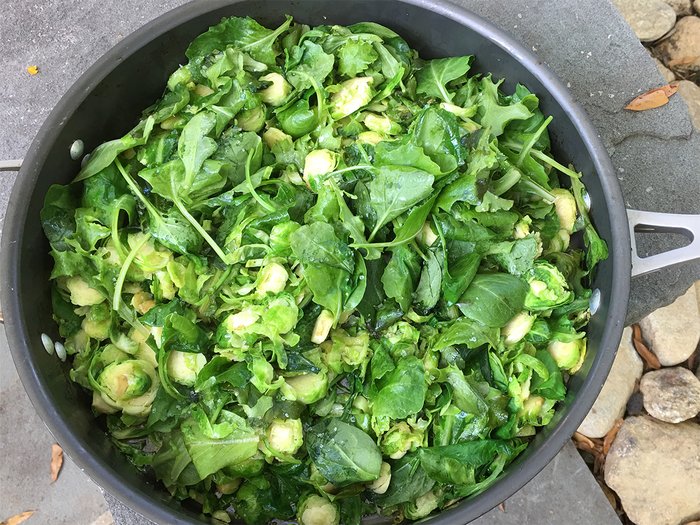 Ingredients
Olive oil, 1/4 cup
Brussels sprouts, shaved, 2 9-ounce bags
Apple cider vinegar, 1 tbsp
Brown rice syrup, 1 tbsp
Baby kale, 5-ounce package
Coarse sea salt, to taste
Directions
Heat the olive oil over medium heat in a large sauté pan. Add the Brussels sprouts and sauté until tender, about one minute.
Add the vinegar and brown rice syrup, and stir to coat the Brussels sprouts.
Add the kale and toss it until it starts to wilt, about one minute.
Remove the pan from the heat and transfer the salad to a serving bowl. Top with sea salt to taste.
Nutrition Facts
Serving size: 1 cup
Recipe yields: 5 servings
Calories: 180
Fat: 12 g
Carbs: 13 g (5 g fiber)
Protein: 5 g
Double-Crust Apple Crisp
Aside from tasting heavenly, this double-crust apple crisp will become a holiday staple because it bakes at the same oven temperature (and for nearly the same time) as the sweet-potato casserole. If the opportunity arises, simply bake them together to save on time!
You can also pop it in the oven just as you sit down for dinner; that way, by the time everyone finishes the rest of the meal, they can enjoy a warm, guilt-free dessert.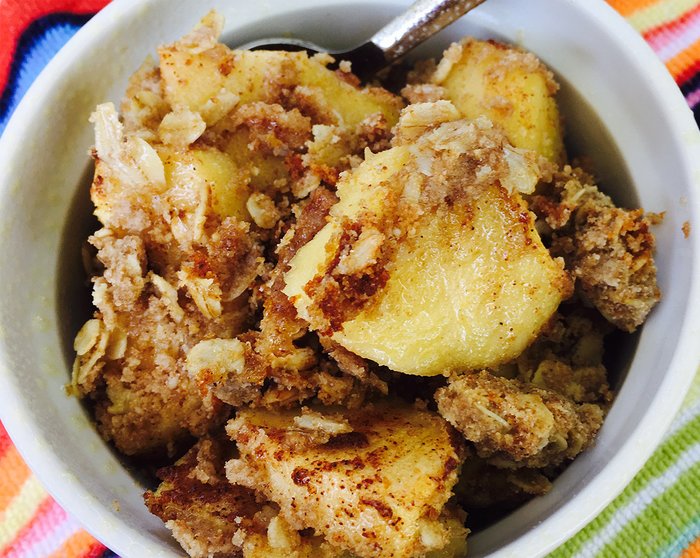 Ingredients
Apples, 3 large (or enough to get 6 cups sliced)
Lemon juice, 2 tbsp
Sprouted wheat flour, 2 cups and 2 tbsp, divided
Cinnamon, 2 tsp
Sea salt, to taste
Uncooked oats, 2 cups
Baking soda, 1/2 tsp
Baking powder, 1/2 tsp
Coconut oil, melted, 1 cup
Sugar-free vanilla syrup, 1/3 cup
Water, 1/3 cup
Brown rice syrup, 1/4 cup
Directions
Preheat the oven to 350 degrees F.
Toss the apple slices and lemon juice together in large bowl.
Combine two tablespoons whole-grain flour with the cinnamon and salt, then toss with the apples.
In a second bowl, combine the remaining flour with the oats, baking soda, and baking powder.
Melt the coconut oil in the microwave for 15 seconds. Let it cool, then add it to the oat mixture and stir it with a fork or your hands until you achieve a slightly lumpy texture.
Spray a 13x9x2 pan with nonfat cooking spray. Spread half of the crumb mixture in the bottom of the pan.
Top the crumbs with a layer of apples, then pour the vanilla syrup and water atop the apples. Drizzle brown rice syrup on top of everything.
Top the apples with the rest of the crumble mixture, then bake for 35-45 minutes until the apples are tender.
Nutrition Facts
Serving size: 1 square
Recipe yields: 16 servings
Calories: 259
Fat: 15 g
Carbs: 27 g (3 g)
Protein: 4 g