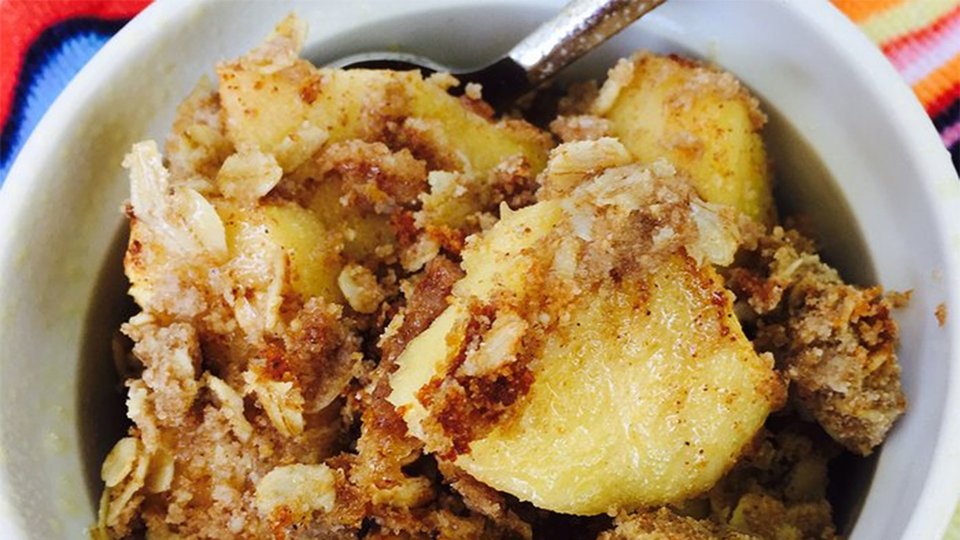 Aside from tasting heavenly, this double-crust apple crisp will become a holiday staple because it bakes at the same oven temperature (and for nearly the same time) as the sweet-potato casserole. If the opportunity arises, simply bake them together to save on time! You can also pop it in the oven just as you sit down for dinner; that way, by the time everyone finishes the rest of the meal, they can enjoy a warm, guilt-free dessert.
Ingredients
3 large (3-1/4" dia) apples
2 tbsp lemon juice
2 cup whole-wheat flour
2 tsp cinnamon
1 pinch sea salt
2 cup raw oats
½ tsp baking soda
½ tsp baking powder
1 cup coconut oil
⅓ cup sugar-free vanilla syrup
⅓ cup water
¼ cup brown rice syrup
Directions
Preheat the oven to 350 degrees F.
Toss the apple slices and lemon juice together in large bowl.
Combine two tablespoons whole-grain flour with the cinnamon and salt, then toss with the apples.
In a second bowl, combine the remaining flour with the oats, baking soda, and baking powder.
Melt the coconut oil in the microwave for 15 seconds. Let it cool, then add it to the oat mixture and stir it with a fork or your hands until you achieve a slightly lumpy texture.
Spray a 13x9x2 pan with nonfat cooking spray. Spread half of the crumb mixture in the bottom of the pan.
Top the crumbs with a layer of apples, then pour the vanilla syrup and water atop the apples. Drizzle brown rice syrup on top of everything.
Top the apples with the rest of the crumble mixture, then bake for 35-45 minutes until the apples are tender.