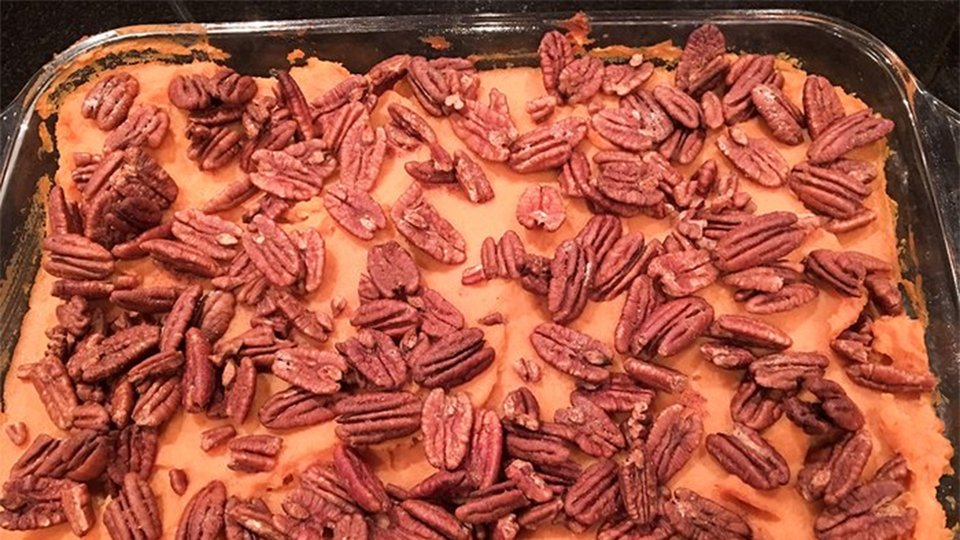 What holiday would be complete without sweet potatoes? Unfortunately, too many sweet potato dishes are sugar-laden and can lead to a dieting disaster. But not this version—it doesn't get much cleaner than this. Even your relatives expecting the traditional marshmallow-topped casserole will be coming back for seconds.
Ingredients
4 lb sweet potato
2 cup pecans
¼ cup sugar-free maple syrup
2¼ tsp sea salt
1 tsp chinese 5-spice seasoning
1½ cup water
⅔ cup brown rice syrup
Directions
Preheat the oven to 350 degrees F.
Prick the potatoes all over with a fork, and wrap them individually in foil. Roast until soft throughout, about 60 minutes. Once done, unwrap the potatoes and let cool slightly.
Combine the pecan halves, syrup, one teaspoon of the sea salt, and the Chinese five spice in a bowl. Remove the pecans once tossed, but save the rest of the bowl's ingredients.
Once the potatoes are cool enough to handle, scoop out the flesh and place in a large food processor. Add the water, brown rice syrup, and remaining soaking juice, and blend until the potatoes are smooth.
Spoon the potatoes into a 13x9x2 cast-iron baking dish or well-greased glass pan, and top with the soaked pecan halves.
Bake the potatoes for 40 minutes. Let the dish cool for at least 20 minutes before serving.