Peanut butter and chocolate: Sometimes, you've just gotta have them—together. Unfortunately, regular peanut butter isn't the protein powerhouse some labels portray it as. But that doesn't mean it needs to be labeled as off-limits or just a cheat!
We challenged IFBB figure pro, Dymatize-sponsored athlete, and diehard peanut butter lover Brooke Erickson to create a recipe out of her favorite flavored protein powder—one that didn't taste like, well, protein powder. She came back with not one, but two out-of-this-world treats.
Next time your cravings kick in, skip the Reese's and whip up a batch of Brooke's guilt-free creations.
No-Bake Peanut Butter Protein Bars
No time to cook? No problem! With a recipe this easy, you'll never avoid prepping healthy treats again. If the idea of peanut butter without chocolate is anathema to you, let the batter set partway, then toss some semisweet chocolate chips on top.
These bars have rock-solid macros and the flavor to smash any craving. Keep a few in the fridge just to be safe!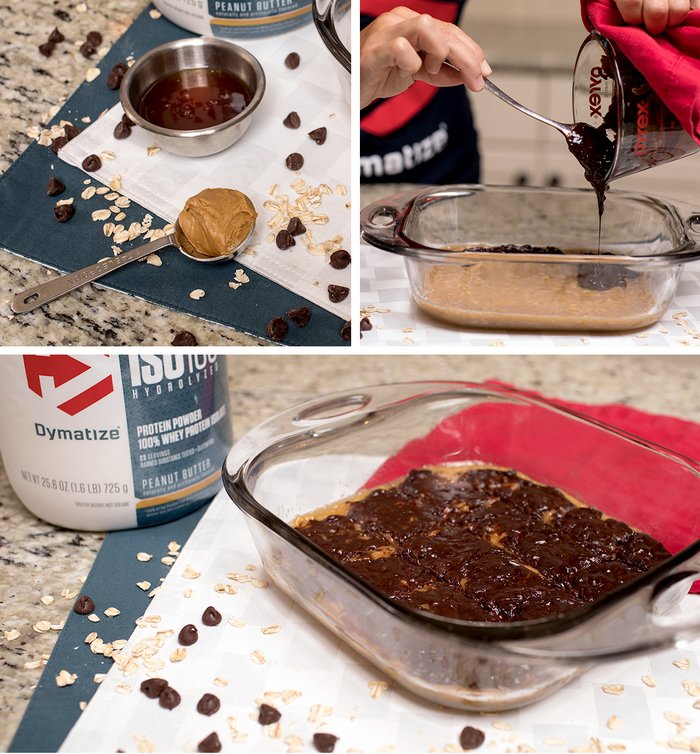 ISO-100, 3 Lbs.
Ultra-Fast Absorption to Build and Repair Muscle*
Chocolate Peanut Butter Muffins with Chocolate Chips
Muffins are nature's perfect food—cakes that fit in the palm of your hand. If you track the food you eat, individual muffins simplify that process; you can't accidentally eat more than you meant to. You can, however, intentionally eat more than you meant to…
Peanut butter fans will love the one-two punch of natural PB and the flavored protein powder. Feel free to experiment with other flavors, though. There are no rules here!