When it's not smothered in marshmallows and brown sugar, the humble sweet potato delivers quality carbohydrates no fitness buff should do without. This sweet little powerhouse will pack your meals with energizing carbs, must-have nutrients, and delightful flavor.
Learn what makes this tuber so good for you, then add this trio of sweet potato dishes to your hit parade of winning recipes. 
Sweet Potatoes Build Strong Bodies
Both orange-and white-fleshed sweet potatoes are a top-notch source of beta-carotene. Our bodies convert this into vitamin A, which can support immune function and eye health, promote proper cell growth, and help maintain healthy blood sugar levels.[1] Talk about a multitasking nutrient!
Keep in mind that yams are not sweet potatoes, and contain almost no vitamin A. Real yams are hard to find in the U.S., however—most stores that claim to carry them are actually just mislabeling sweet potatoes.
Sweet Potatoes Are the Smart Kind of Sweet
Sweet potatoes aren't called "sweet" for nothing. When cooked, they have a buttery flavor that doesn't need added sugar. After trying them au naturel, you'll wonder why anyone would ever camouflage their natural sweetness with pale imitations like brown sugar.
The naturally occurring sugars in vegetables like sweet potatoes and beets are bundled with other nutrients and dietary fibers, which makes them a healthier option than processed foods packed with added sugar. The fiber fills you up faster, which may help you avoid overindulging.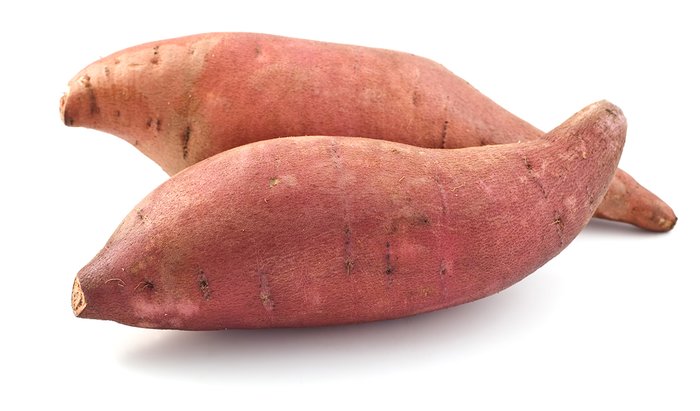 Sweet Potatoes Are B-6 Brain Boosters
You're smart to eat sweet potatoes, and may get smarter still, since they're full of vitamin B-6. This important vitamin is involved in the production of neurotransmitters, chemicals that help signals move from one brain cell to another. One study suggested that higher intakes of vitamin B-6 from food sources may play a role in maintaining mental health.[2]
Far from being a one-hit dietary wonder, vitamin B-6 also plays a crucial role in enzyme reactions involved in protein, carbohydrate, and fat metabolism.
How to Eat Sweet Potatoes
When something is as delicious and nutritious as a sweet potato, why not look for exciting ways to eat more if it? These creative recipes will leave you with a serious orange crush.
Start by choosing sweet potatoes that are firm and free of soft spots, wrinkles, fissures, or signs of sprouting. It should feel heavy for its size. The shape and size of a sweet potato doesn't affect its flavor. If you plan on baking more than one at a time, choose sweet potatoes that are about the same size so they all cook evenly.
Store sweet potatoes in a cool, dry place like a basement or cabinet; keeping them in the refrigerator hastens softening and sprouting. Properly stored, sweet potatoes can stay fresh for up to three months!
1. Chipotle Black Bean and Chicken Sweet Potato Toast
There's plenty of sweet potato-toast food porn circulating on social media, and for good reason; it's delicious! Oven-roasted slices of this powerful potato provide a sweet base for endless topping possibilities. 
The combo of smoky black beans and protein-packed chicken make this sweet potato stack a healthy option for lunch or dinner. Plus, using sweet potato as a bread substitute provides a nutritional upgrade.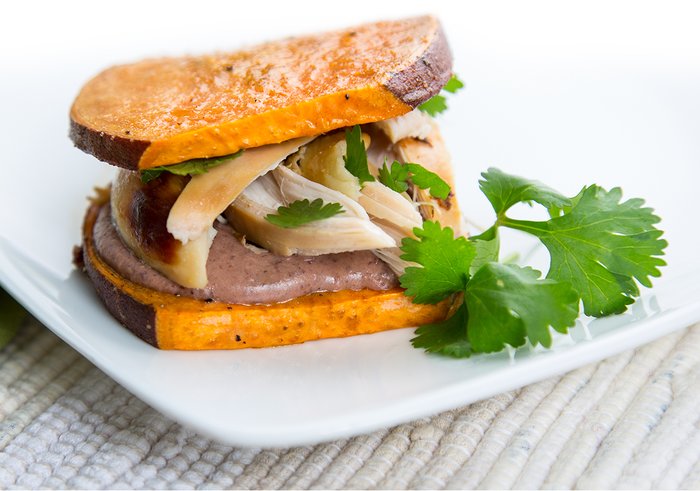 2. Mayan Chocolate Sweet Potato Pudding
Here's proof that dessert doesn't need to derail your diet. All the sweetness in this pudding comes from sweet potatoes and dates, so there's no need to add processed sugar.
A touch of cayenne provides a surprising kick, and it's easy to sneak in some protein powder to boost the nutritional power. Top it with a treat like raspberries, chopped nuts, coconut flakes, or cacao nibs.

3. Sweet Potato Hash with Soft-Boiled Egg
Shredded sweet potato is the ultimate kitchen hack for serving meals in a flash. To grate, use the large holes on a box grater or shredding blade of a food processor. Cook the sweet potatoes for a couple of minutes in a skillet, then top everything off with a runny soft-boiled egg and a punchy pesto dressing to give this dish serious restaurant-caliber appeal.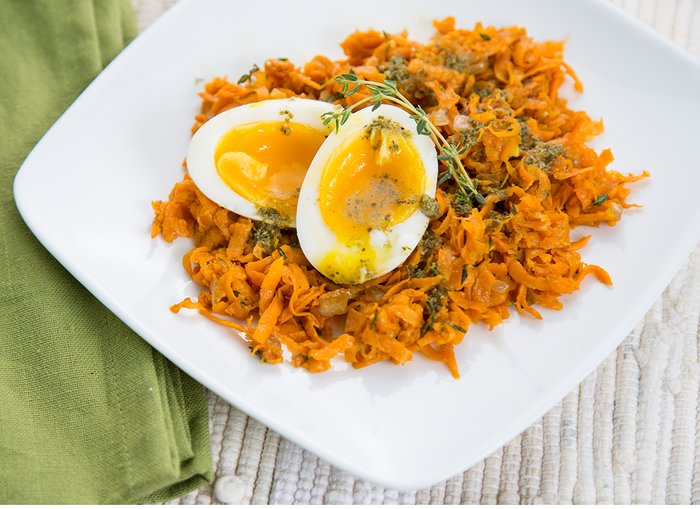 References
Sluijs, I., Cadier, E., Beulens, J. W. J., Spijkerman, A. M. W., & van der Schouw, Y. T. (2015). Dietary intake of carotenoids and risk of type 2 diabetes. Nutrition, Metabolism and Cardiovascular Diseases, 25(4), 376-381.
Gougeon, L., Payette, H., Morais, J. A., Gaudreau, P., Shatenstein, B., & Gray-Donald, K. (2015). Intakes of folate, vitamin B6 and B12 and risk of depression in community-dwelling older adults: the Quebec Longitudinal Study on Nutrition and Aging. European Journal of Clinical Nutrition.