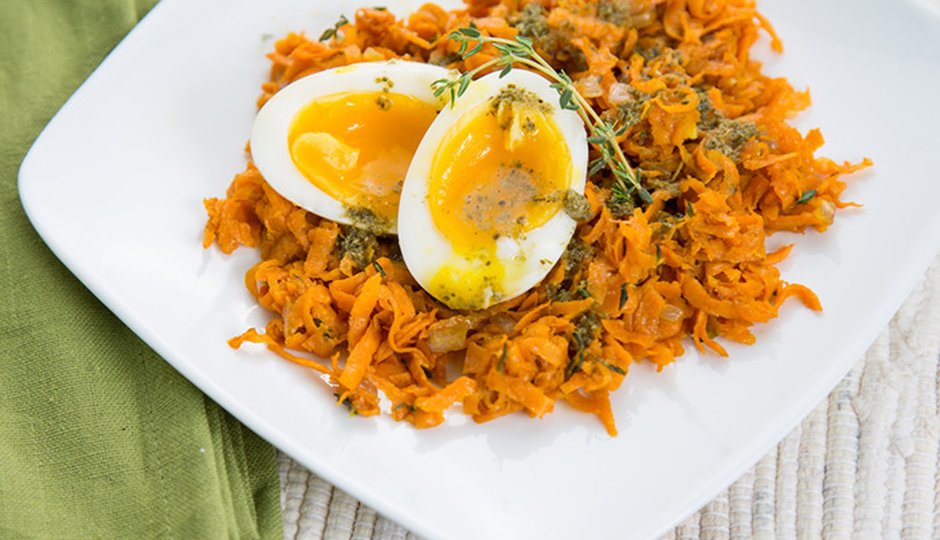 Shredded sweet potato is the ultimate kitchen hack for serving meals in a flash. To grate, use the large holes on a box grater or shredding blade of a food processor. Cook the sweet potatoes for a couple of minutes in a skillet, then top everything off with a runny soft-boiled egg and a punchy pesto dressing to give this dish serious restaurant-caliber appeal.
Ingredients
1 tbsp canola oil
2 tbsp chopped shallots
2 clove garlic, minced
1 sweet potato
2 tsp, ground thyme
2 cup kale, diced
2 egg
1 tbsp olive oil
1 tbsp apple cider vinegar
Directions
Heat oil in a skillet over medium heat. Add shallot and garlic; heat 1 minute. Place sweet potato, thyme, and a couple pinches salt in pan and cook, stirring regularly until potato shreds are tender, about 5 minutes. Stir in baby kale and remove skillet from heat.
In a saucepan, add water to a depth of 3 inches; bring to a boil. Gently lower eggs into water; boil exactly 6-1/2 minutes, adjusting heat to maintain a gentle boil. Use a slotted spoon to transfer eggs to a bowl of ice water and chill 2 minutes. Softly tap eggs against counter to break shell in several spots, and gently peel starting from wider end. Cut eggs in half lengthwise.
Whisk together pesto, olive oil, and cider vinegar. To serve, place sweet potato mixture on plates and top with soft-boiled egg halves and pesto dressing.