The Vegetarian Pasta Dish That's Ridiculously High In Protein
Looking for an easy, filling, and absurdly high-protein pasta dinner you can serve to anyone without shame? Maybe you just didn't know you were looking for one. But this one just found you. And it's delicious!
Ricotta cheese was whey before it was cool. Like, way whey before. But this soft, mild cheese has another benefit, particularly in whole-fat form: It makes any pasta sauce instantly creamier, more delicious, and far higher in protein than it was before. (I hear there are low-fat variations, but I choose to ignore that information.)
That information alone may be enough to make your day. So sure, trawl the net, and you can find endless ricotta pasta variations. Or you can just cut to the chase and make this classic from The Kitchn. It never fails to be a hit for kids and adults alike, but you can also secretly send the protein content sky-high by making one simple substitution: Use edamame pasta, such as the stellar one-ingredient variation made by Explore Asian cuisine, which has 24 grams of protein in a 2-ounce serving. Frealz!
I know what you're thinking: Alternative pastas made of, say, corn or rice often end up tasting...alternative, and cold leftovers the next day are pretty much inedible. Edamame pasta, however, has excellent texture and a slightly nutty flavor highly reminiscent of Japanese soba noodles. Explore Asian's variation plays up this similarity since the noodles are quite thin, like soba noodles or even angel hair pasta. This also means they cook in about half the time of traditional wheat-based pastas. And in this recipe, they're great cold for lunch the next day.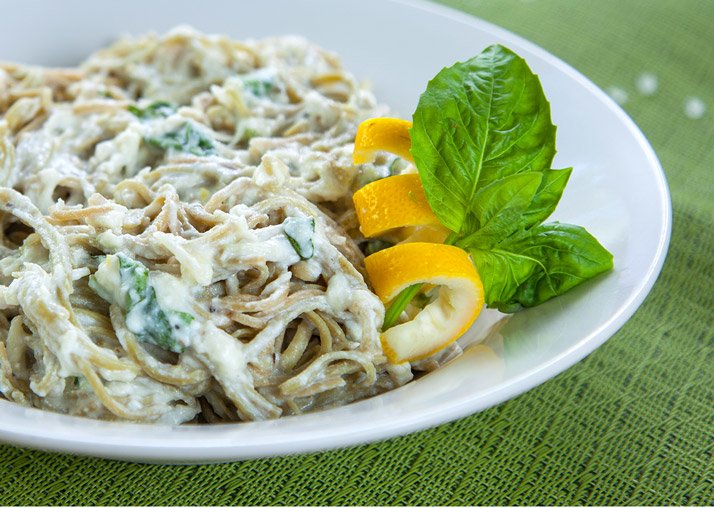 Ingredients
---

---
Parmesan cheese, freshly grated
1 cup
---
---
Juice and zest of one lemon
---
---
---

Basil leaves
1/2 cup sliced and loosely packed
Directions
Set a pot of water to boil. When it boils, add a few teaspoons of salt and the pasta.
In a metal bowl wide enough to fit over the top of the pot, mix together the ricotta, Parmesan, olive oil, juice and zest of lemon, salt, and black pepper. When there are about 2 minutes remaining in the pasta's cooking time, place the bowl over the pot and slowly stir the ricotta and other ingredients. You should see it loosening as it warms.
When the pasta is al dente, drain it, add the basil to the bowl of sauce, and toss it with the drained pasta. Serve immediately.
Nutrition Facts
Serving size: 1 serving
Recipe yields: six servings
Amount per serving
Calories 528
Carbs
32.5 g (15.2 g fiber)