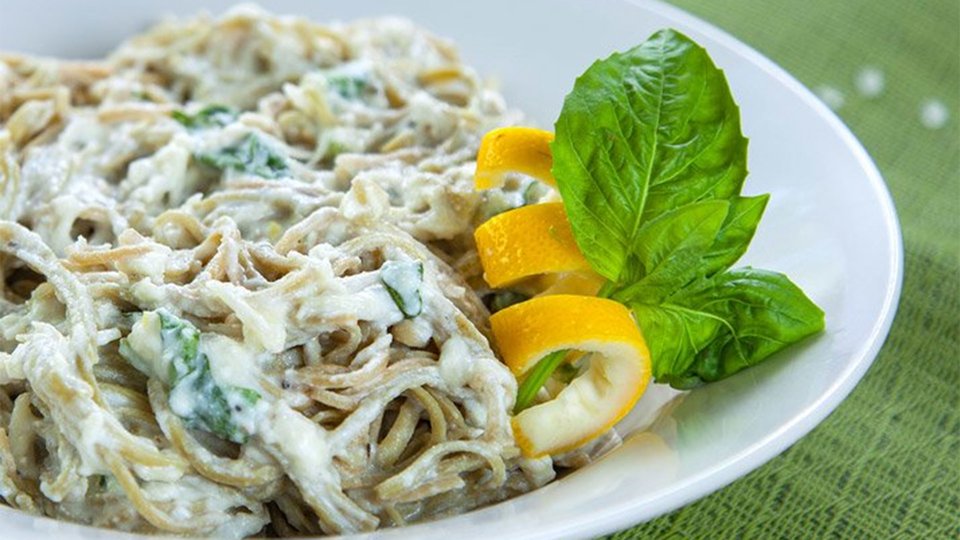 Looking for an easy, filling, and absurdly high-protein pasta dinner you can serve to anyone without shame? Maybe you just didn't know you were looking for one. But this one just found you. And it's delicious!
Ingredients
1 lb edamame pasta
2 cup ricotta cheese (skim-milk)
1 cup low-fat parmesan cheese
2 tbsp olive oil
1 whole lemon
½ tsp sea salt
½ tsp, ground black pepper
½ cup fresh basil leaves, chopped
Directions
Set a pot of water to boil. When it boils, add a few teaspoons of salt and the pasta.
In a metal bowl wide enough to fit over the top of the pot, mix together the ricotta, Parmesan, olive oil, juice and zest of lemon, salt, and black pepper. When there are about 2 minutes remaining in the pasta's cooking time, place the bowl over the pot and slowly stir the ricotta and other ingredients. You should see it loosening as it warms.
When the pasta is al dente, drain it, add the basil to the bowl of sauce, and toss it with the drained pasta. Serve immediately.