Fitness 360: Nutrition Program - Katie Chung Hua, Built For The Beach
The world is filled with delicious and beautiful foods, and many of them contribute to Katie's fitness goals. Follow her nutrition program!
Petite yet powerful, Katie Chung Hua needs every sculpted pound on her body to pack a punch. So her nutrition is all about balance and diversity rather than bingeing or deprivation.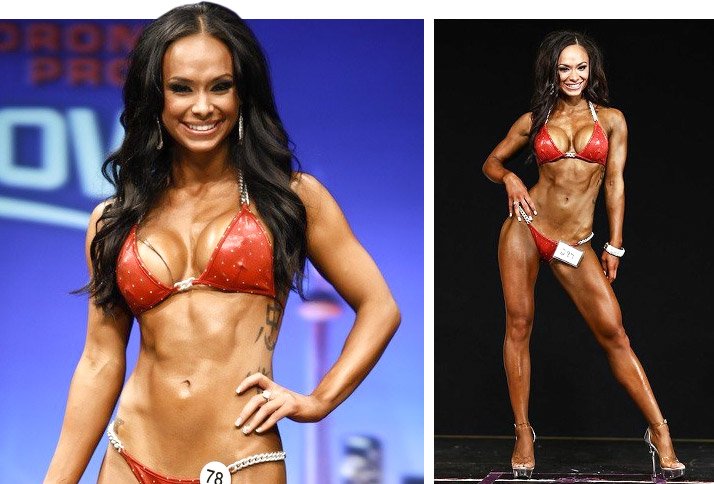 Katie never becomes so strict with her diet that it becomes a source of misery for her and, by extension, those around her. Yet she'll never deviate so much that she falls out of shape, because looking good in a two-piece is a job requirement—whether she's competing, modeling or working as a cocktail waitress year-round. "If you want to have that cookie, just be aware of what else you are putting in your body, and how much and how intensely you are exercising," she says. Or you could just skip the cookie.
Check out the menu below, full of pretty standard fitness foods, mixing small, protein-packed meals with supplements in alternating fashion throughout the day. The oatmeal pancakes sound like they're to die for, and you'll notice she finds creative ways to include healthy fats with each meal.
"Healthy fats like omega-3s and the monounsaturated kind help slow digestion while providing important fat soluble vitamins and essential fatty acids," says Christopher R. Mohr, Ph.D., R.D., of MohrResults.com. A recent study out of Harvard University attributed up to 96,000 annual deaths to low omega-3 intake.
Katie treads the bikini stage at 100 pounds, inching up to only 105 off-season. If you follow her meal plan, adjust the calories based on your weight. For example, if you weight 125 pounds, bump up the total calories by 25%. Stick with her food choices or similar ones, though. Adjust quantity, not quality.
The biggest diet challenge she faces is logistical. She works unusual hours and then hustles to launch a clothing line when she's not working or working out. "It's all about preparation and having my food prepared ahead of time, so that when it's time to eat, it's quick and easy. Otherwise you start to mess up and skip meals." She recommends taking in a meal containing both protein and carbs 1½ hours before your workout. You'll be fueled up and ready to grow.
Katie's Meal Plan
Meal 1: 10-11 a.m.

Oatmeal Pancakes
1/4 cup (Dry Oats mixed w/ 3 Egg Whites)
---
Meal 2: 2 p.m.
---
Meal 3: 5 p.m.
Mixed Green Salad

---

Hardboiled Egg Whites (Sliced)
2
---
---
Almonds
---
Pepper
---
Meal 4: 8 p.m.

Grilled Chicken (With Lemon Pepper)
5 oz
---
Grilled Asparagus Spears (With Olive Oil, Pepper, and Lemon)
AMOUNT
---
---
Meal 5: 11 p.m.
---