Fitness 360: Katie Chung Hua, Built For The Beach
Whether she's working or competing, Katie Chung Hua is bikini ready. Follow her complete program and learn how to mix a fitness cocktail anyone can down.
If you can imagine something, you can recreate it in Las Vegas—witness Paris, Luxor, New York—New York, and every murder in every episode of CSI. So it wasn't a huge shock when the owners of TAO Nightclub created a day club to make you feel like you're at the ocean, even though the Pacific lies 270 miles to the west.
What's a day at the beach, even a fake one, without beautiful bikini-clad women? That's where Katie Chung Hua comes in. The 26-year-old fitness model rules the imported sand as a cocktail waitress, earning money to pay off her student loans while quenching tourists' thirst. In her downtime, she's working on creating her own sportswear line.
A diverse array of elements, to be sure, but Katie is herself a study in diversity. "I'm a mutt," she says, although her exotic looks may best be explained in terms of the drinks she slings: a heavy pour of Chinese from her mother, cut with some Welsh from her father, who also provided a splash of German. The result is an intoxicating cocktail that can kick your ass.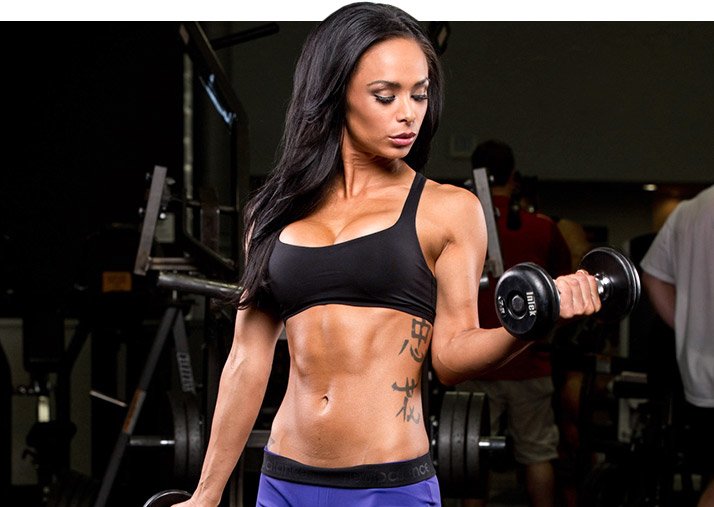 Katie was born in Idaho Falls, Idaho, where her parents were college sweethearts. When their middle child finished elementary school, the family moved across the state to Boise—the home of Bodybuilding.com. In fact, she worked at this company for several years after attending Boise State University, where she earned a degree in business management.
Many people Katie's age head to Vegas on a whim, but her relocation was a calculated move. After graduating from BSU, Katie knew that her student debt was a liability, but also realized that her fit body was an asset. Waitressing generated enough cash to help her pay down debt, yet left time for her workouts and entrepreneurship.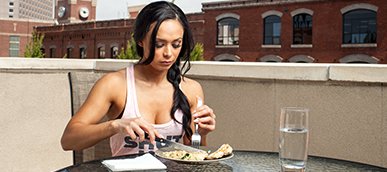 The world is filled with delicious and beautiful foods, and many of them contribute to Katie's fitness goals. Follow her nutrition program!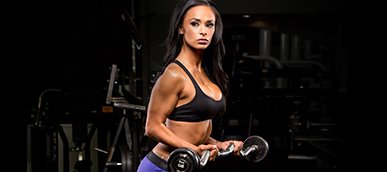 Katie Chung Hua sculpts her shapely physique according to the principles of old-school bodybuilding. Lift like her to look like her!
Trading Her Blades For Cuts
Her journey to becoming a fitness model also has roots in colder environs: the ice rink. Although she dabbled in basketball and lacrosse, and was a dirt-bike-riding tomboy, Katie's first love was hockey. She was good enough and serious enough that she trained at the National Sports Academy in Lake Placid, New York, during high school.
Contest History
2012: IFBB Toronto Pro - 13th place, Bikini
2011: NPC Team Universe - 2nd place, Bikini
2010: NPC USA - 5th place, Bikini
2009: NPC Iron Man - 2nd place, Bikini
Katie was 14 when she started working out in order to elevate her hockey game. Her father took her to a gym, where she began using treadmills and lifting weights under the guidance of a trainer. When her interest in hockey eventually waned, her interest in fitness, and in sculpting her body, took over.
"The emphasis changed from performance to appearance," she says. "The goal became getting my biceps bigger, and getting my glutes bigger and more shapely, versus getting quicker and faster."
Mission accomplished. She did her first figure show at age 19, turned pro in bikini at the NPC Team Universe in 2011, and landed a supplement sponsorship with BSN.
In Las Vegas, Katie feels at home. She's one of the promising young talents who is working day and night to transform the city of the Rat Pack into the city of six-packs. If casino and club owners can recreate the wonders of the world, natural and manmade, people can build their body into a vision of their own conjuring. Katie did, and so can you. Check out the links above to build according to her blueprint.