FreakMode Recipes: Steak And Arugula Salad
This low-carb recipe is perfect to take to work for a yummy, healthy lunch!
Share this fantastic recipe with your spouse, and you'll still get all the protein you need to make and maintain your muscle mass!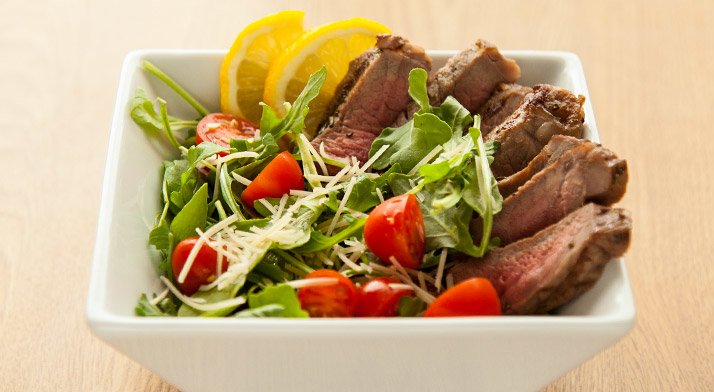 Ingredients
---
---
---
---
Arugula leaves, washed
3-4 handfuls
---
Cherry tomatoes, halved
1/2 pint
---
Parmesan cheese, shaved
1 tbsp
---
---
---
---
Directions
Preheat grill pan over medium-high heat.
Cook steaks 4-5 minutes on each side, or until desired doneness.
Remove steaks from heat and let rest.
In large salad bowl mix oil, lemon juice, garlic, salt, and pepper.
Add arugula, tomatoes, and parmesan. Combine when ready to serve.
Nutrition Facts
Serving size: 1 steak
Recipe yields: 2 servings
Amount per serving
Calories 398