10 Best-Tasting Protein Powders For Women
Looking for the best-tasting protein powders to squash your sweet cravings and build your lean, sexy physique? This article has our top 10!
Many women tend to avoid protein powders for fear of building too much mass. Thankfully, that fear has been debunked for the average lady looking to reap the benefits of hard work in the gym, and the verdict is in: Protein rocks!
Even so, many women still fall short of consuming the necessary amount of protein for maximum results. Protein can help you build muscle, maintain muscle when losing weight, and recover from a tough workout It also fills you up more than other foods. In short, it's an essential part of building or maintaining a lean, strong, and sexy physique!
The list of protein powders here has been thoughtfully selected for any woman who wants to sculpt a bodacious figure and satisfy her refined taste buds. The chosen proteins will appease your sweet tooth while helping you reach your fitness goals, as the female reviews below can attest.
Shake up your diet and give them a shot!
1

FitMiss Delight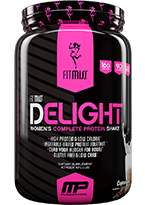 Vanilla Chai
Chocolate Delight
"Best-tasting protein out there! Mixes great and tastes even better. Highly recommend."
"I'm on a weight-loss journey, and so far, Delight is the best-tasting protein powder that I've had. As well, I just love the macros on this one and [it] really keeps you full for a long time."
"I love this product. It tastes delicious, and it is very filling."
2

NLA for Her Her Whey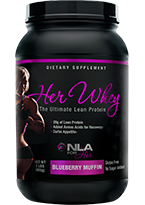 Chocolate Éclair
Vanilla Cupcake
"This was the best purchase I have ever made in my journey to a healthier and stronger me. The taste of this protein powder is spot on! I actually enjoy drinking it and I love to add it to my food as well."
"I've used Optimum Nutrition and Syntha-6 before and I really like the taste and texture of this powder in comparison. I use it as a regular shake with almond milk, in oatmeal, in smoothies, or with plain Greek yogurt—it's awesome."
3

Optimum Nutrition Gold Standard Whey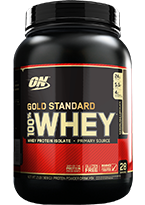 Vanilla Ice Cream
Delicious Strawberry
"Great taste. No chalky aftertaste. Optimum Nutrition is worth the investment and gives great results. Highly recommend."
"Fantastic protein! No bloat or any issues while using this. I have been using this stuff for several years now. I'm really happy with it! Thank you, ON!"
"I love having this protein around to be able to make shakes or even just to mix with almond milk for a pudding consistency."
4

Dymatize ISO-100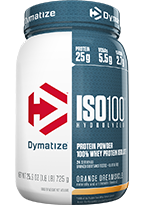 Birthday Cake
Chocolate Coconut
Cinnamon Bun
Cookies and Cream
Fudge Brownie
Gourmet Chocolate
Gourmet Vanilla
Rocky Road
Smooth Banana
Strawberry
"I usually buy Trutein, but I wanted a faster-absorbing protein with less calories and carbs. The only thing that would make this product better is if it came in the 5-pound canister!"
"I love ISO-100 due to the low-to-no carb numbers. It tastes amazing. I love mixing this with Arctic Zero as well!"
"This protein tastes like cake batter—no joke. It's like you poured the mix straight from the box, added some water, and ate it. It tastes better than any other protein I have ever had and it mixes well."
5

BSN Syntha-6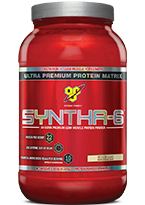 Banana
Chocolate Cake Batter
Chocolate Milkshake
Chocolate Peanut Butter
Cookies & Cream
Strawberry Milkshake
Vanilla Ice Cream
Peanut Butter Cookie
"So good! This really makes my taste buds happy!"
"I love this product and will likely never go back unless they change their formula and it starts to suck. I'm a hard-sell on protein powder and I have to say I am customer for good."
6

Cellucor Cor-Performance Whey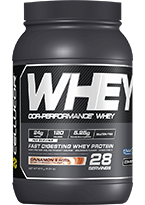 Molten Chocolate
Peanut Butter Marshmallow
Whipped Vanilla
"Definitely tastes as it states! It tastes great when baking with it. I prefer to take this with almond milk, but it's not so bad with just water."
"[This is] perfect for contest prep—it takes care of my cravings for sweets. Sometimes I blend light soy milk with Cellucor protein and stick it in the fridge for an hour. Pure bliss!"
"I bought two of these, having never tried Cellucor products before. I must say I was pleasantly surprised at the taste and mixing ability of this protein. Very happy with my purchase and will be buying again!"
7

Optimum Nutrition Platinum Hydrowhey
Turbo Chocolate
Velocity Vanilla

"I love the chocolate flavor, it mixes amazingly, and with my slight dairy intolerance I can drink the hydrowhey without it bothering my stomach!"

"I recently started trying Optimum Nutrition products and love them! This is like ice cream and chocolate…yum!"

"I've done the gamut of protein powders and this is the only one I do not dread having to drink twice a day. Seriously, you wouldn't think it's a protein drink! And it mixes so quickly with just a shaker and water, no need to whip out the blender!"
8

MusclePharm Combat Powder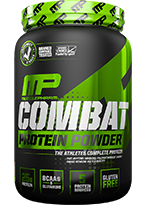 Vanilla
Chocolate Peanut Butter
Chocolate Milk

"Very satisfying protein blend that actually tastes pretty good. Pro tip: Mix this with plain Greek yogurt; it's a delicious protein double whammy! Bonus tip: Stick it in the freezer for 30 minutes and boom, banana frozen yogurt."

"This protein powder mixes well without clumps and tastes amazing (cookies n cream) with just water. I usually avoid protein shakes due to the taste, but this one is great. Sometimes I'll add a handful of spinach to get some greens and fiber without affecting the taste!"

"I received this as a free sample from you and thought I would try it out. About a month later, I found out I was gluten-intolerant. I was so happy I had decided to purchase this product. I enjoy heavy lifting and this is one product I will never have to replace. Thank you!"
9

EVL Stacked Protein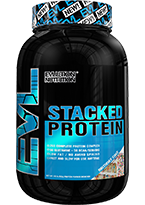 Chocolate Decadence
Vanilla Ice Cream

"Chocolate Decadence was a rich taste chocolate, perfect to satisfy my chocolate cravings. The powder was very thin and very easy to mix in water. The protein had a very good quality, a perfect fuel for my muscles!"

"I've tried 3 flavors so far, and have enjoyed them all! Although I would maybe call the cookies and cream flavor Cinnamon Graham Cracker instead, but it still tastes great!"

"I'm normally a chocolate person. Funny as it sounds, I like the Vanilla better! On top of that, 25 grams of protein and 140 or 130 calories? Yes, please."
10

Kaged Muscle Kasein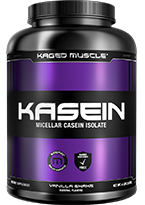 "I love this! Not only does it taste good, but I just mix it with a little water in a bowl and eat it like ice cream (great for a diet without cheat days!). It's very satisfying, tastes great, and seems to make me sleep better, too."

"This is my third week using Kasein Vanilla. It mixes easy and doesn't have an aftertaste. I normally mix it with water, but I use almond milk on leg days. It's heavy, so it helps me hit my needed macros for the day. Love it a lot!"

"The taste is AWESOME! Mix a scoop of this protein with a cup of almond or coconut milk and some ice! It's by far my favorite cheat now. I recommend trying out this Kasein for sure if you're debating on a few different kinds!"