Yellow on the roadway usually means caution. But when it comes to your diet, the color yellow should imply full steam ahead. In recent years, there has been a lot of buzz about the goldenrod spice turmeric, both from a health perspective and also as a way to infuse meals and drinks (hello, golden milk!) with more flavor. Indeed, turmeric is worthy of this praise.
Long a kitchen staple in India, turmeric, which is the stem of a tropical plant, has gained attention of late among researchers who believe that eating it regularly may bring about several health benefits. That's because turmeric's fingertip-staining, deep-yellow color comes courtesy of a potent phytochemical called curcumin.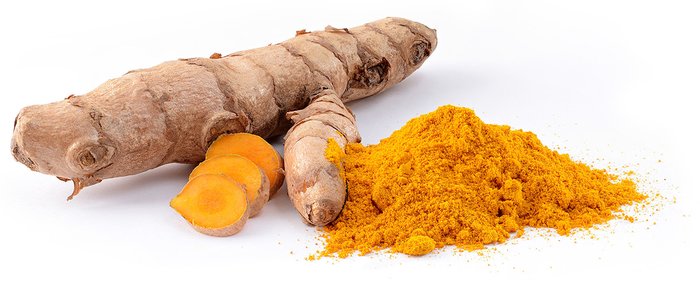 Curcumin, and therefore turmeric, has been linked to several positive health benefits:
It's been shown to improve mood and to potentially increase attention and cognitive function in elderly populations.[1,2]
It's been shown to maintain endothelial function (heart health and function) when paired with an aerobic workout program in women.[3]
It has positive effects on cardiovascular function within the body and may help to reduce fat-cell differentiation (growth of new fat cells).[4,5]
See More Yellow in Your Diet
Keep in mind that many studies to date examining the health-boosting powers of turmeric have used animals or test tubes (though the benefits mentioned above are backed by studies in humans) at supplement levels not always easily obtained through diet alone. Still, adding extra turmeric to your diet certainly can't hurt. Turmeric is available in two forms: as a fresh root or as a ground powder made from dried turmeric roots.
Here are ways to use both forms to add healthy color and flavor to your everyday eating.
Stir turmeric powder or grated fresh turmeric into Greek yogurt along with a squeeze of fresh lemon juice, and use it as a topping for chicken or fish.
Add turmeric powder to the simmering water when making a pot of grains like brown rice or quinoa.
Dust florets of cauliflower or broccoli before roasting them in the oven.
Make a protein shake by blending together milk, frozen mango cubes, plain or vanilla protein powder, and a little bit of turmeric powder.
Sip turmeric tea by grating fresh turmeric into a mug and adding boiled water.
Whisk together eggs, chopped vegetables, and turmeric powder when making scrambled eggs.
Stir together grated fresh turmeric with olive oil, white wine vinegar, and Dijon mustard for a salad dressing.
Blend fresh or powdered turmeric into homemade or store-bought dips like hummus.
Stir turmeric powder into mayonnaise when mixing up tuna or chicken salad for sandwiches.
Blend olive oil, lemon juice, garlic, ground turmeric, and salt; use it as a marinade for chicken or pork.
References