Having your first baby is an exciting but stressful time. There are a lot of questions first-time moms have during their pregnancy. Can I still workout? Do I need to change my workouts? How much should I be eating? Do I really need to give up coffee? This was the same for BBcom employee and powerlifter Rachel Massey. She offers some great tips for how she approached the changes that come with pregnancy.
Q: Where did your journey begin? 
I was feeling on top of the world. I was happy with the condition of my body and lifting was progressing. I was following macros, but fueling my training. By nature, I wanted to increase my lifts more aggressively, but after about 1 year with my coach we had fixed multiple technique issues, so that in itself was progress.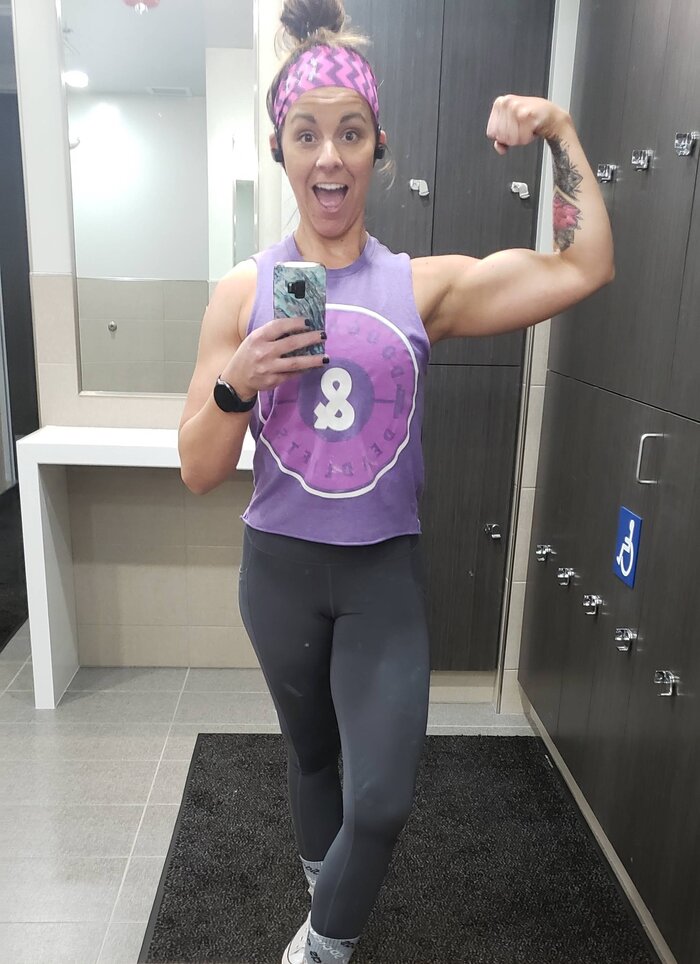 Q: What prompted you to start training? 
I've been training for years. I didn't want to stop because I was pregnant. There is still so much literature out there that says don't do it or don't touch a dumbbell over 5lbs. I couldn't believe it. Meanwhile, my doc green-lighted me to continue on with all 'normal' activities bc the other side of it is, exercise can actually help with pregnancy and post-partum. Example: Strong back and glute muscles help to carry the weight you are now bearing on the front of your body. 
Beyond the little human growing inside of me, I knew the rest of my body was going through changes too and I knew I would have to make adaptations, I just didn't know what or when. 
Q: What's your movement of choice? (Powerlifting, oly, bodybuilding, CrossFit, etc)
Powerlifting has been my priority for a few years now. I also recently got back into teaching spin classes. I taught for 6 or 7 years and took a hiatus to see what I could achieve focusing solely on powerlifting. However, being in a relatively new state, I had a desire to become more connected to my community + felt spinning might be more approachable closer to due date and sooner after delivery.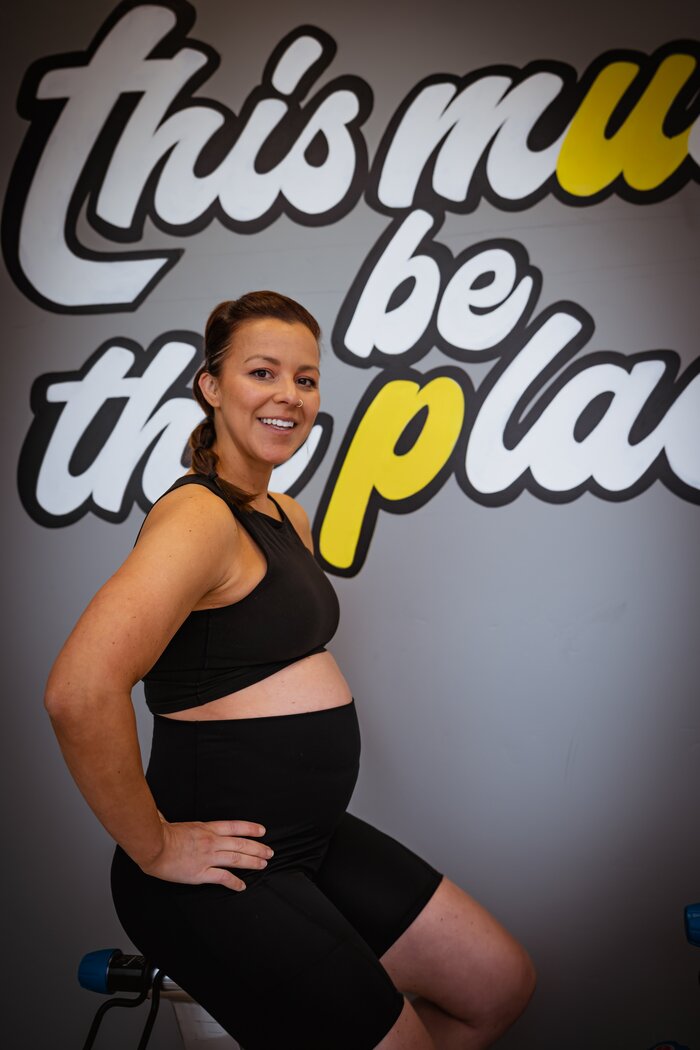 Q: How did Bodybuilding.com play a role in your journey? 
As a BB employee, the support behind the scenes is just as real as the support we show to the world. Since day one, well, since the first days I could share news, coworkers and leaders were supportive of this life change.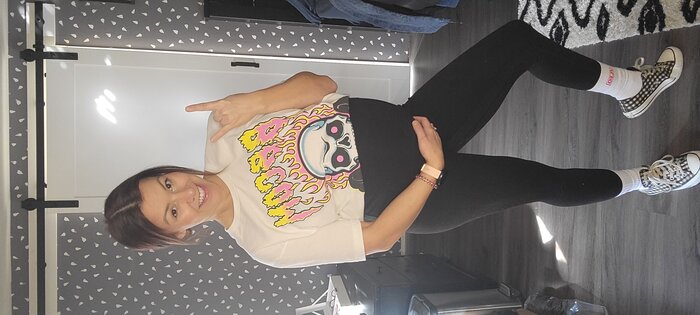 Prior to the team knowing, work from home, played a huge factor in being able to continue on… I had many days where I needed to take a nap by the end of the day, or I felt nauseous all day long, or I needed different kinds or amounts of food than usual. Being in the comfort of my own home really helped me, especially through the first trimester, something I wouldn't have even thought of before this experience.  
PLUS it always feels nice to be surrounded by like-minded people right? Being part of communities where it is normal to find a way to incorporate fitness in your life, where people understand and encourage it, just helps make it that much easier to maintain.  
Q: What does being STRONG mean to you? 
Looking big or lifting big surely requires strength, each in a different way. I have always strived to be 'STRONG' pound for pound, some of my blocks have even been set to the goal of 'Harder to Kill'… Those were my biggest measures – actually- before pregnancy. 
Then… I had to train without the ability to measure progress (with increasing numbers). Now? 'STRONG' also encompasses a personal responsibility… doing the best you can do each day, knowing that some 'bests' will be better than others, but they all start to add up to something amazing. It's a dedication to becoming the best version of oneself via a willingness to do what others (typically) would not. This can look different for every individual and even change for you as your journey evolves.  
Q: How did you approach your diet and nutrition differently?
Nutrition was a big adjustment. Even though I wasn't sick for workouts, I was unable to eat the way I had been. 
Q: How has fitness and training changed your life? 
Fitness through pregnancy has helped me maintain some sort of normalcy through a sea of changes in my life. Whether pregnant or not, fitness has always provided me with a positive shift in mental and emotional health. I am not lifting to 'keep my body', I am lifting to 'keep my body moving'… for as long as I can because I know that there will be a period of time where I can't and because I want to do the best I can now, for the future me on the other side. 
Q: What's one piece of advice for someone looking to get started?
Obviously, finding out you are pregnant is not the time to start lifting. But just because you are 'good at lifting' doesn't mean you are good at lifting pregnant… Find real resources. Listen to your body. BOTH were tough for me. 
You grow up in sports where they teach you to hide everything, work through everything, be tough, don't let pain show, overcome etc etc. These 9 months are just not the time for that mindset, which is hard as heck to turn off when it's all you've ever known. 
Women who lift AND have certifications in prenatal training, women who lift and aren't hiding their pregnancy or trying to force keeping their strength or rushing back to their old bodies. All of these dynamics could be happening very unhealthily. 
With both of the above- don't be scared to make your own modifications. I was constantly communicating with my coach to create the best plans for me. Think: X sets/reps at X RPE feels good, so-so, or bad. This body group, but not this exercise. Etc
Pregnancy can put a lot of stress on your body so it's important to be as healthy as possible. One of the most important things you can do to ensure a fit pregnancy is to find the best resources. Speak to your doctor and work with certified experts. The American College of Obstetricians and Gynecologists lists resistance exercise, including lifting weights, as safe during pregnancy. (1) Once you get an approval from your doctor, we offer a number of resources to help our future fit mamas including: 
Women's Center: We've got you covered with all of the top articles, workouts, and supplements to support women's health before, during, and after your pregnancy. 

Baby Bumps and Barbells: How to Stay Fit When You're Pregnant: Once your doctor gives you the green light there's no need to stop training and eating clean, healthy food while you're pregnant. Here's how to modify your routines for a fit pregnancy. 

Jamie Eason's Post-Pregnancy Fitness Trainer: Whether you are looking to bounce back into the gym after a pregnancy or begin an exercise program for the first time, Jamie Eason has the plan to help you. Learn what to eat, when to exercise, and how to find time for fitness as a new mom, all from an expert trainer who's done it herself!
Resources: 
1 The American College of Obstetricians and Gynecologists. Physical Activity and Exercise During Pregnancy and the Postpartum Period.