Over the last 12 years, I've had the "What's so special about kettlebells?" conversation with people of all ages and fitness levels. Not only do these iron balls provide an excellent workout, they allow you to do so much with so little. I'm talking about a single weight that takes up less than a foot of space!
Let's say you only have access to a single kettlebell. Maybe it's the only one you can afford, or you're just getting started. Or maybe your gym has a few kettlebells, and you like the idea of grabbing one, taking it into the corner, and getting your workout done that way, rather than wandering from machine to machine for an hour. Maybe you're experienced with kettlebells, and just like the idea of using a single weight for a workout.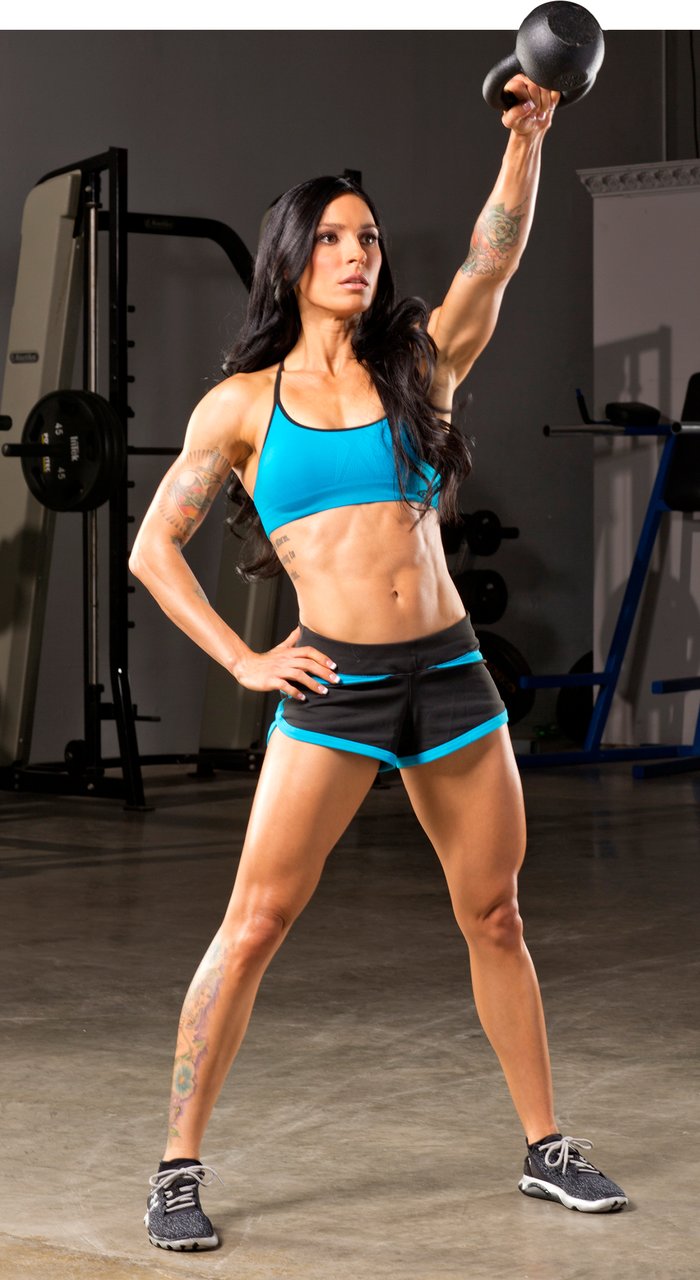 Whatever your reason, let's also assume that your selection is on the lighter side. It's probably not going to give you much of a challenge for, say, low-rep two-legged deadlifts, but it can still work for higher-rep swings, squats, presses, lunges, and rows.
This is a common situation, and I've got two routines that will provide an uncommonly good challenge. Grab your bell, and let's go!
The Magic of the Single Bell
Yes, there's a lot you can do with kettlebells that you can also do with a barbell or dumbbell. But the shape and handle location on the kettlebell make it ideal for certain explosive exercises like swings, snatches, and cleans.
There are great protocols out there that have you do nothing but swings or snatches for the entire workout, and these are no doubt effective. In fact, one study from the American Council on Exercise found that performing kettlebells in intervals of 15 seconds on/15 seconds off burned calories equivalent to running a 6-minute mile or cross-country skiing uphill.[1] That's some serious burn.
However, bare-bones routines like this aren't your only options. You can also mix explosive movements with strength movements to stoke all your energy systems, smoke your core, and build a surprising amount of strength.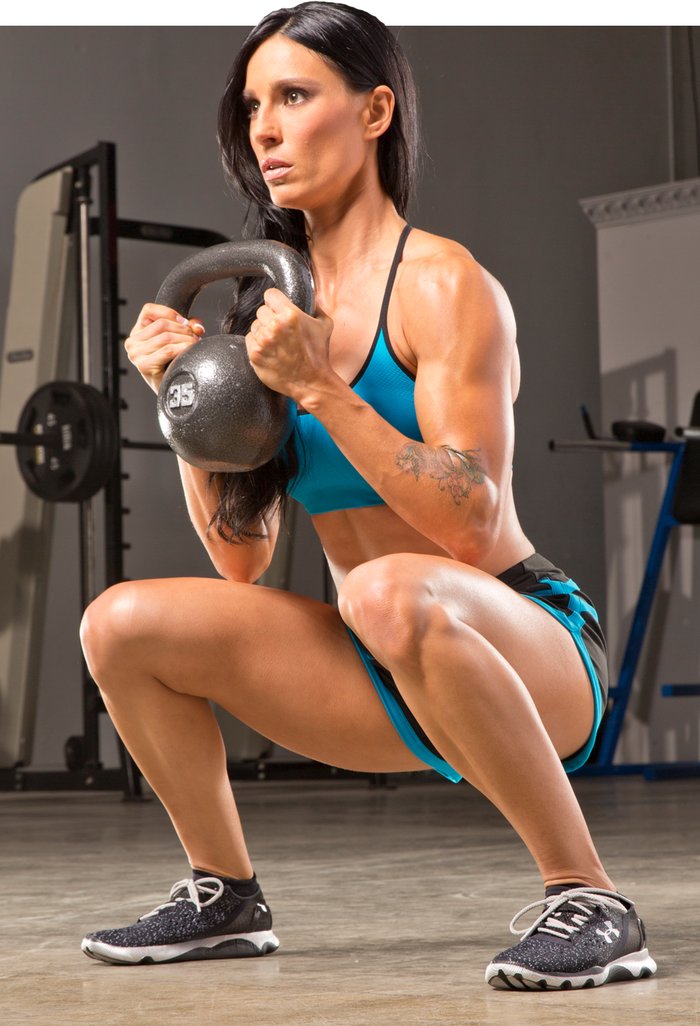 Wondering how heavy your bell should be? Choose one you can smoothly and strictly press overhead for at least 5 clean reps. If you can strict press the bell 10-15 times over your head, it may be a wee bit on the light side, and you will want to add a few extra reps to make the workouts more challenging. For women just starting out, the sweet spot is usually 4-12 kilograms (around 10-26 pounds). For men, it's often 12-16 kilograms (26-35 pounds). If you're strong or experienced with kettlebells, a heavier weight may be right for you.
If you're unable to properly press the bell over your head due to shoulder or thoracic-spine restrictions, I suggest you avoid this movement altogether and stick to lower body exercises in the workouts.
After a brief dynamic warm-up and some joint-mobility work—which can be as simple as doing joint circles—try one of these workouts, both of which blend kettlebell-specific movements with bodyweight work. The first is rep-based, and the second is time-based. Alternating the two workouts A/B/A style 2-3 times a week will challenge you and expose you to lots of great kettlebell moves.
Both workouts can also be dialed up or down for difficulty. If you don't want to time your rest periods, it's fine to stick with the first routine and start out with just two rounds of each circuit. Over time, build up to three rounds and keep things moving!
Single-Kettlebell Workout 1 (Reps)
Single-Kettlebell Workout 1
Circuit: 2-3 rounds (4 circuits total)
Single-Kettlebell Workout 2 (For Time)
Set your timer for each section.
Single-Kettlebell Workout 2 (For Time)
Circuits: 3 rounds
References
Schnettler, C., Porcari, J., Foster, C., & Anders, M. (2010, Jan. & feb.). Kettlebells: Twice the Results in Half the Time? Retrieved from https://www.acefitness.org/getfit/studies/Kettlebells012010.pdf