Usually, pork isn't a part of the "lean protein" list. But I think it's great because I get tired of eating chicken and turkey all the time! Sure, pork has a little more fat than the other white meats, but it almost always fits into my macros just fine.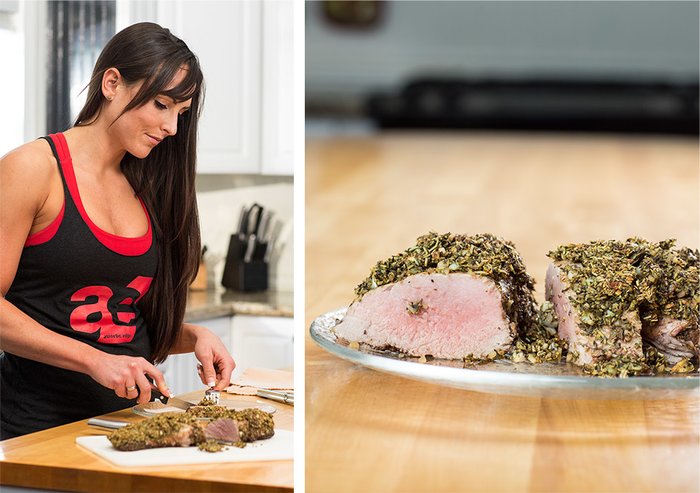 I use this recipe often when I'm cooking for other people because it looks and tastes gourmet, but it's actually quite simple to prepare! The tangy crust is unique and flavorful, and if you don't overcook the pork it'll be juicy and rich.
After you try it, come back and tell me how you liked it. If you have any suggestions for your own spin, let me know in the comments section below!
Kendall's Kitchen Mustard-Crusted Pork Tenderloin
Watch the video - 2:38
Ingredients
Pork tenderloin 1-1/2 lbs.
Balsamic vinegar 1/2 cup
Brown mustard 1/4 cup
Minced garlic 1/4 cup
Dried minced onion 1/4 cup
Ground black pepper 2 tbsp
Thyme 2 tbsp
Rosemary 2 tbsp
Dill 1/2 tsp
Directions
Place pork tenderloin in a large bowl or dish and cover with balsamic vinegar. Roll the tenderloin over several times to ensure it is well covered, then set aside.
Preheat oven to 425 degrees F.
In a separate bowl, mix mustard, garlic, dried onion, pepper, thyme, rosemary and dill. It will form a thick paste.
Line a baking sheet with nonstick aluminum foil. Place the tenderloin on it and pour any remaining balsamic vinegar on top of it.
Use your hands to press the mustard mixture into the top of the tenderloin, covering it evenly.
Bake at 425 degrees for 20-25 minutes.
Remove tenderloin from oven and allow it to rest for 5-10 minutes before serving.
Slice the tenderloin against the grain. Serve warm and enjoy!
Nutrition Facts
Serving size: 4 oz. serving Recipe yields 6 servings Amount per serving
Calories: 174
Total Fat: 3.8 g
Total Carbs: 6 g
Protein: 25 g