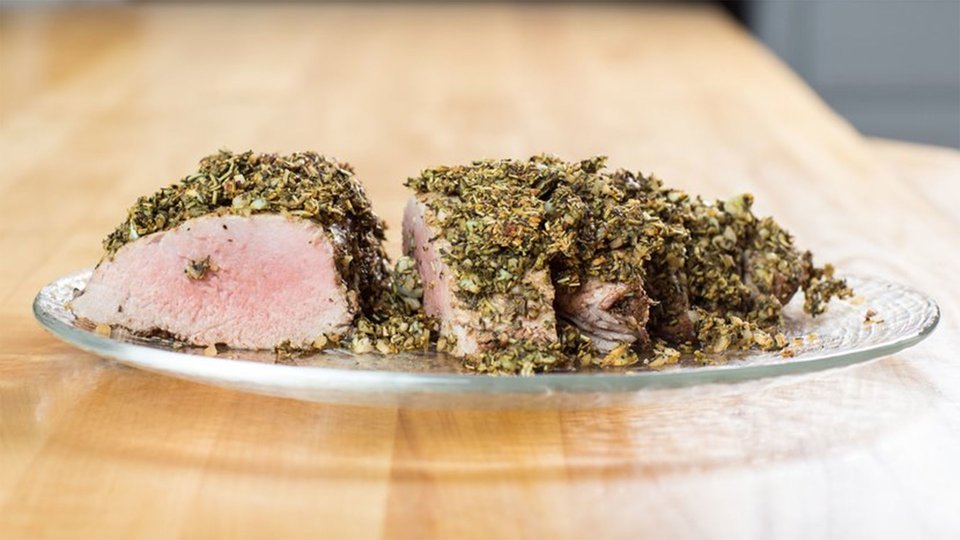 This pork tenderloin is full of flavor, not calories. It's guaranteed to make your mouth water and your hungry muscles happy!
Ingredients
1½ lb pork tenderloin
½ cup balsamic vinegar
¼ cup brown mustard
¼ cup garlic, minced
¼ cup onion, finely chopped
2 tbsp, ground black pepper
2 tbsp, ground thyme
2 tbsp rosemary
½ tsp dill
Directions
Place pork tenderloin in a large bowl or dish and cover with balsamic vinegar. Roll the tenderloin over several times to ensure it is well covered, then set aside.
Preheat oven to 425 degrees F.
In a separate bowl, mix mustard, garlic, dried onion, pepper, thyme, rosemary and dill. It will form a thick paste.
Line a baking sheet with nonstick aluminum foil. Place the tenderloin on it and pour any remaining balsamic vinegar on top of it.
Use your hands to press the mustard mixture into the top of the tenderloin, covering it evenly.
Bake at 425 degrees for 20-25 minutes.
Remove tenderloin from oven and allow it to rest for 5-10 minutes before serving.
Slice the tenderloin against the grain. Serve warm and enjoy!