Thanksgiving is a time for being grateful, and yes, to chow down on good eats. Both halves are equally important!
These dishes may be lighter than your typical turkey day sides, but they sure don't taste like it. We make these exact recipes every year in my house, and people actually like them more than the classic Thanksgiving versions loaded with sugar and additives.
This year, try whipping them up for you and your loved ones. Don't be surprised if you become a convert.
1. Bacon And Green Bean Casserole
I'll never forget the first year I decided to make this "healthier" green bean casserole. My husband insisted that I also make the traditional one from the back of the French's Fried Onions can in case it didn't turn out.
After trying both, my family agreed my version was way more flavorful, and now it's the only way we eat green bean casserole.
Ingredients
Trimmed green beans, fresh or frozen, 6 cups
Uncured turkey bacon (or regular bacon), 6 slices
Onion, chopped, 1/2 cup
Portabella mushrooms, sliced, 8 oz.
Reduced-sodium cream of mushroom soup, condensed, 3 cups (24 oz.)
Reduced-sodium tamari sauce, coconut aminos or soy sauce, 1 tbsp.
Black pepper, ground, 1/2 tsp.
French fried onions, 1/2 cup (4 oz.)
Directions
Preheat oven to 350 F.
Steam green beans until vibrant green and tender (or microwave if using frozen microwave steamer bags). Set aside.
Pan-fry bacon until browned and crispy (can use regular bacon instead of turkey bacon). Set aside to cool.
Sauté onion and mushrooms with cooking spray until browned in spots. Set aside.
Combine cream of mushroom soup, tamari sauce, and black pepper in a large mixing bowl.
Add green beans, onions, and mushrooms. Stir until evenly coated with sauce.
Empty green bean sauce mixture into a casserole pan, and bake for 30 minutes until bubbly and thoroughly heated.
Top with crispy onions, and return to bake an additional five minutes until onions and golden brown. Serve hot. 
Nutrition Facts
Serving size: 1/10 of recipe (including crispy onions)            
Recipe yields: 10 servings
Calories: 152
Fat: 5.7 g
Carbs: 19 g
Protein: 6 g
2. Yam And Pumpkin Casserole
This sweet casserole was inspired by a dish my sister, IFBB Bikini Pro Ruthie Harrison, made on year. It's seriously decadent enough to have for dessert!
We like ours topped with all natural marshmallows with no weird additives or food dye—yes, these actually exist!—but you can also leave them off for a lower-sugar version.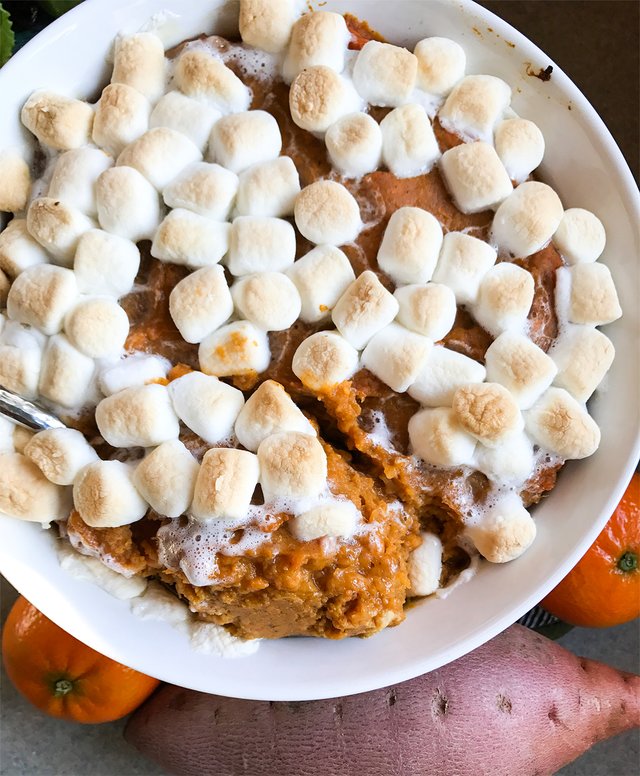 Ingredients
Yams, baked and skinned, 1-1/2 lb.
100% pure pumpkins, 2 cups
Reduced-sugar orange juice, 6 fl. oz.
Whole egg, 1
Egg whites, 2
Vanilla extract, 1 tsp.
Truvia brown sugar blend (or regular brown sugar), 1/4 cup
Cinnamon, 2 tsp.
Nutmeg, 1/2 tsp.
Ginger, ground, 1/2 tsp.
Cloves, ground, 1/4 tsp.
All natural marshmallows, 1 cup
Directions
Preheat oven to 350 F.
Bake yams in the oven for one hour, or simply wrap them in damp paper towels and microwave two at a time for about 10 minutes.
Remove skin from baked yams and add to a large mixing bowl along with pumpkin, orange juice, egg, egg whites, vanilla, brown sugar, and spices.
Mash with a potato masher or fork until smooth.
Spoon mixture into a casserole pan, and bake for 30 minutes until heated through.
Top with marshmallows and return to bake an additional 5 minutes until marshmallows are golden brown. Serve hot. 
Nutrition Facts
Serving size: 1/10 of recipe (per serving, including marshmallows  
Recipe yields: 10 serving
Calories: 144
Fat: 9 g
Carbs: 33 g
Protein: 3 g
3. Garlic Mashed Red Potatoes
These mashed potatoes are always a hit. I like mine a little lumpy, but they're wonderful creamy too. No one will care in the least that you used protein-packed Greek yogurt instead of butter. In fact, the slight yogurt tang is always a hit!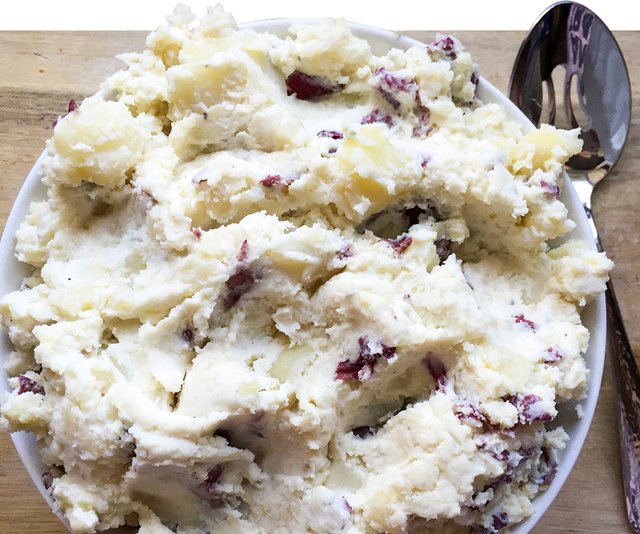 Ingredients
Red potatoes quartered, 2 ½ lb.
Non-fat plain Greek yogurt, 3/4 cup (6 oz.)
Parmesan cheese grated, 1/3 cup
Garlic powder, 1/2 tsp.
Salt, 1/2 tsp.
Black pepper, 1/4 tsp.
Directions
Cover red potatoes with warm water in a large pot, salting generously.
Bring water to a boil, and then reduce heat to medium-low and simmer potatoes 15-20 minutes until pierced easily with a fork.
Remove pot from heat and drain water.
Add Greek yogurt and remaining ingredients to potatoes; mash with a potato masher until creamy. Add more water or milk if potatoes are too thick. Serve hot.
Nutrition Facts
Serving size: 1/10 of the recipe                                                         
Recipe yields: 10 servings
Calories: 120
Fat: 0.7 g
Carbs: 24 g
Protein: 5 g