Scivation
Quake 10.0
, 20 Scoops - Caffeine Free Lemon Drop
Focus-Energy-Strength-Size!*
Epic Earth-Shaking Pre-Workout Formula!*
Product Overview
EARTH-SHATTERING

PRE-WORKOUT
Quake 10.0™ is the ultimate pre-workout supplement with 10 power-packed ingredients that will rock your workout.
Ground Shaking Ingredients
Crushing The Competition

(based on 26g)

Competitor #1


(based on 26.5g)

Competitor #2


(based on 32g)
BCAA
6g (2:1:1)
6.5g
1g
-
-
1.5
-
-
2g
-
-
50mg
-
-
L-Tyrosine
3g
1.5g
850mg
L-Theanine
200mg
-
-
L-Citrulline
6g
6g
6.5g
L-Carnitine L-Tartrate
1.5g
-
-
Vitamin C
100g
-
-
Caffeine Anhydrous
350mg
300mg
274mg
Per 2 Scoops
Earth Shattering Flavors
WATERMELON BUBBLEGUM
LEMON DROP
QUAKE 10.0 is destined to be the epicenter of your workout no matter what time of day!
WATERMELON BUBBLEGUM
LEMON DROP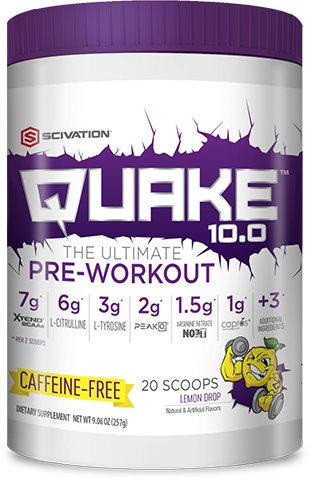 CAFFEINE - FREE LEMON DROP
Ratings & Reviews
20 Scoops - Caffeine Free
10 Servings | $3.00 Per Serving
What's in Scivation Quake 10.0
20 Scoops - Caffeine Free

Lemon Drop

Serving Size: 2 Scoops (26g)

Servings Per Container: 10

Amount Per 2 Scoops

% Daily Value *

Calories

12

Total Carbohydrate

3 g

1%*

Vitamin C (As Ascorbic Acid)

100 mg

167%

Phosphorus

80 mg

8%

Sodium

130 mg

5%

L-Citrulline

6,000

mg

**

XTEND BCAAs Blend:

7000 mg **

L-Leucine

3,500

mg

**

L-Isoleucine

1,750

mg

**

L-Valine

1,750

mg

**

L-Tyrosine (micronized)

3,000

mg

**

PeakO2® Blend

2,000

mg

**

Cordyceps (Cordyceps militaris), Reishi (Ganodema lucidum), King Trumpet (Pleurotus eryngii), Shittake (Lentinula edodes), Lion's Mane (Hericium erinaceus), Turkey Tail (Trametes versicolor)

Arginine Nitrate (as NO3-T®)

1,500

mg

**

L-Carnitine L-Tartrate

1,500

mg

**

Capros® (Indian Gooseberry Extract)

1,000

mg

**

L-Theanine

200

mg

**

AstraGin® (Panax Notoginseng and Astragalus Menbranaceus)

50

mg

**

* Percent Daily Values are based on a 2,000 calorie diet. ** Daily Value not established.

Other Ingredients:

Natural & Artificial Flavors

, Sucralose

, Disodium Phosphate

, Citric Acid

, Acesulfame-Potassium

, Malic Acid

, Silicon Dioxide

, and FD&C Red #40.

Allergen Warning: Manufactured on equipment which processes products containing milk, eggs, soybeans, wheat, shellfish, fish, tree nuts, and peanuts.
Directions For Quake 10.0:
As a dietary supplement, mix one scoop per 4-6 oz. of water (adjust for taste preferences). Shake vigorously for 30 seconds and consume 20-30 minutes pre-workout. For optimal results, mix two scoops per 8-12 oz of water.
Warnings: THIS PRODUCT IS ONLY INTENDED TO BE CONSUMED BY HEALTHY ADULTS, 18 YEARS OF AGE OR OLDER. Do not use this product if you are pregnant, nursing, or are currently taking nitrates for chest pain or if you are taking medication used to treat erectile dysfunction such as PDE-5 inhibitors. Before using this product, consult a licensed, qualified, healthcare professional, including but not limited to, if: you are taking antidepressants such as MAOI (Monoamine Oxidase Inhibitor) or SSRI, blood thinners, nonsteroidal anti-inflammatory drugs, pseudoephedrine, or you are taking any other dietary supplement, prescription drug or over-the-counter medication; or if, you suspect you have or have been treated for, diagnosed with or have a family history of, any medical condition, including but not limited to: high or low blood pressure, diabetes, glaucoma, anxiety, cardiovascular, psychiatric or seizure disorders, cardiac arrhythmia, stroke, heart, liver, kidney or thyroid disease, or difficulty urinating due to prostate enlargement. This product contains caffeine and should not be used by individuals wishing to eliminate caffeine from their diet or in combination with caffeine or stimulants from other sources including but not limited to, coffee, tea, soda, or other dietary supplements and medications. Discontinue 2 weeks prior to surgery. Immediately discontinue use and contact a medical doctor if you experience any adverse reaction to this product. Do not exceed recommendations for Suggested Use. Use only as directed. Do not use if safety seal is broken or missing. Store in a cool dry place. KEEP OUT OF REACH OF CHILDREN.
* These statements have not been evaluated by the Food and Drug Administration. This product is not intended to diagnose, treat, cure, or prevent any disease.
---