Product Overview
EARTH-SHATTERING

PRE-WORKOUT
Quake 10.0™ is the ultimate pre-workout supplement with 10 power-packed ingredients that will rock your workout.
Ground Shaking Ingredients
Crushing The Competition

(based on 26g)

Competitor #1


(based on 26.5g)

Competitor #2


(based on 32g)
BCAA
6g (2:1:1)
6.5g
1g
-
-
1.5
-
-
2g
-
-
50mg
-
-
L-Tyrosine
3g
1.5g
850mg
L-Theanine
200mg
-
-
L-Citrulline
6g
6g
6.5g
L-Carnitine L-Tartrate
1.5g
-
-
Vitamin C
100g
-
-
Caffeine Anhydrous
350mg
300mg
274mg
Per 2 Scoops
Earth Shattering Flavors
WATERMELON BUBBLEGUM
LEMON DROP
QUAKE 10.0 is destined to be the epicenter of your workout no matter what time of day!
WATERMELON BUBBLEGUM
LEMON DROP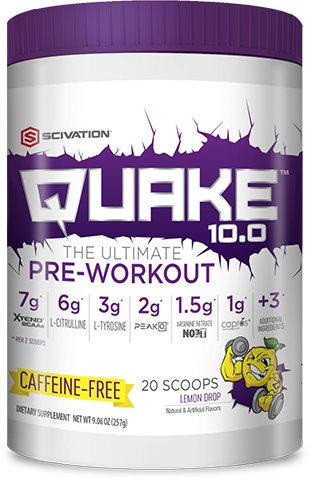 CAFFEINE - FREE LEMON DROP
Ratings & Reviews
By clicking the button above, you agree to entering the Bodybuilding.com Reviews section. Products in the Store are not intended to diagnose, treat, cure, or prevent any disease.

The Watermelon Bubblegum tastes amazing! One of the best tasting preworkouts I have ever had. It mixes very well. It gives you clean energy and focus throughout the whole workout without getting jitters or a crash. I felt energized hours after my workout was over. Everything about this preworkout is great, and I have nothing bad to say about it. I would recommend this product.
This stuff is the real deal. Don't be scared off by the price - with this product you are getting a 2 for 1. You get some awesome BCAA's PLUS a phenomenal pre-workout. Because this stuff doesn't have Beta Alanine, you won't feel tingles - but trust me - go to the gym and you will feel the power of this stuff. I have been hitting new PR's every lift and I have been seeing the most amazing pumps I have ever had. It's almost hard for me to move my arms with this pump - you will be seeing veins you have never seen before. And the flavor is one of the best out there. There is no chemical taste, and it actually tastes good enough to want to drink it even when you aren't training. Trust me - you get this stuff and you will feel it's power. One of the best I products I have ever used. There are no jitters, just clean power. Its awesome.
10Lemon Drop
10Watermelon Bubblegum

This stuff is pretty tasty! Got it last week and I really like it. If I am tired after work or in the AM before a workout I take 1.5 scoops and I feel pretty darn good. All of the ingredients help to keep my workout moving and I do feel a great pump from it. I don't get the feeling that I can run through a brick wall with that dosage but I think if I went to 2 full scoops I probably would...I also really like that there isnt a crash afterwards. Once you take it, you feel good to go for hours! All in all, this is a good product from a very solid, very reliable company. Scivation is on point with this one!

I was impressed at how smooth the onset of energy and focus was. I didn't feel like I had this moment of a big rush/jolt of energy. The backend was just as smooth; no crash or even a definable moment of recognizing the effects had worn off. Very smooth transitions. One of the first things I noticed was how well I felt my body capitalizing on the oxygen I was taking in. I have asthma and usually have to start workouts (especially cardio-heavy workouts) super slow to allow my body time to breathe appropriately. I still started slow, but I felt I warmed up and reached my peak breathing faster than normal. The focus and energy during the workout was amazing. I was so "there," in the zone. I was able to lift more weight or more reps on several exercises. And when the workout was finished, I felt I could go for another hour. So thankful to have a pre-workout product that feels so "clean." Oh, and the flavor is spot on with no strange aftertaste. Really enjoy the watermelon bubblegum.

This has been the best pre-workout I've ever tried. I hit two rep PRs the first week I started taking it. Focus was completely dialed in and I had a ton of energy throughout the entire workout without the shakiness I get from other pre-workouts. It tastes great, as well. SciVation never disappoints.
Let's get the unimportant stuff out of the way: Taste is amazing in my opinion. Tastes like bubblicious. I love it. Mixes OK, but the Peak doesn't mix that well. Not a big deal. Now the important stuff: the product works. Highlight is recovery time between sets and focus. Energy is moderate, but the ergogenics really shine. Calm, clear focus, and once the Peak and capros start to saturate, the endurance is through the roof. Highly recommend running a bottle straight to get the full benefit of Peak and Capros. The pump is massive as well, very nice mind muscle connection effect. Highly recommend.
Here is my review for the new Scivation pre workout Quake 10.0. Energy is smooth, no jittery feelings, no crazy hyper, and no crashes. The energy lasts through the workout and several hours after. I would not recommend taking late at night before bed. Pumps are amazing, was able to get good one's even in legs which usually are more difficult for me to feel. Effects are better as time goes on. Just like with Xtend Perform (which Quake has), the ingredients saturate the muscles and are more pronounced as you get deeper into the jar (that was my experience anyway). I feel the best effects for pumps were about 30 minutes after drinking. Energy hit me at 15 minutes. Serving size - I got the best result with 2 scoops. At 350 mg Caffeine, its not that crazy, and it is smooth energy. Another solid product from Scivation, thumbs up.
My stim tolerance is quite high, so I initially went with 2 scoops. I love that it has a full dosage of L-Citrulline and Arginine Nitrate, but at 2 scoops it felt like my biceps were going to explode on arm day!! I'm sure some gym folks would take delight in that, but I have a peculiar preference. Also, I did not feel engulfed with a surplus of energy at first but rather "feel" the energy being supplied throughout my workout. I must agree that it did feel a lot cleaner than any of the pre supplements I have taken before, and I'm sure it is because it is my first time noticing the usage of L-Theanine in a preworkout. Quake 10.0 would be extremely beneficial to those that are preoccupied post workout, whether it be work or school. Users would feel less of a need to consume other caffeine sources since the "crash" feels non-existent thanks to the incorporation of L-Theanine,
Without a doubt, the best pre I've ever used. This pre is not for you if you like heavy hitting, kick you in the *** type energy (though you can get that effect if you want - keep reading). Quake, in my experience, provides a smooth, "clean" energy that seems to last forever, especially after the first week of use. It also gives me great pumps, even when I only use one scoop. I usually work out for an hour at lunch, during work, and I have yet to experience any kind of crash. Instead, I have lasting energy throughout the rest of my day. Even on the weekends, when I have time to work out for two hours, I still feel like I have plenty of energy to keep going.. it's like the aftershocks of Quake never stop. If you want to turn Quake into a hard-hitting pre, all you need is Teacrine. Take the recommended two scoops of Quake and one cap of Teacrine, and you'll be itching to move some weight. I highly recommend this preworkout!
I was given the opportunity to try this product and log it for Scivation. Quake's unique formula immediately caught my eye and after the first day I was hooked. The energy it provides is smooth as can be without jitters or a crash. With peak O2 and the capros I found my stamina had greatly increased to the point where I could do my cardio after lifting. While it may cost more than other pre workouts, it is well worth the month and you'd be a fool not to give it a try.
new item
10 Servings
$3.00 Per Serving
new item
20 Servings
$2.50 Per Serving
What's in SciVation Quake 10.0
10 Servings

Lemon Drop

Serving Size: 2 Scoops (26g)

Servings Per Container: 10

Amount Per 2 Scoops

% Daily Value *

Calories

12

Total Carbohydrate

3 g

1%*

Vitamin C (As Ascorbic Acid)

100 mg

167%

Phosphorus

80 mg

8%

Sodium

130 mg

5%

L-Citrulline

6,000

mg

**

XTEND BCAAs Blend:

7000 mg **

L-Leucine

3,500

mg

**

L-Isoleucine

1,750

mg

**

L-Valine

1,750

mg

**

L-Tyrosine (micronized)

3,000

mg

**

PeakO2® Blend

2,000

mg

**

Cordyceps (Cordyceps militaris), Reishi (Ganodema lucidum), King Trumpet (Pleurotus eryngii), Shittake (Lentinula edodes), Lion's Mane (Hericium erinaceus), Turkey Tail (Trametes versicolor)

Arginine Nitrate (as NO3-T®)

1,500

mg

**

L-Carnitine L-Tartrate

1,500

mg

**

Capros® (Indian Gooseberry Extract)

1,000

mg

**

Caffeine Anhydrous

350

mg

**

L-Theanine

200

mg

**

AstraGin® (Panax Notoginseng and Astragalus Menbranaceus)

50

mg

**

* Percent Daily Values are based on a 2,000 calorie diet. ** Daily Value not established.

Other Ingredients:

Natural & Artificial Flavors

, Sucralose

, Disodium Phosphate

, Citric Acid

, Acesulfame-Potassium

, Malic Acid

, Silicon Dioxide

, and FD&C Red #40.

Allergen Warning: Manufactured on equipment which processes products containing milk, eggs, soybeans, wheat, shellfish, fish, tree nuts, and peanuts.
Directions For Quake 10.0:
As a dietary supplement, mix one scoop per 4-6 oz. of water (adjust for taste preferences). Shake vigorously for 30 seconds and consume 20-30 minutes pre-workout. For optimal results, mix two scoops per 8-12 oz of water.
Warnings: THIS PRODUCT IS ONLY INTENDED TO BE CONSUMED BY HEALTHY ADULTS, 18 YEARS OF AGE OR OLDER. Do not use this product if you are pregnant, nursing, or are currently taking nitrates for chest pain or if you are taking medication used to treat erectile dysfunction such as PDE-5 inhibitors. Before using this product, consult a licensed, qualified, healthcare professional, including but not limited to, if: you are taking antidepressants such as MAOI (Monoamine Oxidase Inhibitor) or SSRI, blood thinners, nonsteroidal anti-inflammatory drugs, pseudoephedrine, or you are taking any other dietary supplement, prescription drug or over-the-counter medication; or if, you suspect you have or have been treated for, diagnosed with or have a family history of, any medical condition, including but not limited to: high or low blood pressure, diabetes, glaucoma, anxiety, cardiovascular, psychiatric or seizure disorders, cardiac arrhythmia, stroke, heart, liver, kidney or thyroid disease, or difficulty urinating due to prostate enlargement. This product contains caffeine and should not be used by individuals wishing to eliminate caffeine from their diet or in combination with caffeine or stimulants from other sources including but not limited to, coffee, tea, soda, or other dietary supplements and medications. Discontinue 2 weeks prior to surgery. Immediately discontinue use and contact a medical doctor if you experience any adverse reaction to this product. Do not exceed recommendations for Suggested Use. Use only as directed. Do not use if safety seal is broken or missing. Store in a cool dry place. KEEP OUT OF REACH OF CHILDREN.
* These statements have not been evaluated by the Food and Drug Administration. This product is not intended to diagnose, treat, cure, or prevent any disease.
---