6 Pack Fitness
Innovator 6 Pack Bag
, 3 Meal - Small Black/Black
Meal Management Travel Bag
Travel Effortlessly with Meals, Sports Nutrition Products, and Supplements*
Price:
$79.99
( / Serving)
Product Overview
6 PACK FITNESS
BAGS, LUGGAGE, AND MEAL MANAGEMENT TRAVEL GEAR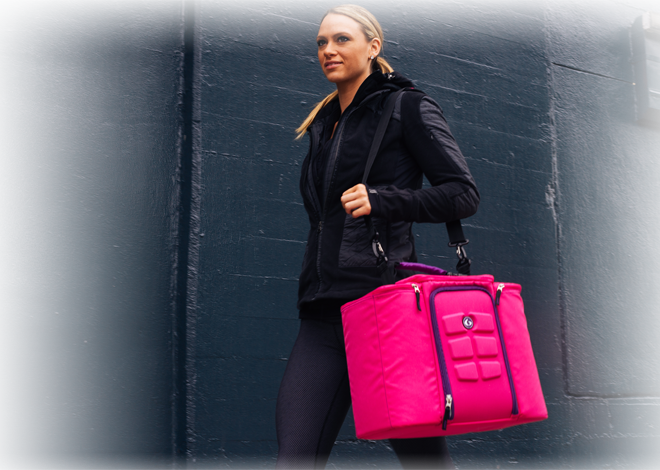 INNOVATOR 300/500
THE ORIGINAL MEAL MANAGEMENT SYSTEM
---
Carries up to three or five meals in an adjustable insulated core system that includes a zippered utensil pocket.
Preloaded with three or five independently accessible Snap Lid Containers.
Preloaded with Sports Nutrition Container for organizing supplement pills and energy bars.
Includes with two gel packs to keep meals fresh for more than eight hours.
Two adjustable, insulated, side pockets carry up to four water/shaker bottles and healthy snacks.
Snap Lid Containers are BPA/PVC free, and microwave- and top-shelf dishwasher-safe.
Ratings & Reviews
Innovator 6 Pack Bag
Overall Rating
9.0
48 Ratings
Verified Buyer Rating
9.1
29 Ratings
By clicking the button above, you agree to entering the Bodybuilding.com Reviews section. Products in the Store are not intended to diagnose, treat, cure, or prevent any disease.

Had to post , too many people giving it a bad name. I have two for two years and never had a problrm
Was this review helpful?
Report
No written review.
Was this review helpful?
Report
DO NOT PURCHASE THIS BAG. Horrible customer service. The tupperware lids now included with these bags warp very easily if put in hot water or microwave and are difficult to put back on. I emailed six pack nutrition about this issue and they never even responded. The bag's zippers will also fail eventually. My 20 dollar lunch bags from walmart lasted longer than this bag. I will never purchase their products again. Please buy their competitor's products.
Was this review helpful?
Report
A good meal bag but poorly made. The lining on the inside of the side compartments tear at the seams. I had my first bag replaced for free. They actually sent me a new one and said to keep the other bag. Well, the lining on my second bag began to tear...same compartments. I've had both bags repaired by a local seamstress but the fix didn't last long.
Was this review helpful?
Report
Meal prepping keeps me on track for serious gains, and becomes even more crucial when I'm cutting. Need to get one of these for my wife! (not that she needs to gain or cut.. she's obviously perfect! Haha)
Was this review helpful?
Report
First cooler I ordered broke after a week, replaced by BB.com and it never could hold more then 4 containers. It was all lopsided and such. After a few months the liner ripped, ice packs broke and other problems. Glad it's discontinued!
Was this review helpful?
Report

TL;DR The Innovator 300 is the perfect meal bag (and will fit most people's needs) if they are seriously watching what they eat AND forced to carry around a couple of meals with them daily. My 100% honest review: Let me start by saying I am just getting back into fitness and have the typical story, gained weight, work an office job at a large multinational, what the hell have I allowed to happen to myself, etc. etc. On top of that the large company I work at…let's call them Mega Foods makes all sorts of processed foods along with the world's most popular and recognizable cookie. So we don't want to be tempted since this stuff is everywhere in the office on top of the standard pizza and bagels. Mega Foods is also moving all of 'us' into an open environment, meaning you have no desk, you sit wherever you find a spot. The refrigerators are packed and trying to prep and portion all meals means without adequate fridge space and lunch bags not really being insulated enough, I had to look for alternatives. The 6 Pack Bags Innovator 300 really worked for me. It holds lunch, a snack, my water bottle, protein shake, and coffee tumbler with room to spare for another bottle/shaker and still have the top container/compartment for more 'stuff'. It really is perfect since I have to carry all of these things daily regardless. But now instead of multiple bags I have 2. The Innovator and my laptop bag. Perfect. On top of the ease it has afforded me I no longer have to worry about fighting for refrigerator space in one of the other 2 refrigerators that service over 100 people on my wing. I can just leave the Innovator on whichever desk I claim that day. Everything stays nice and cold and I wasn't juggling it all in as all these bags. Life Simplified. Why did I give it a 9 and not a 10? For a few reasons. The ice packs…meh, it should have come with hard ice shells which you can buy directly from 6 Packs Bags website. It's never the money it is the principle. Should have been included and the price adjusted accordingly. Also there is something weird with the way the ice packs go into the netting. They are fine quality wise but I hope they hold up durability wise since you have to pull out the ice packs daily. Also the food trays are ok. They are a perfect size but a weird size. I can see having to replace them and having to buy replacements direct from 6 Pack Bags. I get it but I would like to have been able to use some other standard container size in case I needed another container in a hurry. It is fine though. These are items that I would have to come back to after a year or so of owning the bag. First 3 months though have been Great!
Was this review helpful?
Report
This bag is way better than I expected! Well worth the money. I work in a office so it is hard to tote all of my meals for the day in a small lunch box, let alone find room in the staff fridge! I bought by boyfriend the Expedition backpack and I have wanted one of my own ever since so I finally bit the bullet! I got the Innovator 300 in blue and white, it is adorable! I am beyond happy with the performance. It is made out of durable material and has kept my meals cold all day long, I would highly recommend this product. Also, bodybuilding.com was GREAT with shipping. I ordered late on a Tuesday afternoon and the box was on my door step Wednesday afternoon! Great job with this bag, I LOVE it!
Was this review helpful?
Report

I absolutely love this bag!! At first I was really nervous it was too big, but now it is absolutely perfect! I fill it up everyday and it helps me control my portions when eating. I definitely recommend this product!!
Was this review helpful?
Report
I love this bag. I carry all my food. snacks, supplements, water bottles, etc... This bag keeps everything fresh and organized. Perfect for long days at work, and road trips. This bag saves me from breaking my diet. It has tons of room.
Was this review helpful?
Report
I love this bag I work long days and this keeps my prepped meals cool all day long. It has lots of room for shakers. It has been a huge game changer for my diet.
Was this review helpful?
Report

I LOVE THIS BAG! it is great the only downside is the gel packs they are just terrible. My first bag I only had two weeks and the gel pack broke, and leaked all over the back of the bag and got onto my chair at home... BUT the customer service rep at bodybuilding completely replaced my bag with a new one and gave me a credit as well to my account. GREAT BAG just terrible gel packs. If you do choose to use the gel packs put them in ziplock bags to prevent and leakage to your bag.
Was this review helpful?
Report

No written review.
Was this review helpful?
Report
nice meal bag but i hate the gel pads....
Was this review helpful?
Report
I absolutely love this bag!! I have had this bag for about 2 months. I carry my food, supplements, shaker bottles, protein bars and snacks all in one bag. This bag has braved a 5 hour road trip, hours sitting under my desk, and several times sitting in a hot car for hours in the FL heat. The main compartment stays nice and cool. If you do leave the bag in a hot vehicle, I would recommend adding an ice pack to the main compartment and to the side compartments to help keep everything cool longer. The construction of the bag has held up well, with no fraying, tears, etc. I put the ice packs into Ziploc bags in case of any leaks. The packs have not leaked at all yet. The plastic containers are thin, do not put in the dishwasher.
Was this review helpful?
Report