ShakeSphere
Tumbler Steel
Steel shaker bottle and thermal flask with unique round (half hemisphere), no-corners design, internal measurements, no mixing accessories required.
Keeps your hot drinks hot and cold drinks cold. Puree fruit and break down powders into lump-free protein shakes. No waste means you save money on powder and spend less time cleaning the bottle. It's also more hygienic as the ShakeSphere won't smell bad
Price:
$60.00
( / Serving)
Product Overview
Enjoy an ice cold pre workout or a hot frothy coffee on the go. Instead of using mixing accessories, our shakers use the centrifugal force generated by a capsule design pumping air into your hot beverage, pureeing fruit in a flash and break down powders into lump-free shakes.
Because there are no lumps, you not only spend less time cleaning the bottle, but also save money as you need less powder in the long-run.
No waste also prevents the build-up of foul smells and harmful bacteria which develop when undissolved powder lingers in the corners of your typical shaker bottle.
Product Benefits
No protein stuck in the corners, saving you money and cleaning time
No mixing ball or mesh grid required, capsule shape does the mixing for you
Hygienic functional slide cap, no more dripping flip cap
Can puree soft fruits using centrifugal force
Double wall steel with copper lining keeps your drink ice cold all day
Easy clean, hand wash only (not dishwasher safe)
Perfect Pureed Protein Shake
For the perfect pureed protein shake here's something you can try.
Take 1 whole banana (or soft fruit), Place in ShakeSphere
Shake Vigorously until you start to feel it stick at each end then just a few more shakes and...
Add protein powder and water (or just milk if you want a quick shake with some extra fibre)
Shake and enjoy!
Supports Your Goals
Once the groundwork of a healthy lifestyle is there, supplements can take you to the next level. Getting the right amounts of protein can boost your metabolism, reduce your appetite, and help you lose body fat without losing muscle.
Protein shakes are an easy way to add more protein to your diet, but it is important not to limit the health benefits by using a cheap shaker. By investing in our bottles, you avoid consuming up to 17% E-Coli and 27% Strep since there's never any mess and it's so easy to clean.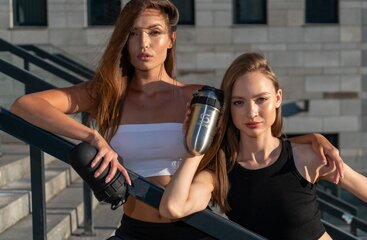 Good To Know
The Tumbler Steel will keep your drink hot as well as cold. This means it can double up as your new frothy coffee maker and flask. Simply shake some milk with ground coffee and, in a few seconds of shaking, you'll have a frothy coffee which tastes and looks like it's straight out of a café or an expensive coffee pod machine. Ensure lid is fully screwed on tight before shaking boiling liquids.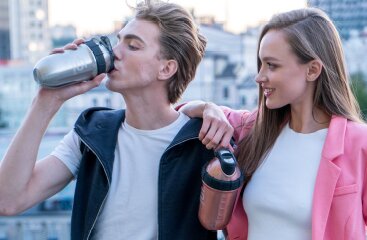 About The Brand
Shakesphere has already claimed more than 7 awards including Men's Health Best Protein Shaker, Gear Patrol Top 100 and more. We were founded upon the needs of athletes for a cleaner, efficient protein-shaking solution. Reflecting the drive of our founder, a world record breaking sprinter, we strive to improve the health and wellbeing of everyone, combining the intimacy of a family business with a foothold in 22 countries.
Ratings & Reviews