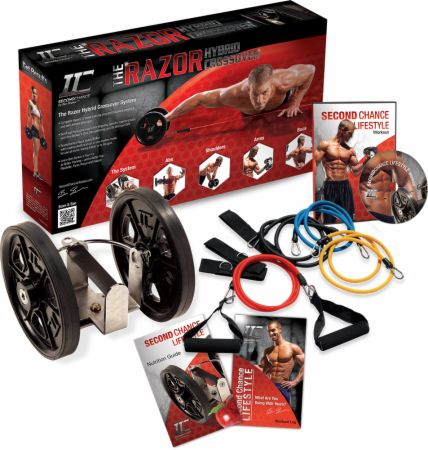 Second Chance Lifestyle
The Razor Hybrid Crossover
,
Take Your Results To New Heights!
Made For Use At Home, During Travel, Or In The Gym!
Price:
$113.40
( / Serving)
Product Overview
Activating multiple muscle groups with every movement, you will put on lean muscle while shredding fat! No matter what your current fitness level, The Razor will take your results to new heights. Begin at home and then cross over to the gym for YOUR next step in training!
Professional grade rotating shaft with four isolated strength training positions
Attachment yoke for bands and cable systems
2 industrial strength wheels with rubber tread for traction
4 resistance bands with various strength levels
2-foot straps with attachment points for leg sculpting
12-week daily training guide and calendar
Complete nutrition guide with recipes and fitness tips
Instructional DVD with Ben Booker as your personal trainer!
The Razor Hybrid Crossover System
Complete Hybrid 12-week training program to build a powerful and well-defined physique
Build your best core ever while targeting specific muscle groups with Ben Booker's Core Strengthening and Ab Workout DVD including instructional series and bonus HIIT Hybrid workout
Revolutionary Razor Hybrid Roller with rotating shaft is an all-in-one system made for use at home, during travel or in the gym
Improving your physical presence can also deliver benefits for your mental, emotional and spiritual
Learn Ben Booker's Four F's to Better Training - and a Better You: Flexibility, Form, Focus and Failure!
"Second Chance Lifestyle believes that with the right tools and support system, anyone can change their life for the better. Through the use on our patented exercise equipment and a proven goal-oriented nutrition plan, we cultivate a life-altering experience. By improving your physical well-being you can also improve your mental, emotional and spiritual well-being."

"Second Chance... what are you doing with yours?"
"Simply put, training saved my life. It gave me a second chance. Today I have a life that I love. I want to help others take advantage of their second chances, too.

"I started drinking when I was 13. When I was 17, I broke my back in a car accident. I had to learn to walk all over again. I played three sports, but I had to sit out my entire senior year; the only thing I could do was lift weights. But I kept on drinking, even though it was destroying my life and, eventually, my marriage. Finally, I got sober and decided to dedicate myself to bodybuilding. As I built strength and muscle, I also built confidence. I stopped taking my life and my health for granted. I could have died from the car accident or from drinking; instead, I got a second chance."

"Every day we wake up, we have a second chance. To start over, to change the way we live, to get healthy and strong. That's what Second Chance Lifestyle is all about - turning your life around and making the most of your second chance."

"I also believe that what we learn in the gym can translate into our everyday lives. There are four keys to making the most of your second chance - I call them the four Fs: Flexibility, form, focus and failure."

"Flexibility: In the gym, it's essential to stretch first and increase your flexibility to prevent injury. In everyday life, being flexible may mean giving up something that's not too important, prioritizing, and finding a way to work fitness into the top of your list."

"Form: The proper form in training is key to getting the most out of each set and rep. Form in everyday life? It's how you carry yourself, what you believe in and how you mold the new and better you."

"Focus: When it all comes together, you will discover a mind-muscle connection that can take your results and training to the next level. In life, focus means knowing what's right and living the way you are supposed to - becoming a better husband/wife, father/mother, someone people look up to and the kind of friend people want."

"Failure: This is the last piece of the puzzle. Once you have done the other three steps, and you now know your body, it's time to take every set to failure, maximizing your physical potential, giving you the most aesthetic physique you have ever known. In life, failures happen every day; the goal now is to learn from our mistakes and become a better person. Once you hit this level, my hope for you is that you can admit when you are wrong sooner, forgive easier, and learn from your inevitable mistakes and failures every single day. Remaining humble (and teachable) is the key to reaching your true potential, your true strength, your optimal and most efficient self."

"This is my life, my potential, this is how I choose to live out my optimal and most efficient self with my new found true strength. This is my Second Chance... what are you doing with yours?"

—Ben Booker
Ratings & Reviews