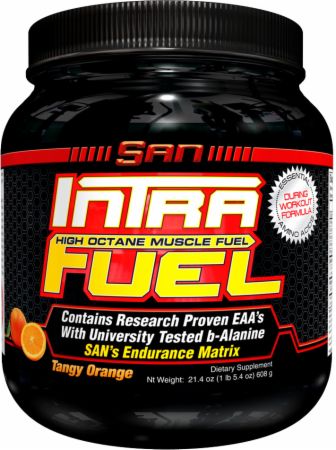 S.A.N.
Intra-Fuel
, 608 Grams Tangy Orange
High Octane Muscle Fuel!
During Workout Formula With Essential Amino Acids!
Product Overview
Intra Fuel

High Octane Muscle fuel
Prevents muscle breakdown*
Maintains proper hydration*
Prevents muscle fatigue & increase endurance*
Beneficial to all athletes
Supplements Are For More Than Just Before And After Training

Most athletes go to great lengths to plan their pre- and post-training nutrition and supplementation, especially when they're dieting. It's not just before and after workout out when you need to think of fueling your muscles, however. Those who are looking to be number one are always searching for an extra edge, and one of the few times that many athletes forget to keep themselves fueled is during their workouts…
In-Workout Nutrition Is The Key To Top Performance

If you want to be at the absolute top of your game, it's imperative to think about keeping yourself fueled and reducing muscle breakdown during your hard training sessions.*

This is why SAN created an essential intra-workout formula.

INTRA FUEL is designed to be the ultimate fuel source during workouts. With its perfect balance of key EAAs and BCAAs, the SAN EAA Complex™ helps prevent catabolism, or the breakdown of muscle tissue, during and after your workouts. The SAN Endurance Complex™ features nitric oxide boosting elements and CarnoSyn beta-alanine for its ability to synthesize carnosine in muscle cells. This buffers muscle burn and allows you to keep pushing your hardest through your training.*

Even mild dehydration can have a negative effect on strength, endurance and focus.INTRA FUEL safeguards you from this by keeping you properly hydrated with critical electrolytes, plus a vital blend of vitamins and minerals to keep you fully nourished all the way through your most grueling workouts.*

When you need to prevent muscle breakdown and fuel endurance and recovery during intense workouts, INTRA FUEL is your high-octane choice.*

Product Recap:
Prevents muscle breakdown*
Maintains proper hydration*
Prevents muscle fatigue & increase endurance*
Beneficial to all athletes
Ratings & Reviews
608 Grams
50 Servings | $0.75 Per Serving
What's in S.A.N. Intra-Fuel
608 Grams

Tangy Orange

Supplement Facts

Serving Size:

12.16g

(1

scoop)

Servings Per Container:

50

Amount Per Serving

% Daily Value**

Calories

0

Potassium (As Potassium Orotate)

40

mg

1%

Calcium (As DiCalcium Phosphate)

44

mg

4%

Niacin (As Niacinamide)

10

mg

50%

Vitamin B6 (As Pyridoxine HCL)

3

mg

150%

Phosphorus

48

mg

5%

SAN EAA Complex™

7000

mg

†

L-Leucine, L-Valine, L-Isoleucine, L-Lysine, L-Arginine HCL, L-Histidine, L-Threonine, L-Methionine, L-Phenylalanine

SAN Endurance Complex™

2000

mg

†

Beta-Alanine (CarnoSyn®††), L-Citrulline Malate, L-Tyrosine

** Percent Daily Values are based on a 2,000 calorie diet.

† Daily Value not established.

†† Licensed under one or more of U.S. Pat. Nos. 5,965,596, 6,426,361, 7,504,376 and 8,067,381, each of which is owned by Natural Alternatives International, Inc. (NAI). NAI is also the owner of the registered trademark CarnoSyn®.
Other Ingredients:

Citric Acid

, Natural And Artificial Flavors (Maltodextrin

, Nat & Art Spray Dried Orange Flavors, Spray Dried Orange Juice

, Beta Carotene E160

, E Curcumin Extract Color E100

, Grape Skin Color E 163)

, Malic Acid

, Calcium Silicate

, Acesulfame Potassium

, Aspartame***

No Yeast, Wheat, Sugar, Salt, Dairy, Citrus, Fish Or Preservatives Added.

***Phenylketonurics Warning: Contains Phenylalanine
Directions For Intra-Fuel: Mix one scoop of Intra-Fuel in 16 Oz. of water and Shake well. Allow the ingredients to dissolve for at least 2-3 minutes before consuming the product. Start sipping the solution right before and during your workout.
Warnings: Contains Phenylalanine
* These statements have not been evaluated by the Food and Drug Administration. This product is not intended to diagnose, treat, cure, or prevent any disease.
---