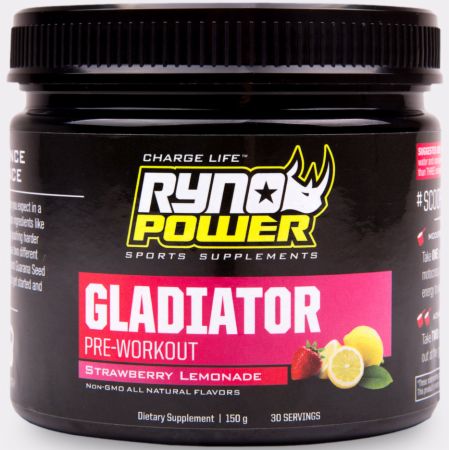 Ryno Power
Gladiator Pre-Workout
, 30 Servings Strawberry Lemonade
Pre-workout powder to increase energy, strength & focus *
Natural caffeine & guarana seed extract for smooth energy, non-GMO and uses all-natural flavors
Product Overview

Gladiator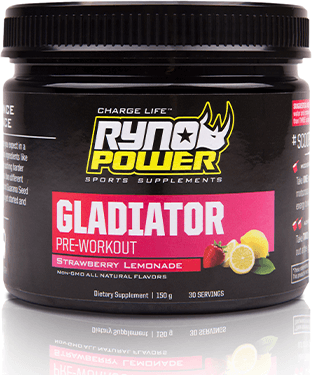 Powerful, Natural, Energy*

Energy*

Strength*

Focus*
Powerful Energy*
Explosive, smooth energy for all of your workouts, races, and activities*

Gladiator utilizes the power of natural caffeine and Guarana Seed Extract, providing smooth explosive energy*

Gladiator also contains ActiGin, providing endurance and energy in one ingredient*
Family First
At Ryno Power we are committed to using the highest quality, safest, and most natural ingredients. We offer performance products that you can trust, use every day, and feel comfortable giving to your children and family members. We have all the best ingredients you need to compete at the highest level.*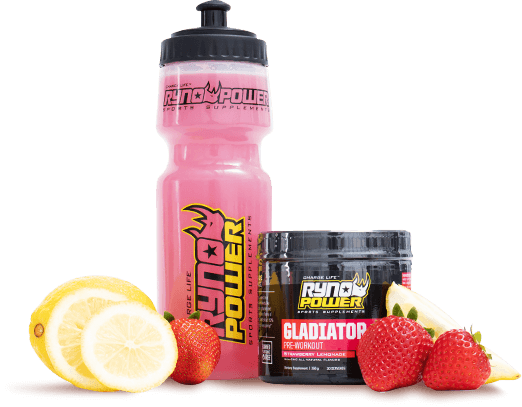 Energy*
Elite athletes use Gladiator to help themselves get amped for their training and competition. Now you can use the cleanest and most natural pre-workout available for a tough day at work or the toughest workouts.*

Strength*
Elite athletes use Gladiator to help themselves get amped for their training and competition. Now you can use the cleanest and most natural pre-workout available for a tough day at work or the toughest workouts.*

Focus*
Elite athletes use Gladiator to help themselves get amped for their training and competition. Now you can use the cleanest and most natural pre-workout available for a tough day at work or the toughest workouts.*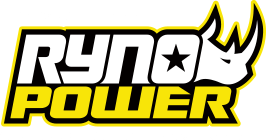 When To Use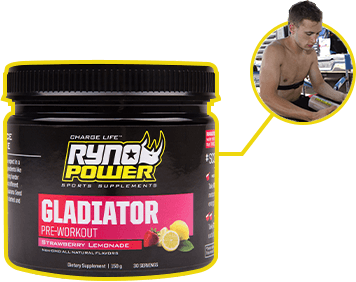 Before
Take 1-2 scoops of Gladiator with 6-12 oz. of cold water 15-30 minutes before activity.
* Do not exceed 4 scoops in 24 hours
During
After
About Ryno Power
Founded by Ryan McCarthy and Ryan Hughes, Ryno Power's mission is to provide elite-quality supplements to everyone from action sports athletes to those looking to lead a healthy lifestyle. All products are designed with high-quality, gluten-free, and performance-tested ingredients, with all athletes in mind as we develop the fuel your body will use and how it will affect your performance.
These products have been designed, tested, and proven by champions. Charge life with us!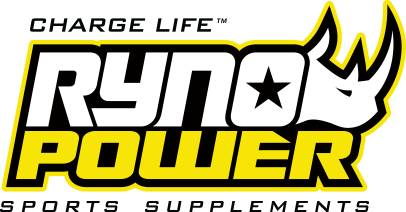 Ratings & Reviews
What's in Ryno Power Gladiator Pre-Workout
Serving Size 5g (1 Scoop)

Servings Per Container

30

Amount per serving

%DV *

Calories

2

<1%*

Total Carbohydrates

1 g

<1%*

Caffeine (Natural)

105

mg

†

Guarana Seed Extract (22%)

75

mg

†

Performance Blend

2.9

g

†

Beta Alanine (CarnoSyn®), L-Arginine AKG 2:1, Citrulline Malate, Taurine, N-Acetyl L-Carnitine, Golden Root (Rhodiola Rosea) Plant Extract, L-Theanine, ActiGin® (NotoGinseng (Panax Notginseng (root), Chesnut Rose (Rosa Roxburghi (fruiting body))

* Percent Daily Values are based on a 2,000 calorie diet

† Daily Values not established

Other Ingredients:

Non-GMO Natural Flavors

, Non-GMO Maltodextrin

, Fructose

, Stevia (Stevia RebA)

, Natural Beet Juice Powder.
Directions For Gladiator Pre-Workout:
SUGGESTED USE: Take 1-2 scoops of Gladiator with 6-12 oz. of cold water and consume 15-30 minutes before training. Most athletes will feel a slight tingle which means the pre-workout has kicked in.
Do not take more than four scoops in a 24 hour period.*
Warnings: IF YOU HAVE ANY HEALTH CONDITION, ARE PREGNANT, BREAST FEEDING, OR TAKING MEDICATION, ASK A PHYSICIAN BEFORE USE. KEEP OUT OF REACH OF CHILDREN. Individuals who are sensitive to caffeine or have a medical condition should consult a licensed health care professional before consuming this product. Too much caffeine may cause nervousness, irritability, and sleeplessness. Do not combine with other caffeine or stimulant sources. Product should not be used by children under the age of 18. Store in a cool, dry place.
* These statements have not been evaluated by the Food and Drug Administration. This product is not intended to diagnose, treat, cure, or prevent any disease.
---