Ryno Power
Endurance Capsules
, 125 Capsules
Amino Acid, vitamin, mineral & herb blend to increase power, strength & endurance*
Buffer lactic acid build up & elevate your anaerobic threshold*, contains Rhodiola & beta-alanine
Product Overview

Endurance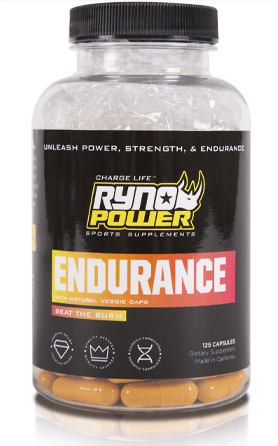 Unleash Power Strength & Endurance
Lactic Acid Buffer & Vasodilator*



Beat The Burn

Use Endurance to buffer lactic acid build-up, extend endurance, and elevate your anaerobic threshold*

Made with Rhodiola Rosea Extract and other natural proven ingredients to offer premier performance*

A bio-friendly beta-alinine designed specifically to act as a performance booster and buffer lactic acid*
Family First
At Ryno Power we are committed to using the highest quality, safest, and most natural ingredients. We offer performance products that you can trust, use every day, and feel comfortable giving to your children and family members. We have all the best ingredients you need to compete at the highest level.* Endurance's proprietary blend of premiere ingredients ensures the highest-quality performance in each serving. Push yourself further and beat the burn with each capsule.*

Ryno Power is a tried and tested brand, used by professionals in action sports of all kinds. Aaron Gwin, Amaury Pierron, Colt Nichols, Justin Cooper, Dylan Ferrandis, and many more have used Ryno Power to fuel their charge.
Ryno Power products use only the highest-quality ingredients. We pride ourselves on being non-GMO, gluten-free, and natural in all products that we sell. They are safe to take at any age and at any level.*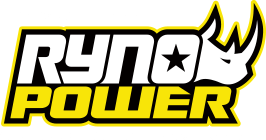 When To Use
Before
Take 5 capsules 45 minutes before exercise or activity. During extended activity you may take 2-3 capsules for each hour of activity.*
During
After
About Ryno Power
Founded by Ryan McCarthy and Ryan Hughes, Ryno Power's mission is to provide elite-quality supplements to everyone from action sports athletes to those looking to lead a healthy lifestyle. All products are designed with high-quality, gluten-free, and performance-tested ingredients, with all athletes in mind as we develop the fuel your body will use and how it will affect your performance.
These products have been designed, tested, and proven by champions. Charge life with us!
Ratings & Reviews
What's in Ryno Power Endurance Capsules
Serving Size 5 (Five) Capsules

Servings Per Container

25

Amount Per Serving

% Daily Value *

Niacin (Niacinamide)

8 mg

40%

Pantothenic Acid (Vitamin B5 as Calcium D-Pantothenate)

4 mg

40%

Riboflavin (Vitamin B2)

1 mg

49%

Biotin

200 Ug

67%

Chromium (from Chromium Picolinate)

400 Ug

333%

Magnesium (from Magnesium Phosphate Dibasic)

50 mg

13%

Thiamine (Vitamin HCl)

600 Ug

0%

Vitamin B6 (from Pyriodxal 5-Phosphate)

.6 mg

40%

L-Arginine Keto-Isocaproate

400 mg

†

L-Ornithine Alpha-Ketogluterate

200 mg

†

L-Glycine

80 mg

†

L-Carnosine

30 mg

†

N,N-Dimethylglycine HCL

120 mg

†

Betaine Anhydrous

120 mg

†

Vanadium (as Vanadium Citrate)

800 Ug

†

Cordyceps CS-4 (Cordyceps Sinesis) (mycelia biomass) minimum 7% cordyceps acid

50 mg

†

Rhodiola Extract Rhodiola Rosea (root) minimum 5% Rosavins

200 mg

†

Beta-Alanine (CarnoSyn®)

500 mg

†

Citrulline Malate

250 mg

†

Coenzyme Q10

50 mg

†

R-Alpha Lipoic Acid (Sodium R-Lipoate)

25 mg

†

Black Pepper Extract (Bioperine®)

5 mg

†

ActiGin™ (NotoGinseng (root), Rosa Roxbughil (fruiting body))

50 mg

†

L-Leucine

30 mg

†

† Daily values not established.

Other Ingredients:

Vegetable Capsules (Plant Cellulose

, Water)

, Natural Colors

, Brown Rice Powder
Directions For Endurance Capsules: Take 5 capsules 45 minutes before exercise activity. During extended activity you may take 2 to 3 capsules for each hour of activity.
Warnings: KEEP OUT OF REACH OF CHILDREN. STORE IN A COOL DRY PLACE.
* These statements have not been evaluated by the Food and Drug Administration. This product is not intended to diagnose, treat, cure, or prevent any disease.
---