RSP Nutrition
AminoFocus Energy Formula
Aminos + Energy + Focus
Anytime Aminos with Natural Energy to Support Mental Focus, Muscle Growth, Performance and Energy.*
Product Overview
TeaCrine® for sustained energy, focus and enhanced effects of caffeine.
Both BCAAs & EAAs for a complete amino acid profile.
Natural nootropics Citocholine & Alpha-GPC for mental focus and mood elevation.
Natural caffeine from green tea for immediate energy and alertness.
ZERO
SUGAR
ZERO
CALORIES
ZERO
CARBS
DELICIOUS FRUIT FLAVORS
AminoFocus is formulated to be the ideal amino solution for fitness enthusiasts, athletes and competitors looking for a product to support mental focus, muscle growth, and training intensity during workouts or on non-training days for maximum recovery.* Created to be used as the ideal intra-workout supplement, but great as a pre-workout or daily pick-me-up, AminoFocus is the go-to for promoting recovery, endurance and mental focus for everyone.*
PRE- WORKOUT
INTRA- WORKOUT
POST- WORKOUT
ANYTIME ENERGY
STUDYING
WORK
AminoFocus contains a potent Amino Blend to fuel muscle recovery, promote protein synthesis and increase endurance to help you perform at your best.* Additionally, AminoFocus utilizes TeaCrine® and natural caffeine from green tea gives you the smooth, clean and long lasting energy to power you through the toughest workout or the most daunting daily tasks.* Lastly, AminoFocus will have you mentally sharp, utilizing nootropics Choline Bitartrate, Alpha-GPC and CDP Choline.* With no artificial colors or flavors, AminoFocus is the refreshing, delicious and sugar free way to power through any workout, workday or morning routine.
Powered by TeaCrine® to give a sustained energy release as well as a boost to cognition, mood and focus, all without the jitters.*
The Amino Blend contains both BCAAs and EAAs to maximize protein synthesis and help build and maintain lean muscle.*
A comprehensive Focus Blend that uses potent, natural nootropics for focus, energy and mental acuity.*
Sure, there are times you need the extra kick for an intense workout, but sometimes you just need a pick-me-up in the morning or late afternoon. AminoFocus delivers the ideal solution for both, providing a customized experience based on your energy needs.
Recommended Use Charts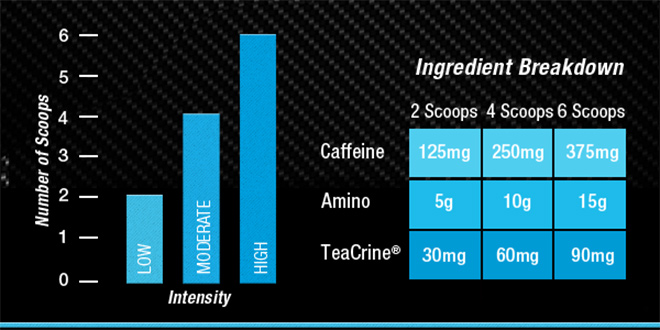 Performance*
TeaCrine®:
Inhibits adenosine-decreases feelings of fatigue; Supports positive mood and heightened motivation to exercise; No typical "adaptation" like other stimulants; Supports dopamine levels in the brain for "feel good" sensation.*
Focus*
Alpha-GPC:
Plays critical role in brain, nervous system, and muscle function; Improves mood and reaction time; Helps support mind-muscle connection.*
Energy*
Caffeine
(from Green Tea)

:

Potent CNS stimulant that antagonizes adenosine receptors; Enhances mental focus and energy; Increase cognition and reaction time; Contributes to fat loss by helping release more fat cells and reduces fat storage.*
Recovery*
BCAAs:
Elevates muscle protein synthesis & nitrogen retention to enhance lean muscle growth/preservation from training; Increases muscle recovery & prevents fatigue.*
Ratings & Reviews
What's in RSP Nutrition AminoFocus Energy Formula
Serving Size: 2 Scoops (7.5 g)

Servings Per Container: 30

Amount Per Serving

%DV *

Caffeine (from Green Tea)

125 mg

**

Theacrine (TeaCrine® 30%)

100 mg

**

Amino Blend

5,000

mg

**

L-Taurine, Beta Alanine (CarnoSyn®), L-Leucine, L-Isoleucine, L-Valine, L-Glutamine, L-Citrulline, L-Arginine, L-Tyrosine, L-Histidine, L-Lysine Hydrochloride, L-Phenylalanine, L-Threonine, L-Methionine

Focus Blend

600

mg

**

Choline Bitartrate, Alpha-Glyceryl Phosphoryl Choline (AlphaGPC 50%), CDP Choline

* Percent Daily Values are based on a 2,000 calorie diet. **Daily Value (DV) not established.

Other Ingredients:

Citric Acid

, Natural Flavors

, Silicon Dioxide

, Sucralose

, Red Beet Juice Powder (for color)

, Calcium Silicate

, Malic Acid

, Acesulfame Potassium.

*** Total Caffeine from all sources is equal to 125 mg per serving.
Directions For AminoFocus Energy Formula:
As a dietary supplement mix two (2) scoops of Amino Focus in 8-10 oz of cold water (vary amount of water by taste preference).
For Low Intensity: Use 1 serving (2 scoops).
For Moderate Intensity: Use 2 servings (4 scoops).
For High Intensity: Use 3 servings (6 scoops).
Warnings: Not intended for use by persons under age 18. Do not exceed recommended dose. Do not consume with other stimulant containing products without proper guidance. Amino Focus also contains beta-Alanine and may cause a temporary tingling sensation on your skin. This is normal. With continued use, the intensity of the sensation will decrease or disappear. Consult with your physician prior to use if you are pregnant or nursing, or if you are taking medication, including but not limited to MAO inhibitors, antidepressants, aspirin, nonsteroidal anti-inflammatory drugs or products containing phenylephrine, ephedrine, pseudoephedrine, or other stimulants. Discontinue use and call a physician or licensed qualified healthcare professional immediately if you experience any negative side effects, severe headache, or other unusual symptoms. The consumer assumes total liability of this product if used in a manner inconsistent with label guidelines. IF YOU HAVE ANY HEALTH CONDITIONS, ARE PREGNANT, BREAST FEEDING OR TAKING MEDICATION, ASK A PHYSICIAN BEFORE USE. KEEP OUT OF REACH OF CHILDREN.
* These statements have not been evaluated by the Food and Drug Administration. This product is not intended to diagnose, treat, cure, or prevent any disease.
---