Revel
Women's Protein Powder + Digestive Enzymes
With 25G Protein Per Serving to Support Women's Muscle Building & Recovery*
Gluten Free & Contains Digestive Enzymes and CLA to Support Women's Metabolism*
Product Overview

An Official Bodybuilding.com Brand
Revel Protein
Build, Repair, and Maintain Muscle*
Revel Protein powder fuels your body with 25 grams of protein and just 2 grams of sugar. Digestive enzymes make it easier on your belly and CLA supports your metabolism.*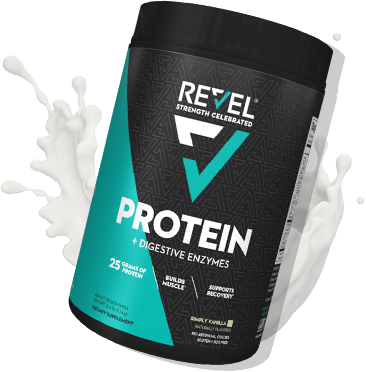 Protein helps build, repair, and maintain muscle*
Revel protein powder contains rBGH-free, non-GMO protein and just 2 grams of sugar. Gluten-free carbohydrates help the protein reach your cells faster and can be stored in your muscles to fuel your next workout, setting you up for success!*
25 grams of protein
Builds muscle*
Digestive enzymes*
Supports recovery*
Gluten free*
Protein
Indulge in a Revel protein shake for 25 grams of whey and casein protein. Clean and high quality, Revel protein is naturally flavored and contains no artificial colors, gluten, or soy. It's even specially formulated to benefit women's digestion!
Choline
Revel ingredients are a little bit different. Choline promotes cognitive function and a healthy nervous system, supporting you in the gym and throughout your day.*
CLA
Many active women strive to build muscle and lose weight simultaneously. This fatty acid supports both goals, helping you optimize your metabolism and maintain lean muscle.*
Digestive Enzymes
Derived from bacilli probiotic bacteria and pineapple, our digestive enzymes help your body break down protein for smoother digestion.*
We are Bodybuilding.com. Your transformation is our passion. Which is why we made Revel®. A science-backed, effective sports nutrition line made just for women. To Revel is to celebrate. Revel in your uniqueness, your strength, your drive. Revel your sore muscles and crack-of-dawn sweat session. Revel in whatever simply gets you moving. Our products are uniquely designed to meet the needs of women looking to achieve weight management, lean muscle mass, energy support, hydration, and overall wellness.
Shop All Revel Products
Ratings & Reviews
What's in Revel Women's Protein Powder + Digestive Enzymes
2 Lbs.

Vanilla

Serving Size: 1 scoop (37g)

Servings Per Container: About

30

Amount Per Serving

% Daily Value

Calories

140

Total Fat

3 g

4%†

Saturated Fat

1 g

5%†

Cholesterol

55 mg

18%

Total Carbohydrate

4 g

1%†

Dietary Fiber

2 g

7%

Total Sugars

2 g

††

Included 0g Added Sugars

0%

Protein

25 g

50%†

Vitamin D (Cholecalciferol)

3 mcg

15%

Calcium

248 mg

19%

Sodium

200 mg

9%

Potassium (Potassium Iodine)

179 mg

4%

Choline Bitartrate

1,000 mg

††

Conjugated Linoleic Acid (Safflower Oil, std. min. 60% CLA)

1,350 mg

††

Lactase

50 mg

††

ProHydrolase® (proteases from Bacillus and pineapple)

50 mg

††

† Percent Daily Values are based on a 2,000 calorie diet.

†† Daily Value not established

Other Ingredients:

Protein Blend (Whey Protein Concentrate

, Micellar Casein

, Keto-Pro™ (Whey Protein Concentrate))

, Inulin

, Gum Blend (Cellulose Gum

, Xanthan Gum

, Carrageenan)

, Salt

, Natural Flavors

, Sucralose

, Acesulfame Potassium.

Contains: Milk.

NO GLUTEN, SOY, TREE NUTS, PEANUTS.

NO ADDED SUGAR
Directions For Women's Protein Powder + Digestive Enzymes: Mix one scoop of Revel® Protein with 8 oz. of cold water, milk, fruit juice, or your favorite beverage. Vary the amount of liquid to achieve your desired consistency and taste. Consume daily to help meet your dietary protein needs.
Warnings: Use as a food supplement only. Do not use for weight reduction.
* These statements have not been evaluated by the Food and Drug Administration. This product is not intended to diagnose, treat, cure, or prevent any disease.
---