REDCON1
Mental Trigger
, 60 Capsules
Focus support capsules to enhance mental acuity*
Use Mental Trigger from Redcon1 to support mental focus. Whether you need help getting through your projects at work, school or home, Mental trigger will get you there. 250mg of caffeine with Theacrine & more in every serving! *
Product Overview

Mental Trigger
Focus Formula*
Unlock brain focus, attentiveness, and creativity with our highly advanced focus formula, Mental Trigger®. The vast majority of supplements on the market address the physical needs we demand, but finally one has come along to address our mental needs. Focus ingredients like the ones we've included in Mental Trigger® are cutting edge chemical compounds that people from all walks of life have been capitalizing on and gaining the competitive edge on those who have been going without.*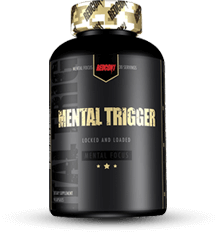 Key Benefits

Extreme Mental Acuity*

Laser-Like Focus*

Enhaced Mental Clarity*
Ratings & Reviews
What's in REDCON1 Mental Trigger
Serving Size 2 Capsules

Servings Per Container

30

Amount Per Serving

%D.V.

Caffeine Anhydrous

250 mg

**

Hesperidin 92% (Citrus Sinesis [peel])

100 mg

**

Theacrine (Teacrine®)

50 mg

**

Mucuna Pruriens (60% I-dopa)

35 mg

**

Alpha GPC (90%)

30 mg

**

BioPerine® black pepper fruit extract

5 mg

**

** Daily Value (DV) Not Established

Other Ingredients:

Gelatin

, Dicalcium Phosphate

, Magnesium Stearate

, Silica

, FD&C Red #40.
Directions For Mental Trigger: TO ASSESS TOLERANCE, TAKE (1) CAPSULE IN THE MORNING ON AN EMPTY STOMACH. ONCE TOLERANCE HAS BEEN ASSESSED, TAKE AN ADDITIONAL (1) CAPSULE 4-6 HOURS AFTER FIRST SERVING.
Warnings: WARNING: KEEP OUT OF THE REACH OF CHILDREN. This product is intended to be consumed by healthy adults 18 years of age or older.Before using this product, seek advice from your pharmacist or physician. Avoid using this product if you have if you have any pre-existing medical condition including but not limited to: high or low blood pressure, cardiac arrhythmia, stroke, heart, liver or kidney disease, seizure disorder, thyroid disease, psychiatric disease, diabetes, difficulty urinating due to prostate enlargement or if you are taking MAO Inhibitor or any other medication or supplements. Do not use if you are pregnant or nursing, prone to dehydration or exposed to excessive heat. Discontinue use and consult your healthcare professional. KEEP OUT OF THE REACH OF CHILDREN. STORE AT 59-86 °F (15-30 °C). PROTECT FROM LIGHT AND MOISTURE.
* These statements have not been evaluated by the Food and Drug Administration. This product is not intended to diagnose, treat, cure, or prevent any disease.
---