Pro Supps
ProSupps HydroBCAA + Energy
, 35 Servings Grape
Focus and Energy Amino Matrix Supplement Powder
HydroBCAA® +Energy is an amino matrix that is Informed-Choice Certified, banned-substance tested and free of artificial colors.
Product Overview
HydroBCAA® + Energy is an amino matrix that is Informed-Choice Certified, banned-substance tested and free of artificial colors. HydroBCAA +Energy features 7g of a 2:1:1 BCAA ratio to support lean muscle growth, recovery and maintenance with added Electrolytes for enhanced hydration*. HydroBCAA® +ENERGY is further powered by 125mg of caffeine for a boost of energy whenever you need it. Perfect for everyone looking to improve their hydration and energy throughout the day so you can push beyond your normal barriers.*
Product Benefits
7g of a Research Supported 2:1:1 BCAA Ratio
Supports Muscle Growth & Post-Workout Recovery*
Enhances Training Endurance & Hydration*
Key Ingredients
3.5g L-Leucine is considered the 'king' of the amino acids, it has the primary responsibility of activating mTOR which helps initiate protein synthesis and supports the body's release of insulin from the pancreas; this offers muscle supporting and enhanced recovery benefits.*
1.75g L-Isoleucineis primarily responsible for increasing glucose (blood sugar) uptake into cells; works synergistically with leucine and has muscle-supporting properties as well.*
1.75g L-Valine helps stimulate muscle protein synthesis and can help regulate the body's nitrogen balance; positive nitrogen balance is key for muscle growth.
160mg Electrolyte Matrix regulates nerve and muscle function, hydrates the body, balances blood acidity and pressure and helps rebuild damaged tissue./li>
125mg Natural Caffeine from Green Tea is one of the most widely and safely consumed nervous system stimulants increasing focus, energy, and mood performance while reducing fatigue.*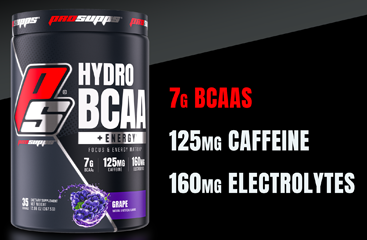 Supports Your Goals
TRAIN. HydroBCAA®️ +Energy was developed as a safe and effective way to improve hydration, prevent muscle breakdown, and provide energy to keep you going and growing throughout the day. Featuring 7g of BCAAs at a 2:1:1 ratio to support lean muscle growth, electrolytes for enhanced hydration, and 125mg of natural caffeine for a boost of energy whenever you need it.*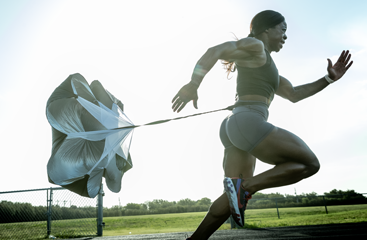 Good to know
Branched-Chain Amino Acids (Leucine, Isoleucine & Valine) are critically important for the stimulation of muscle protein synthesis, the reduction of protein breakdown, and for preserving muscle glycogen stores. These amino acids are rapidly absorbed into the bloodstream, which makes them efficient and effective.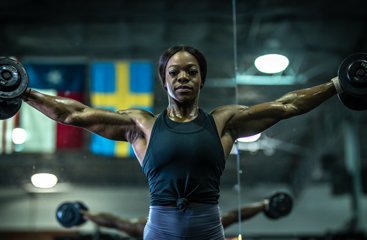 About the Brand
There's a better you waiting to get out and if you're willing to put in the work, ProSupps® is uniquely qualified to unleash your full potential. Having climbed to the top of the fitness mountain ourselves, we can show you how to get here through elite supplementation, education, and inspiration. We're here for your relentless pursuit of greatness, but nobody is going to do it for you. You have to EARN IT.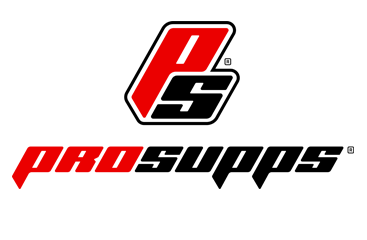 Ratings & Reviews
What's in Pro Supps HydroBCAA + Energy
Supplement Facts

Serving Size: 1 Scoop (10.5g)

Servings Per Container

35

Amount Per Serving

% DV

Calories

0

Total Carbohydrate

0 g

0%

Total Sugars

0 g

Includes 0g Added Sugars

Sodium (As Sodium Citrate)

60 mg

3%

Potassium (as Potassium Chloride)

100 mg

2%

2:1:1 BCAA Matrix

7 g

L-Leucine

3.5 g

**

L-Isoleucine

1.75 g

**

L-Valine

1.75 g

**

Natural Caffeine (from Green Tea)

125 mg

**

* Percent Daily Values are based on a 2,000 calorie diet.

** Daily Value not Established.

Ingredients:

Natural & Artificial Flavors

, Citric Acid

, Malic Acid

, Silicon Dioxide

, Sucralose

, Calcium Silicate

, Acesulfame Potassium

, FD&C Red #40

, FD&C Blue #1.
Directions For HydroBCAA + Energy: Mix 1 scoop of HydroBCAA ® +Energy with 8-10 fluid oz. of cold water and consume during or after training for maximum muscle recovery and development. †
Warnings: This product is intended for healthy adults, 18 years of age or older. Consult a physician prior to using this, or any other dietary supplement. Do not take this product if you are pregnant or nursing, if you have or suspect you may have a medical condition, or if you are taking any prescription or over-the-counter medications. Do not take this product if you are using any blood pressure medication. Do not exceed recommended serving. Exceeding recommended serving may cause adverse health effects. This product contains 125mg of caffeine, the equivalent 1.5 cups of coffee and may not be suitable for individuals who are sensitive to the effects of caffeine. Too much caffeine may cause nervousness, irritability, sleeplessness, and occasional rapid heartbeat. Immediately discontinue use and consult a qualified medical professional if you experience any adverse effects. KEEP OUT OF REACH OF CHILDREN
* These statements have not been evaluated by the Food and Drug Administration. This product is not intended to diagnose, treat, cure, or prevent any disease.
---