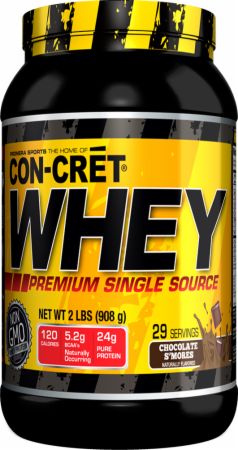 ProMera Sports
CON-CRET Whey
, 2 Lbs. Chocolate S'mores
Non-Gmo Whey Protein Is Instantized For Fast Absorption*
Packed With 24 Grams Of Protein Per Serving
Product Overview
CON-CRĒT® WHEY is a best-in-class, complete and unadulterated premium whey protein concentrate (WPC). Our protein source is both non-GMO and growth hormone free (rBGH). Our high quality whey protein concentrate is popular because it is one of the fastest digesting protein sources available, making it highly functional for active individuals who want a quick absorbing whey protein that's natural and delicious.*
CON-CRĒT WHEY is packed with 24 grams of Protein, 5.2 grams of naturally occurring branch chain amino acids (BCAAs), loaded with essential amino acids (EAAs) and is only 120 calories.
Who Uses CON-CRĒT WHEY?
Individuals that train and exercise find that the metabolic demand for protein may increase by more than 300% compared to those that are sedentary. If you are one of these people you will find it difficult to consume enough protein on a daily basis to meet your increased need for nitrogen. Hence, CON-CRĒT WHEY makes it possible to supplement this increased need for protein.
Why Choose CON-CRĒT WHEY?
Amazing and Delicious Taste
Naturally Flavored Product
Non-GMO Protein Source
Gluten Free
Instantized for Fast Absorption*
Cold Process Micro-Filtrated
Highly Soluble
High in BCAAs and EAAs
Ratings & Reviews
2 Lbs.
29 Servings | $1.03 Per Serving
What's in ProMera Sports CON-CRET Whey
Serving Size 1 Scoop (31.3 g)

Servings Per Container

29

Amount Per Serving

Calories

120

Calories from Fat

14

% Daily Values *

Total Fat

1.5 g

2%

Saturated Fat

1 g

5%

Trans Fat

0 g

Cholesterol

69 mg

23%

Sodium

55 mg

2%

Potassium

126 mg

4%

Total Carbohydrate

2 g

1%

Dietary Fiber

0 g

0%

Sugar

1.5 g

Protein

24 g

48%

Vitamin A

0 g

0%

Vitamin C

0 g

0%

Calcium

162 mg

16%

Iron

0 g

0%

Phosphorus

129 mg

13%

* Percent Daily Values are based on a 2,000 calorie diet. Your Daily Values may be higher or lower depending on your calorie needs.

Ingredients:

Non-GMO Cold Pressed Whey Protein Concentrate 80

, Natural Flavors

, Xanthan Gum

, Sucralose

, and Enzyme Blend (Protease I

, Protease II

, Amylase

, Lipase

, and Lactase)

ALLERGEN STATEMENT: CON-CRET WHEY PROTEIN Contains Milk and Sunflower (lecithin). Manufactured in a facility that processes Peanuts, Tree Nuts, Egg and Soy.
Directions For CON-CRET Whey: Mix one scoop with 6-8 ounces of water, milk, or your beverage of choice. Add more or less liquid to meet your desired taste.
* These statements have not been evaluated by the Food and Drug Administration. This product is not intended to diagnose, treat, cure, or prevent any disease.
---