Pro Supps
Dr. Jekyll Stimulant-Free Pre Workout
Anabolic Pre-Workout Support!
Supplies Intense Stimulant-Free Energy Without The Controversy!*
Product Overview

0% Stimulant
100%
Dominant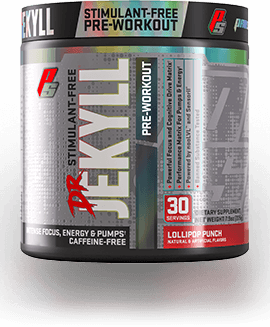 Alphas don't have to compromise performance, just because they want a stimulant-free pre-workout
The most powerful stim-free pre-workout in the gym*
Meet the PhD of Pumps. ProSupps® Dr. Jekyll® Stimulant-Free is the versatile, thermogenic, non-stimulant pre-workout that delivers bigger pumps. ProSupps is the first to introduce nooLVL™, a pump and focus super-compound designed to power blood flow and energy for sustained workouts. Creatine Hydrochloride and Beta Alanine add sustained endurance and Afromomum Melegueta cranks up intense thermogenic activity. Dr. Jekyll® Stimulant-Free is the evolution of pre-workout formulas. Perfect for men and women looking to maximize their performance and focus without the jitters.*
Key Product Attributes:
Stimulant-Free. Cafffeine-Free.
Full transparency labels
No proprietary blends
0 sugar. 0 carbs. 0 calories

Fully Disclosed Formula
800mg of nooLVL™
Enhances and optimizes blood flow for improved, focus, muscle pumps, nutrient delivery and endurance.*
125mg Sensoril®
Unlike standard ashwaghanda, it is a highly extracted form from both leaves and stems. Its adaptogenic characteristics improves training response and promotes healthy stress management support.*
150mg Celastrus Paniculatus
A powerful nootropic ingredient comprised of several bioactive compounds which improves cognition and focus.*
150mg Alpinia Galanga
With its high anti-oxidant characteristics, it has been shown to support healthy cognition and sustained focus.*
30mg Aframomum Melegueta
Having similar bioactive and anti-oxidant compounds to ginger, it has been shown to support enhanced thermogenesis.*
200mg Lion's Mane Powder
From the mushroom family and named by its appearance, it contains several bioactive compounds that have been shown to improve cognition and focus.*
Ratings & Reviews
What's in Pro Supps Dr. Jekyll Stimulant-Free Pre Workout
Serving Size 1 Scoop (8.5g)

Servings Per Container

30

Amount Per Serving

%DV

Calcium

35 mg

3%

Performance Matrix

3.9g

Beta Alanine

1.6 g

*

Creatine HCL

1.5 g

*

Inositol-Enhanced Arginine Silicate (as nooLVL™)

800 mg

*

Cognitive Drive Matrix

750mg

L-Tyrosine

250 mg

*

Lion's Mane (Hericium erinaceus) (fruiting body) Extract (30% Polysaccharides)

200 mg

*

Alpinia galanga (root) Extract 5:1

150 mg

*

Celastrus paniculatus (seed)

150 mg

*

Adaptogenic Matrix

160mg

Ashwagandha (Withania somnifera) (stem and leaf) (as Sensoril®)

125 mg

*

Aframomum melegueta (seed) (6-paradol 12%) (as CaloriBurn GP™)

30 mg

*

Black Pepper (fruit) Extract

5 mg

*

Daily Value not established.

Other Ingredients:

Citric Acid

, Malic Acid

, Natural & Artificial Flavors

, Soluble Corn Fiber

, Calcium Silicate

, Silicon Dioxide

, Sucralose

, Acesulfame Potassium

, FD&C Blue Lake #1

0% Juice. Gluten Free.

Manufactured in a facility that processes milk, egg, soy, wheat and shellfish.
Directions For Dr. Jekyll Stimulant-Free Pre Workout:
Mix 1 rounded scoop of Dr. Jekyll® Stimulant-Free with 8 oz of cold water. Consume 15 to 30 minutes before exercise. If you decide to stack with another pre-workout, such as Hyde®, assess tolerance with 1/2 scoop of each before proceeding to a full serving.
Some users may experience a warming sensation and excessive sweating after consuming. This is attributed to the Aframomum melegueta.
Warnings: Do not use if you are pregnant, nursing or if you are under the age of 18. Do not take this product if you have or suspect you may have a medical condition or if you are taking any prescriptions or over-the-counter medications. Consult a licensed qualified healthcare professional before using this or any other dietary supplement, especially if you have a mdedical condition, or a family history of medical problems including but not limited to heart disease, thyroid disease, diabetes, high blood pressure, depression or other psychiatric condition, glaucoma, difficulty in urinating, prostate enlargement or seizure disorder. Do not exceed recommended serving. Immediately discontinue and consult a licensed qualified medical prefessional if you experience any adverse effects. Keep out of reach of children.
* These statements have not been evaluated by the Food and Drug Administration. This product is not intended to diagnose, treat, cure, or prevent any disease.
---