Primeval Labs
Vasogorge Black
, 150 Capsules
Contains 300mg VASO6™ and 300mg L-Norvaline to support nitric oxide production, vasodilation & muscle pumps*
Stimulant-free supplement
Product Overview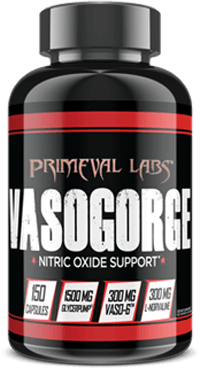 Primeval Labs VasoGorge Black
Vasogorge Black is a stimulant-free, nitric oxide booster that supports enhanced vasodilation, blood flow, and cellular swelling. Using the latest innovation in sports science, Vasogorge Black was scientifically formulated to deliver a pump pre workout like no other.*
Conventional pump pre workouts tend to focus only on boosting nitric oxide using Citrulline, Arginine, or a combination of the two. While effective, we wanted to do something more. Something that delivered a more complete, well rounded pump experience.
Vasogorge Black employs a comprehensive approach generating savage muscle pumps, including ingredients that stimulate nitric oxide production as well as ingredients that promote cellular swelling and combat the body's natural nitric oxide-limiting mechanisms.* But that's not all.
Vasogorge Black also supports endothelial function, meaning your cardiovascular system has an easier time moving the extra blood flow to your muscles* Vasogorge Black can be used on its own or stacked with your favorite stimulant-based pre workout, such as Primeval Labs Mega Pre Black.
VasoGorge Black At A Glance
300mg VASO6™ to stimulate nitric oxide and support endothelial function*
300mg L-Norvaline for sustained vasodilation and muscle pumps*
1.5 grams GlycerPump for added hydration and muscle fullness*
NO Proprietary Blend
NO stimulants
Ingredients
GlycerPump (1,500mg)
GlycerPump is a high-concentration glycerol supplement that promotes cellular hydration and swelling, supporting increased performance, stamina, and muscle fullness* Glycerol supplements have been a mainstay in sports nutrition products for quite a while.
And, as you probably guessed, GlycerPump is a form of glycerol. But, GlyerPump ain't your big brother's glycerol supplement.
Previous glycerol supplements contained at most 25% glycerol by mass, which left you with very little glycerol and a lot of unwanted saturated fat. GlycerPump is a high-yield glycerol supplement containing 65% pure glycerol by weight.
Additionally, previous glycerol offerings suffered from poor shelf-stability, often leading to the notorious clumping issues that ruined many a tub of pre workout. Due to the unique spray-drying method used in the production of GlycerPump, it has improved stability, solubility, and shelf-life compared to glycerol supplements of years past.*
VASO6™ (300mg)
VASO6™ is a cutting-edge nitric oxide activator and vasorelaxant developed by Compound Solutions. Derived from green tea extract, VASO6™ is truly a one of a kind nitric oxide supplement.*
VASO6™ contains only the most effective nitric oxide-boosting bio fractions from green tea clinically shown to promote vasodilation and vasorelaxation.*
What this means is that VASO6™ promotes sustained relaxation of blood vessels, supporting increased blood flow during training and reducing the "burden" placed on your cardiovascular system.*
The end result of this increased blood flow is superior nutrient delivery, performance and muscle pumps with drastically reduced perceived fatigue.*
L-Norvaline (300mg)
To provide stronger, longer-lasting muscle pumps, Vasogorge Black contains the powerful arginase inhibitor, L-Norvaline.*
As you probably know, arginine is the amino acid in the body that serves as the "fuel" for nitric oxide production. Arginase is the enzyme that degrades arginine, subsequently limiting NO production and deflating your muscle pumps.*
With L-Norvaline inhibiting the actions of arginase, nitric oxide production continues unimpeded, making for sustained blood flow and denser pumps that last long after you're finished training.* When combined with VASO6™, this makes for a pump experience like never before, and you get it all in Vasogorge Black.*

Ratings & Reviews
What's in Primeval Labs Vasogorge Black
Serving Size 6 Capsules

Servings Per Container

25

Amount Per Serving

% Daily Value

Calcium

99 mg

8%

Glycerol Powder (Standardized to 65% Glycerol)(GlycerPump)

1,500 mg

†

VASO-6 (Gallate-Enhanced Oligomers)

300 mg

†

L-Norvaline

300 mg

†

† Daily Value Not Established

Other Ingredients:

Dicalcium Phosphate

, Capsule (Gelatin

, FD&C Blue #1

, FD&C Green #3

, FD&C Red #3

, FD&C Red #40

, FD&C Yellow #6

, and Titanium Dioxide)

, Silicon Dioxide

, Rice Powder
Directions For Vasogorge Black: Take 6 capsules 12-20 minutes before workout.
Warnings: Read entire label and obtain clearance from a licensed healthcare practitioner before use. This product is to be used by healthy adults only. Do not use if you have or could develop any medical condition or are taking any prescription drugs. Do not use if you are pregnant, nursing, or may become pregnant. Do not use more than the recommended dosage. Discontinue use and consult a physician if any adverse reactions occur. Keep lid tightly closed and in a cool, dry place. As with all supplements, KEEP OUT OF REACH OF CHILDREN AND ANIMALS.
* These statements have not been evaluated by the Food and Drug Administration. This product is not intended to diagnose, treat, cure, or prevent any disease.
---