Primeval Labs
Vasogorge Black
, 150 Capsules
Contains 300mg VASO6™ and 300mg L-Norvaline for exercise support*
Stimulant-free supplement
Product Overview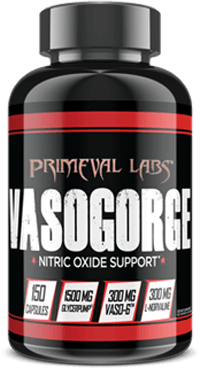 Primeval Labs VasoGorge Black
Vasogorge Black is a stimulant-free, nitric oxide booster and cell volumizer that promotes vasodilation, enhances blood flow, and improves cellular hydration.* Utilizing the latest breakthrough ingredients in sports nutrition, Vasogorge Black delivers a truly savage muscle pump like no other pre workout on the market.*
Typical pump pre workouts tend to only focus on increasing nitric oxide using Citrulline or some form of Arginine. While these options are effective, they only address one means for creating a pump.
Vasogorge Black takes a multi-faceted approach to generating muscle pumps, using a synergistic matrix of ingredients that activate nitric oxide production, relax arterial walls, promote cellular swelling, and inhibit body's natural nitric oxide-limiting mechanisms.*
If you love massive muscle pumps, Vasogorge Black is for you.*
Vasogorge Black contains no stimulants, making it ideal for those late night training sessions or for those times when you're cycling off caffeine. Vasogorge Black can be taken alone or stacked with your favorite stimulant-based pre workout, such as Primeval Labs Mega Pre Black.
VasoGorge Black At A Glance
300mg L-Norvaline to support blood flow, vasodilation and muscle pumps*
1.5 grams GlycerPump™ to aid hydration and muscle fullness*
Transparently dosed
NO stimulants
Will not disrupt sleep*
ZERO jitters or crash*
VasoGorge Black Up-Close
GlycerPump™ (1,500mg)
Glycerol supplements have been used for quite a while in sports nutrition, primarily due to their ability to support hydration and boost endurance.* However, these same glycerol products, while effective, often came with poor stability and solubility leading to tubs of clumpy pre workout or undissolved gobs in your shaker.
GlycerPump™ is a new, high-concentration glycerol supplement that touts improved stability and solubility, resisting the tendency to clump while at the same time ensuring complete dissolution in liquid.*
GlycerPump™ contains 65% pure glycerol by weight, far more than glycerol supplements of yesteryear, which means you get more glycerol per gram leading to greater cellular hydration and swelling, stamina, and muscle fullness*
VASO6™ (300mg)
VASO6™ contains a proprietary blend of oligomers derived from green tea.
L-Norvaline (300mg)
To support stronger, longer-lasting muscle pumps, Vasogorge Black includes the powerful arginase inhibitor, L-Norvaline.*
L-arginine is the amino acid your body uses to generate nitric oxide production. Arginase is the enzyme that breaks down arginine, which reduces nitric oxide production, and ultimately deflates your pumps.*
By limiting the actions of arginase, L-Norvaline supports sustained nitric oxide production, allowing for better blood flow, nutrient delivery, performance, and pumps.*

Ratings & Reviews
What's in Primeval Labs Vasogorge Black
Serving Size 6 Capsules

Servings Per Container

25

Amount Per Serving

% Daily Value

Calcium

99 mg

8%

Glycerol Powder (Standardized to 65% Glycerol)(GlycerPump)

1,500 mg

†

VASO-6 (Gallate-Enhanced Oligomers)

300 mg

†

L-Norvaline

300 mg

†

† Daily Value Not Established

Other Ingredients:

Dicalcium Phosphate

, Capsule (Gelatin

, FD&C Blue #1

, FD&C Green #3

, FD&C Red #3

, FD&C Red #40

, FD&C Yellow #6

, and Titanium Dioxide)

, Silicon Dioxide

, Rice Powder
Directions For Vasogorge Black: Take 6 capsules 12-20 minutes before workout.
Warnings: Read entire label and obtain clearance from a licensed healthcare practitioner before use. This product is to be used by healthy adults only. Do not use if you have or could develop any medical condition or are taking any prescription drugs. Do not use if you are pregnant, nursing, or may become pregnant. Do not use more than the recommended dosage. Discontinue use and consult a physician if any adverse reactions occur. Keep lid tightly closed and in a cool, dry place. As with all supplements, KEEP OUT OF REACH OF CHILDREN AND ANIMALS.
* These statements have not been evaluated by the Food and Drug Administration. This product is not intended to diagnose, treat, cure, or prevent any disease.
---